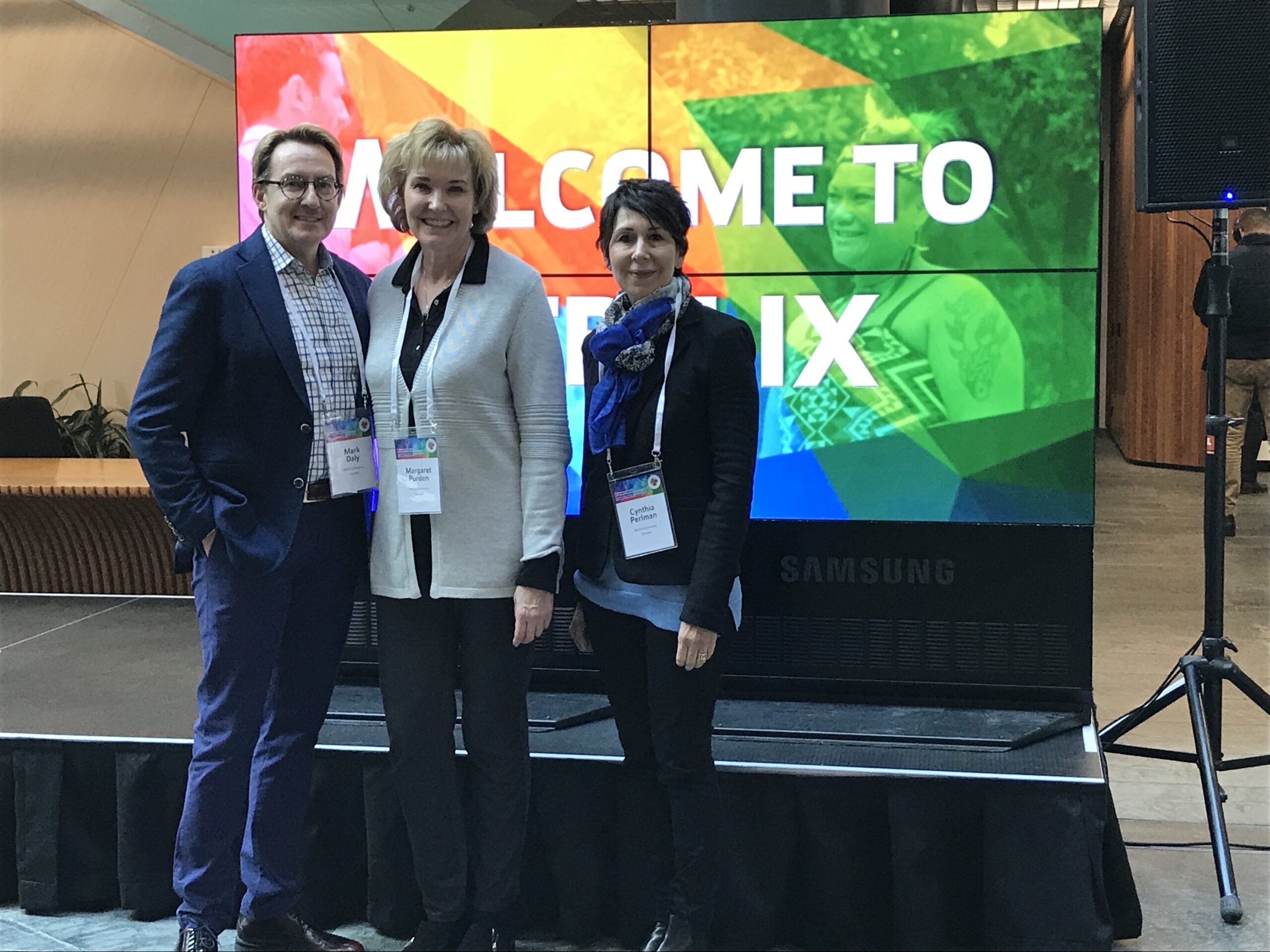 By Med e-News staff

Leaders in Interprofessional Education (IPE) who gathered in New Zealand in September for the All Together Better Health IX Conference were duly impressed by McGill's Office of Interprofessional Education (OIPE). Three members of the OIPE presented the team's accomplishments and shared lessons learned with participants representing over 30 countries in this important and burgeoning area of education and research.

Margaret Purden, Mark Daly and Cynthia Perlman relayed the OIPE's experiences and achievements, including their strategies to recruit and retain an impressive 200 volunteer facilitators from the academic and clinical settings to help deliver the IPE program. Students and faculty members involved in interprofessional education come from six different professions, including Dentistry, Nursing, Medicine, Occupational Therapy, Physical Therapy, and Communication Sciences and Disorders.  Presently, all students participate in a series of mandatory courses as part of their professional preparation.

The three delivered four oral presentations, participated on a panel discussion regarding indigenous health, and led a faculty development workshop.  At each opportunity the team fielded questions from the audience who wanted to know how the office managed to prepare faculty for IPE, engage resident and student participation and integrate the required courses into the curricula of the professional programs.

"They were impressed with the fact that we deliver the IPE program to a large student cohort and have overcome the logistical challenges of creating small interprofessional student groups. Many of the other schools are dealing with fewer students enrolled in three professional programs whereas we coordinate sessions for six professions and over 600 students," says Dr. Margaret Purden, OIPE Director, and Associate Professor, Ingram School of Nursing, Faculty of Medicine. As a result of the advancements at McGill, Purden was invited to join the program planning committee for the upcoming North American IPE conference, Collaborating Across Borders taking place in the USA in October, 2019.

It was in 2005 that IPE was introduced to the Faculty of Medicine. Purden, co-PI Dr. David Fleiszer and a team of health profession educators were awarded $1.3 million from Health Canada to lead an innovative three year project entitled,  The McGill Educational Initiative on Interprofessional Collaboration: Partnerships for Patient and Family-Centred Practice. Following project completion, Purden and a dedicated group of faculty volunteered to keep the initiative going until new funding from the Faculty of Medicine in 2013 provided the group with the essential resources to develop and pilot three new courses. Today, the seven-member Office of Interprofessional Education  delivers and evaluates the IPE courses, designs and implements faculty development activities that enhance IPE collaboration, maintains an IPE website "hub" and participates in scholarly and outreach activities to advance interprofessional education and practice.

For Purden, it is critical that students in health care are given the opportunity during their training to hone their skills to collaborate effectively with their colleagues from the different professions. "The literature is suggesting that professionals don't work together as a team instinctively, it is a skill that they must develop and practice and it begins with understanding the role of everyone on the team and valuing each member's contribution to the care of the patient."

Professor Daly, Director of Faculty Development for IPE, states continuing professional development that brings the professions together to enhance their communication skills in simulation and debriefing sessions is vital to patient safety. As the former Director of Education, at the McGill University Health Centre, and a patient safety expert, he has the numbers to prove it. "Seventy percent of the adverse events that happen to patients are linked to communication and teamwork issues," says the Assistant Professor of the Ingram School of Nursing, who has been leading IPE activities at McGill since 2006.

From a faculty development perspective, delegates in New Zealand commended the OIPE representatives for successfully engaging resident learners as facilitators by integrating the CanMEDS roles of collaborator, scholar and communicator within the IPE competency framework set out by the Canadian Interprofessional Health Care Collaborative (CIHC, 2010). The team also described one of the OIPE standards of practice which is ensuring an interprofessional co-facilitation model as a platform to role-model interprofessional collaboration to the students.

They also noted the IPE office's ability to effectively align course objectives and learning activities using the CIHC framework.  Professor Perlman's (School of Physical and Occupational Therapy) presentation that examined 650 students' reflective papers following participation in the course on interprofessional communication affirmed that students had grasped the key principles to take into clinical practice.

For Purden, the enthusiasm of the students to engage with their colleagues from the different professions in these interactive learning sessions has stood out. "They've been very excited to be together and to have the opportunity to learn with and from each other."

Perlman reports that she's hearing feedback about the impact of the OIPE's curriculum in the healthcare settings. A clinical leader who oversees several sites in which current and former students intern and work indicated that "the new graduates are coming in with a different perspective. There's more tolerance and respect among this next generation of health professionals."  For the OIPE team this is music to their ears.

October 25, 2018