Approximately 300 nursing students made a pledge to the profession at the 5th annual Ingram School of Nursing (ISoN) Nursing Professionalism Ceremony on October 3, 2019.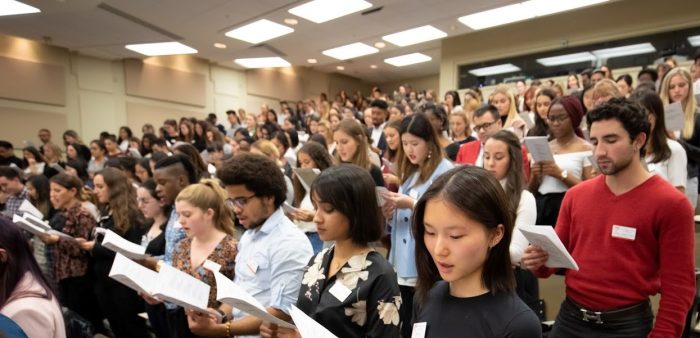 By Oscar Morales Lopez, Ingram School of Nursing

Approximately 300 Ingram School of Nursing (ISoN) students from the Bachelor of Nursing Integrated (BNI),  Bachelor of Science in Nursing (BScN) and the Qualifying Year Entry for the Master's concentrations in Nursing (QY) gathered in the Jeanne Timmins Amphitheatre on October 3, 2019, for the fifth annual Nursing Professionalism Ceremony.

This important event marks our students' entry into the Ingram School of Nursing and welcomes them into the nursing profession with pride. It is also an occasion for McGill Nursing faculty to show their support and recognition of each student's commitment to the nursing profession, with the recitation of an oath and the symbolic pinning of their nametag — which must be worn during future clinical stages — commemorated with a photograph.

During this year's ceremony the students were treated to remarks by distinguished guests Dr. Annette Majnemer Vice-Dean, Education, Faculty of Medicine and Dr. Susan E. French N., Ph.D., Emeritus Professor and former Director, Ingram School of Nursing  as well as by the ISoN's Dr. Anita J. Gagnon, Associate Dean (Faculty of Medicine) and the School's Director, Dr. Franco Carnevale, Professor at the School, and Madeleine Buck, BScN Program Director and Associate Professor, who acted as emcee of the event. Mr. Richard Ingram a longstanding supporter of the ISoN and the School's namesake attended the event as a special guest.

Students were also represented at the ceremony by Rebecca Boyer, Indigenous representative for the Nursing Undergraduate Society (NUS), who read the Land Acknowledgement at the beginning of the event. Alanna Bouffard, President of NUS, and Louisa Mussells Pires, President of the Nursing Graduate Student Association, led the students in the Recitation of their Oath in English and French respectively.

For those who were unable to attend the event who would like to see it, video of the event is available here (https://www.youtube.com/watch?v=sVWWMMGFH4w&feature=youtu.be)

Here is a selection of photos taken at the event. Please note that photographs of individual students with their program director/assistant program director will be sent to each student individually at a later date by the Nursing Student Affairs Office.

October 9 2019