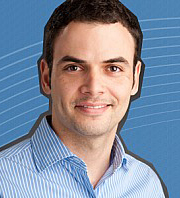 Sidi Mehdi Belgnaoui, a post-doctoral student in immunology at the Lady Davis Institute for Medical Research, is the award winner of the Fonds Santé, one of the three Fonds awards of the Fonds de recherche du Québec. His award-winning publication 'Linear ubiquitination of NEMO negatively regulates the interferon antiviral response through disruption of the MAVS-TRAF3 complex' is published in Cell Host & Microbe 12, 211-222, August 16, 2012.

His research on the innate immune response is of great interest to the public health sector, which aims to advance new strategies to fight viruses such as hepatitis C and influenza—illnesses that, every year, affect millions of people worldwide and, as a result, national economies.

Read the full story here

The Étudiants-chercheurs étoiles Award is a competition spearheaded by the three Fonds de recherche du Québec.

In addition to promoting careers in research, the competition aims to recognize the exceptional research contributions of college and university students, postdoctoral fellows and members of professional bodies who are enrolled in advanced research training programs in the areas covered by the three Fonds.

To learn more about the awards, click here

November 15, 2012