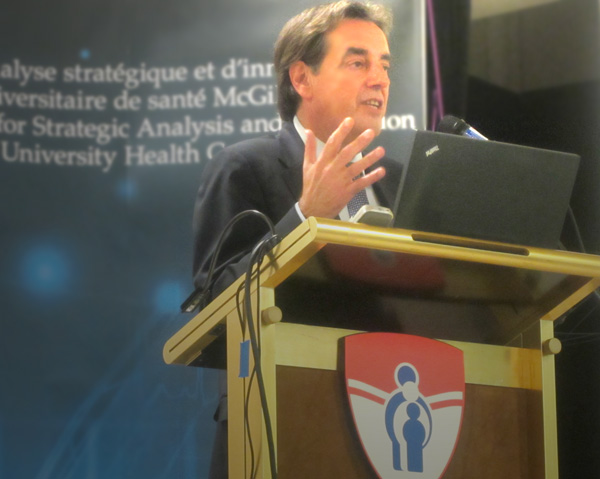 At its September 4 meeting, the Board of Directors of the McGill University Health Centre (MUHC) unanimously accepted the unanimous recommendation of the Selection Committee and appointed Normand Rinfret as MUHC Director General and Chief Executive Officer for a four-year mandate effective immediately. The Selection Committee comprised representatives of the ministère de la Santé et des Services sociaux du Québec, the Agence de santé et de services sociaux de Montréal, McGill University and the MUHC Board of Directors.

"In making this appointment we were cognizant of the need for a smooth and seamless transition," explained Claudio Bussandri, Chairman of the Board. "Normand is one of our own – he has worked at the MUHC in increasingly senior positions for more than three decades and for the past nine months as Interim Director General. The wisdom, experience and values Normand has gained during his many years with us will be a tremendous asset."

"Normand has demonstrated," continued Mr. Bussandri, "that he has an in-depth understanding of our academic health centre, the Quebec healthcare network and the vision we are shaping for ourselves and the population we serve at home and around the world. In looking ahead we are confident that he has the management and leadership skills to steer us through the ongoing transformation of the MUHC. Under his guidance, we will continue to perpetuate our commitment to excellence while being fiscally responsible."

Normand Rinfret joined the MUHC in 1979 and in the ensuing years held a number of senior positions in human resources, planning, real estate and technical services. He served as Associate Director General and Chief Operating Officer of the MUHC from 2005 until being named Interim Director General in December 2011. Mr. Rinfret is the founding president of CRISO, (Research and Intervention Centre for Healthy Workplaces), a not-for-profit research and consultancy group affiliated with the MUHC. As a board member, he has shared his experience with La Capitale assurances générales (chair of ethics committee), Association des directeurs généraux des services de santé et des services sociaux du Québec (chair of audit and finance committees, and treasurer), the Grace Dart Long-term-care Centre (member of audit and finance committees), and Fondation des amis (es) de l'École St-Joseph (founder and former chairman).

Read the full article from the MUHC

September 10, 2012