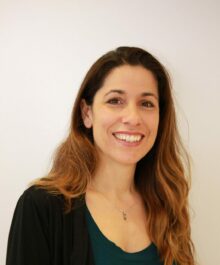 By Christina Kozakiewicz
On Monday, January 25, 2021, important new legislation came into effect for nurse practitioners in Quebec; the "Act to amend the Nurses Act and other provisions in order to facilitate access to health services" and the "Règlement sur les infirmières praticiennes spécialisées." These legislative changes amend 10 statutes and 30 regulations, but what do they mean for nurse practitioners and the individuals, families and communities in their care? We asked our Nurse Practitioner (NP) Program Director Irene Sarasua to weigh in and shed some light on this legislation and what it means for nurse practitioners and for delivery of healthcare services in Quebec.
Q: First, what is a Nurse Practitioner (NP)? What's the difference between a nurse and a nurse practitioner?

A: A nurse practitioner is an advanced-practice nurse with graduate nursing preparation and specialized nursing knowledge and expertise to respond to the health needs of a particular population. As nurses, NPs treat the whole person. They consider the impacts of illness on individuals and their families and help to identify strengths and resources that enable the best possible conditions for health and healing.  

To be a nurse practitioner in Quebec, you need a Master's of Science in Nursing and a Graduate Diploma in Medical Sciences, which includes 950 hours of internship, the highest number of clinical training hours of any province. While the duration of Quebec NPs' training is the longest in the country, Quebec NPs have had, until now, the narrowest scope of practice.In Quebec, there are five recognized NP specialties: Primary Care, Mental Health, Neonatology, Pediatrics, and Adult Care. And the Ingram School of Nursing (ISoN) is now the only Nursing School or Faculty in the province to offer all five specialties, as our
Adult Care concentration
was just approved by the Ministère de l'Enseignement supérieur.
We will be welcoming our first cohort of Adult Care Nurse Practitioner students in September 2021.In addition to the 17 professional activities reserved for registered nurses, nurse practitioners perform eight activities historically reserved exclusively for physicians, including things like diagnosing illnesses, prescribing medications and tests, and providing pregnancy care. NPs are also educators, health advocates and leaders. They act as consultants for interprofessional healthcare teams addressing complex care issues. They're involved in quality improvement and research projects.
Q: Explain the new Nurse-Practitioner regulation that came into effect on January 25. How does it change things for Quebecers and for Nurse Practitioners? What will be different moving forward when it comes to healthcare in this province?

A: In essence, this new legislation does three main things: it expands the scope of practice of nurse practitioners; it renders nurse practitioners autonomous; and it enables nurse practitioners to provide more comprehensive services to the clients in their care.

When we talk about expanding the scope of practice, prior to this legislation, NPs were not authorized to diagnose illnesses, to determine medical treatment plans or to provide high-risk pregnancy care. NPs would formulate what are known as '
diagnostic impressions',
which are considered opinions based on the presentation of a patient's symptoms, the formal diagnosis would then be confirmed by the physician. This would sometimes result in delays in care and treatment for patients. With their expanded scope of practice, NPs are able to diagnose illnesses for which there are recognized diagnostic criteria and clinical manifestations, and to then establish the appropriate treatment plan.   In tandem with expanded scope of practice, this legislation also renders nurse practitioners autonomous. While healthcare delivery involves the collaboration of many professionals, prior to the passing of this legislation, nurse practitioners were required to work in partnership with a physician, the conditions of which were outlined in a written partnership agreement. With the passing of the new law, nurse practitioners are no longer required to do so. Instead, they are considered autonomous professionals who are expected to ensure continuity of care and services throughout the care trajectory. This may involve referral to a physician when deemed necessary.  This new legislation also enables nurse practitioners to provide more wide-ranging services to clients. Now, NPs are authorized to perform a number of administrative activities that will accelerate clients' access to resources and services, like issuing medical notes for patients requiring leave from their jobs, and more.  Overall, this new legislation means that Quebecers have increased access to high-quality and timely healthcare services. We're hopeful that this will lead to reduced wait times for certain services and procedures, and to healthier individuals and families who now have easier access to a wider array of healthcare services.
Q: What does this new legislation mean for students who are studying to become Nurse Practitioners at McGill and elsewhere in the province?

A: For our Nurse Practitioner programs here at the Ingram School of Nursing, the curriculum will be adapted to include the activities outlined in the new legislation. NP students will graduate with the knowledge and skills required to enact their full scope of practice, but as always, with the understanding that being a healthcare professional involves a commitment to lifelong learning.
February 15, 2021