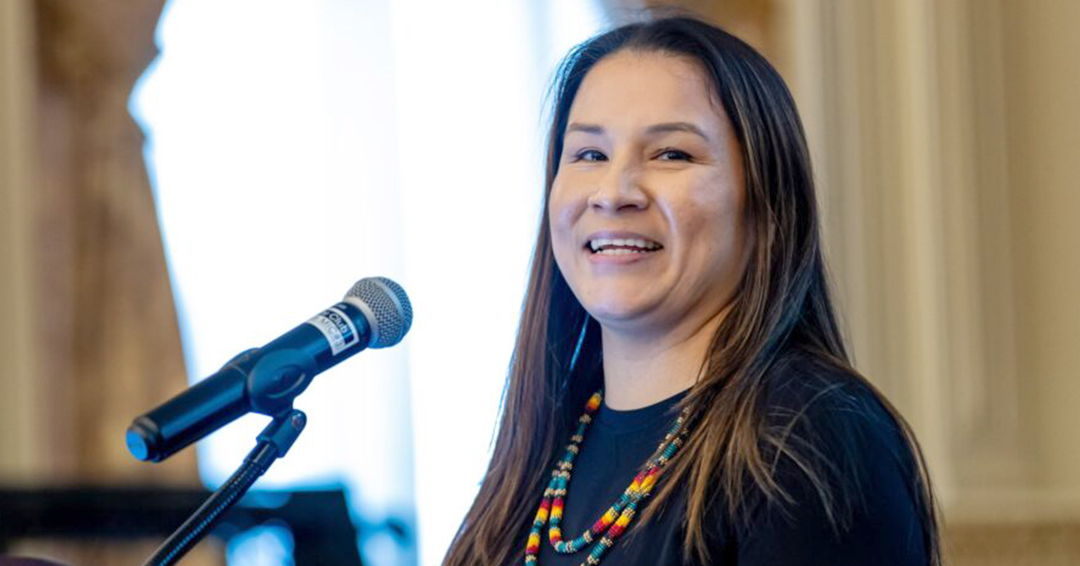 Eleven new community members, including Family Medicine's Amy Shawanda (above), share their stories during celebratory event held at the Faculty Club 
On Monday, Oct. 23, 11 new Indigenous staff and faculty members were welcomed to McGill in an event held at the Faculty Club. The newest members of University community include First Nations, Métis, and Inuk people from across Canada. McGill now has 50 Indigenous staff and faculty members.
In past welcome events, new Indigenous members to the McGill community were introduced through a slideshow. This year, however, organizers added a new – or more traditional – wrinkle. In respect to Indigenous customs, honorees were asked to go to the podium and introduce themselves.
"What does it mean [for Indigenous people] to come into this space, into this land, this territory, as people who may already be from this territory, but also as people who are not originally from this territory?" asked Celeste Pedri-Spade, Associate Provost (Indigenous Initiatives). "We would introduce ourselves, say who we are and who our family members are, what our community is, and our nation. And we would say why we're here."
The result had members of the audience laughing, clapping, and thinking about important challenges facing McGill and the broader community. Though brief, the introductions offered vivid glimpses into the lives and motivations of each speaker.
Tragedy and inspiration
Amy Shawanda, an Odawa Kwe from Wiikwemkoong, Manitoulin Island, and an Assistant Professor in the Department of Family Medicine, spoke about how her family history has shaped her career. Shawanda's father was a Residential School survivor, something her mother did not have to endure.
"I take both sides of this story – the tragic and very inspiring – and I bring them when I work in family medicine, when I work with students, and when I help colleagues of mine," she said. "I bring all of the teachings… from my community and the people I come across every single day, and I do what I can so that we can coexist for the better, and to reduce harm for Indigenous patients and communities everywhere."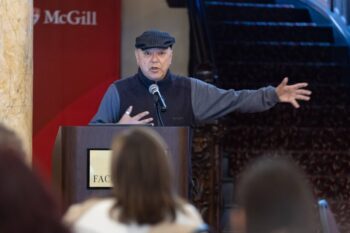 Don Martin introduced himself as a Mohawk from Kahnawake who was born in 1957. "I had the Day School experience," he said. "When I was [growing up] the Indian Agent still ran the show. The priest still ran the show. The RCMP still ran the show."
"Never in my imagination [did I think] I would be at another colonial institution," chuckled Martin, an Assistant Professor in Indigenous and Community Music at the Schulich School of Music, "but I am totally blown away just to have this opportunity."
Role models and community building
Natasha Macdonald, an Inuk from Nunavik, spoke about her family connection to McGill and the importance of mentors. Her mother graduated from McGill's Office of First Nations and Inuit Education program and went on to teach and train other teachers in the region.
"She was a role model… which makes it very rewarding to be working in the Faculty of Education," said Macdonald, an Assistant Professor in the Department of Education. "I am the second Inuk to be a professor at McGill. The purpose of me coming here is to pave the ways for others."
The final introduction went to Veldon Coburn, an Anishinaabe from Pikwàkanagàn, and an Assistant Professor at the School of Continuing Studies. Fittingly, Coburn spoke about one of the main reasons he, and other Indigenous scholars, want to come to McGill.
"A lot of credit has to do with momentum that was started with the extraordinary leap [of McGill hiring] Celeste," he said. "Celeste is deeply respected across the Indigenous academic community in Canada. McGill had the good sense to recruit her and a lot of us followed."
Coburn also praised the sense of community he's found at McGill, from the First Peoples' House and its "righteous food" to Monday's welcome event.
"Joining other institutions? This didn't happen. We were never all in the same room together," he said. "This feels like a real welcome to academia. Thank you."