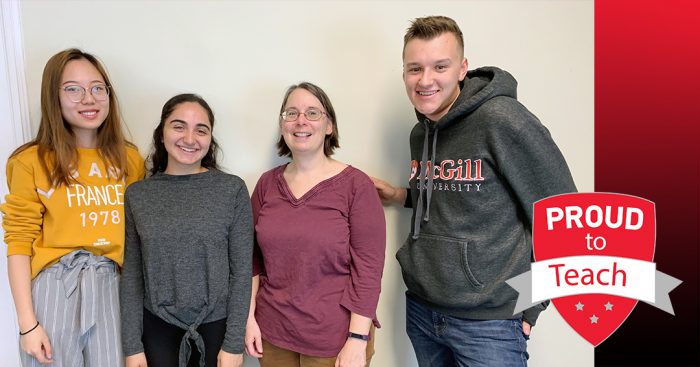 We are delighted to launch the Proud to Teach article series, recognizing excellence and innovation in teaching across the Faculty of Medicine. This first piece highlights a dynamic new course in the basic sciences, an integral part of the Faculty of Medicine.
By Matthew Brett

A new course available to students in the Faculty of Medicine enrolled in basic science programs puts students in the driver's seat. Offered through the Faculty of Science, the Research Project in Science Teaching and Learning (FSCI 396) course introduces undergraduate students to pedagogical research, educational assessment, and resource design in university-level science education settings.

In this interdisciplinary course, a small cohort of students is selected and paired with a faculty member who has a real-world research question or problem that they would like to explore or resolve. The students receive one-on-one supervision with faculty and a course coordinator who provides advice and guidance.

Among the Faculty of Medicine participants this semester are Dr. Maxime Denis, Assistant Professor, Department of Biochemistry, and Dr. Claire Trottier, Assistant Professor, Microbiology and Immunology.

The Faculty of Medicine's Assistant Dean of Biomedical Science Education, Dr. Terry Hébert, is praising the course because it brings the Faculty of Science and the Faculty of Medicine together to enhance education research capacity, allowing faculty members to see their own courses as research projects worthy of inquiry.

"As part of our own Education Strategic Plan, we were tasked with increasing capacity to do education research and with recognizing and taking advantage of educational innovation," Dr. Hébert said. "This new course offers a way forward for both of those efforts."

Dr. Tamara Western
, who created the course, is a Learning Innovation Specialist in the
Office of Science Education
, and Associate Professor in the Department of Biology.
The students themselves are the most inspiring part of this course, she says.

"McGill undergraduate students are amazing," said Dr. Western. "I find my interactions with the students in this course and other conversations I have with students on teaching and learning incredibly exciting and invigorating. We're in this together so we should work together – there are benefits for everyone."

FSCI 396 was approved by the university in December 2018 and the first cohort of six students participated in the course in the winter semester, 2019. The course is now in its third iteration with an interdisciplinary mix of students from diverse fields.

Véronique Brulé, an Educational Developer at the Office of Science Education, is assisting with the course and says this elective is an opportunity for not only students, but faculty as well.

"It is an amazing opportunity for undergraduates to be implicated in changing the pedagogical landscape at McGill," said Ms. Brulé. "It's also a great way for instructors to get more actively involved in pedagogy and to try new teaching practices with the support of an entire community."

Faculty members interested in collaborating in the course are invited to contact Dr. Western for more information.

Here is what current FSCI 396 students have to say about the course, along with descriptions of their projects:

Developing a peer-to-peer 'teaching coach' program
Student: Emily Di Nunzio

Third year, Anatomy and Cell Biology

One goal of the Faculty of Medicine's Education Strategic Plan is to create a peer-to-peer "teaching coach" program to support faculty members in implementing evidence-based approaches in their practice. The role of this project is to conduct a literature search and environmental scan to identify best practices and help formulate a pilot project.
"
FSCI 396 is unlike any undergraduate research I have participated in thus far," Emily said. "FSCI 396 has allowed me the opportunity to work with individuals who are passionate about improving the teaching and learning culture at McGill."
The course has allowed Emily to become a partner in higher education as well, she said. Emily is assisting with work around the Steering Educational Excellence Committee, which is overseeing the implementation of the Faculty's Education Strategic Plan, and feels that her work will have an impact.

"This reinforces my intention to pursue a career as an educator after my time as an undergraduate at McGill," Emily said.
Assessing the efficacy of inquiry-based learning

Student: Mira El-Irani

Third year, Physiology (Linguistics minor)

Project: Assessment of the efficacy of authentic research experience in BIOL 301BIOL 301, a cell and molecular biology laboratory course that serves Anatomy and Cell Biology, Biology, Pharmacology and Physiology students, is undergoing a major redesign towards inquiry-based education aimed at providing students with authentic research experiences. The goal of this project is to delve further into inquiry-guided learning literature as well as to investigate the efficacy of the current course design and its impact on student learning.
"I feel that one of the most unique aspects of the FSCI 396 course is that my opinions and input are always very much appreciated," Mira said. "I have the opportunity to apply my personal experience to take part in a study with the aim of creating a more well-rounded approach to learning. FSCI 396 also provided me with the chance to be in a class with a very friendly and person-centered atmosphere, allowing me to truly get to know my peers and to develop strong working relationships. I highly recommend this course to anyone who is passionate about improving the learning experience for science undergraduates!"
Assessing a drop-in help centre for first year students

Student: Iris Guo

Second year, Anatomy and Cell Biology

Project: Assessment of FRezCa, a drop-in help centre hosted by teaching assistantsThe First Year Residence Cafe tutorials, or FRezCa, is a drop-in help centre hosted by teaching assistants and undergraduate peer (TEAM) mentors and serves a large range of basic Science courses at the Freshman and U1 levels.This project focuses on the pedagogical literature surrounding the impact of community engagement on student learning, and quantitative and qualitative assessment of the FRezCa project.
"The FSCI 396 course is an extremely innovative way to introduce research procedures and the pedagogical side of academic courses, which can be relatively inaccessible and even unthinkable to most undergraduate students," said Iris. "With this single course, I can work on not only hard skills like data collection and analysis, but also soft skills like communications and teamwork."

"I have not only developed confidence in my capabilities in research, but I have also made extremely valuable connections. Being surrounded by so many motivated people who are passionate about helping students succeed encourages me as a student to continue to strive for greater achievements."
Students responses to—and efficacy of—active learning

Student: Samuel Richer

Third year, PhysiologyProject: Analysis of student response to active learning components in BIOL 202Several new active learning components were incorporated into BIOL 202 (Basic Genetics) in Winter 2019, including the use of myDALITE, a longitudinal case study, and in-class quizzes. This project is investigating data regarding student response to these activities to assess the efficacy of their employment to improve student engagement and learning.
"This course is amazing," said Samuel. "We are dedicated and passionate future scientists who wish to advance our knowledge; however, we need to strengthen our bonds with the people who know the science best today – our professors. This course does just that."
October 17 2019