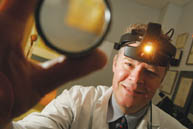 One of the mysteries of blindness has been solved. A team of international scientists in collaboration with the Research Institute of the McGill University Health Centre (RI MUHC) identified a new gene responsible for Leber Congenital Amaurosis (LCA), a devastating genetic form of blindness in newborns. What makes this discovery so exceptional is that this new gene called NMNAT1 – known to be crucial for life – has never been associated with any human disease. This is the first time such a major correlation has been established. The study was published today in the journal Nature Genetics.

"This is probably one of the most important discoveries in neuroscience and blindness in the past 15 years," said Dr. Robert Koenekoop, first author of the study, Director of the McGill Ocular Genetics Laboratory at the Montreal Children's Hospital of the MUHC and Associate Professor in Human Genetics and Ophthalmology in the Faculty of Medicine at McGill University. "Researchers have been looking for the link between NMNAT1 mutations and human disease in the brain or body for many years".

LCA is a rare, inherited eye disease that appears at birth or within the first few months of life, affecting about 1 in 80,000 newborns. Although there is no accepted treatment available for LCA, researchers have discovered 18 genes responsible for this particular form of blindness. To Dr. Koenekoop NMNAT1 is one of the most exciting genes of the 18 currently known genes to cause LCA because it opens up a whole new pathway of disease. "We can now identify the gene responsible for LCA in 75 per cent of children. We are getting closer to being able to identify all the genes for this form of child blindness and develop effective treatments," added the researcher

"Dr Koenekoop and his international colleagues have had tremendous success in uncovering and understanding the genetics of LCA," said Sharon Colle, President and CEO of the Foundation Fighting Blindness Canada. "We are proud to support him with the help of our generous donors. Identifying these mutations helps families struggling with this rare disease get a firm diagnosis, which is the first step towards potential treatments."

As with many scientific breakthroughs, establishing the connection between NMNAT1 and LCA challenged researchers to question long-held beliefs. Using cutting-edge genetic technology the team began by analyzing the entire genome of 60 infants with LCA. They excluded genes already known in order to maximize their chances of identifying new ones. "When we discovered the new gene was NMNAT1 we thought it was impossible, because – from bacteria to human – it plays such an important role in life that we believed if you had a mutation on NMNAT1 you would die," explained Dr. Koenekoop.

The gene NMNAT1 is found in every single cell in the human body. It produces a vital coenzyme called NAD, involved in hundreds of reactions in the cell. NMNAT1 is surprisingly also part of a rescue mechanism that slows down degeneration of neurons, and thus helps prevent the onset of many diseases such as Alzheimer's and Parkinson's disease.

"Our findings will have immediate therapeutic implications for blindness and may open the door to new treatments for other neurodegenerative diseases," added Dr. Rui Chen, senior author of the study and an Associate Professor at Baylor College of Medicine in Houston.

"Because higher levels of NAD have been shown to significantly delay degeneration of neurons, our team's work raises the exciting possibility that giving NAD as a drug in young LCA patients with NMNAT1 mutations may be a potential therapeutic option to cure blindness in the near future," concluded Dr. Koenekoop.

Funding:
This work was supported in great part by the Foundation Fighting Blindness (FFB) Canada and by Finding of Rare Disease Genes in Canada (FORGE Canada). It was also funded in part by the Government of Canada through Genome Canada, the Canadian Institutes of Health Research and the Ontario Genomics Institute. Additional funding was provided by Genome Quebec and Genome British Columbia.
Partners in research:
This project is a collaboration between the laboratory of Dr. Robert Koenekoop from the Research Institute of the MUHC at the Montreal Children's Hospital which include Dr. Irma Lopez, Dr. Huanan Ren and Dr. Vafa Keser and Dr. Qing Fu; the laboratory of Dr. Rui Chen, Texas Children's Hospital, Baylor College of Medicine, Houston; the laboratory of Dr. Jacek Majewski at the McGill University and Genome Quebec Innovation Centre which include Dr. Jeremy Schwartzentruber, The University of Leeds, UK team led by Drs Inglehearn and Toomes and FORGE Canada Consortium.
To read the full study in Nature Genetics

July 30 2012