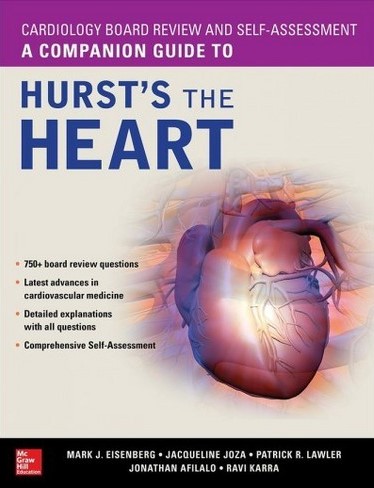 Published by McGraw-Hill in November 2018, "Cardiology Board Review and Self-Assessment: A Companion Guide to Hurst's the Heart," is an all-inclusive study guide developed to complement the 14th edition of "Hurst's the Heart," one of the two major textbooks in the field of cardiovascular medicine.  The study guide was co-authored by Dr. Mark Eisenberg, Professor of Medicine in the Department of Medicine and Director of the MD/PhD program at McGill University's Faculty of Medicine, along with Drs. Jacqueline Joza and Jonathan Afilalo, Assistant and Associate Professors respectively at McGill's Department of Medicine, Dr. Ravi Karra, Assistant Professor of Medicine at the Duke School of Medicine and Dr. Patrick R. Lawler, Assistant Professor at the University of Toronto's Peter Munk Cardiac Centre who completed his medical school and residency at McGill.

The idea for the book was born when Dr. Eisenberg was preparing to take the subspecialty test in cardiovascular disease required every 10 years to remain certified in the United States by the American Board of Internal Medicine. When Dr. Eisenberg went searching for the existing study guide for the Hurst textbook, he discovered that it was out of print. He then approached McGraw-Hill with the idea of developing a new edition of the study guide. Comprised of more than 1100 questions, the authors divided the work based on their individual areas of expertise, devising a set of 10 multiple-choice questions for each of the 112 chapters found in the textbook. The study guide makes reviewing the material more interactive, providing explanations not only for why the correct answers are correct, but also for why the incorrect answers are incorrect.

While the thought is that the guide will be of particular interest to finishing cardiology fellows preparing to take their board exams for the first time and to practicing cardiologists preparing for their recertification, the authors believe that it will also be of interest to Canadian and American medical students, residents, fellows, practicing physicians, and other health care professionals who wish to advance their knowledge of cardiovascular medicine.

"Cardiology Board Review and Self-Assessment: A Companion Guide to Hurst's the Heart" is available now in print form from major booksellers as well as in e-book format via McGraw-Hill Education's cardiology website.

December 12, 2018