Live 3D images of brain's vasculature will improve patient diagnosis and treatment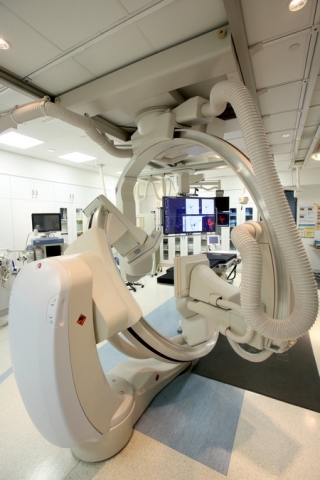 The diagnosis and treatment of potentially life-threatening neurological conditions such as aneurysms and strokes will be significantly improved as a result of cutting-edge technology at the Montreal Neurological Institute and Hospital – The Neuro, at McGill University and the MUHC.  The new angiosuite, inaugurated today, offers significant advantages to patients and physicians including most importantly, improved safety and outcomes.
Creates a 3D "road map" of the brain's vasculature with greater accuracy and rapidity. Like a GPS tracking system, the roadmap provides 3D images of the brain's tiny vessels in real time. A crucial tool for radiologists handling often complex and difficult interventions. The roadmap ensures safer interventions and helps decision-making in real-time.
Higher quality images, increased accuracy and precise visualization of arteries and interventions, due to new, sophisticated imaging software. This aids in more accurate diagnosis and interventional procedures.
Increased speed and flexible geometry of the angiosuite unit means shorter examination and treatment time, which is especially critical in cases such as stroke and rupture of brain aneurysms. This is paramount since The Neuro has been designated a Centre for Level 3 care in stroke patients.
Significantly reduces radiation exposure of patients and radiologists by as much as 45% compared to previous technology. In fact, the radiation dose can be tailored to the needs of each case.
Flexible design that enables the system to move around the patient instead of having to move patient, which is especially important when an individual is bleeding, intubated or under general anesthesia. A revolutionary five-axis C-arm can be positioned anywhere around the patient. The design enables better scanning angles allowing physicians to more easily diagnose the problem (i.e. aneurysm or occluded artery) and verify and obtain the optimal position of endovascular devices, like coils or stent.
Teaching and training tool for the next generation of health care providers.
"The new angiosuite offers distinct advantages in providing more accurate visualization of the brain's vasculature," said Dr. Donatella Tampieri, Director of The Neuro's Neuroradiology Department.  "This is highly advantageous in enabling us to deliver treatments that demand precision such as inserting catheters, coils and stents into the brain's fragile arteries, and rapidly,  thereby also reducing the radiation exposure of the patient. Overall, the combination of increased speed, precision, sophisticated design and reduced radiation means improved outcomes for our patients."

"We are pleased to have this exceptional new angiosuite at the service of our patients," said Dr. Guy Rouleau, Director of The Neuro.  "At The Neuro, staff see the most complex cases – those patients for which treatment is very specialized and often very technologically involved. The new angiosuite system ensures we continue to provide the highest level of tailored care to each of our patients. "

The rapidity of the new Infinix-VF-1 Biplane System will help handle a burgeoning annual case load.  In 2011, 374 patients were treated for aneurysms, strokes, and other cases of brain embolisms that required scanning.

The Neuro:
The Montreal Neurological Institute and Hospital – The Neuro, is a unique academic medical centre dedicated to neuroscience. The Neuro is a research and teaching institute of McGill University and forms the basis for the Neuroscience Mission of the McGill University Health Centre. Founded in 1934 by the renowned Dr. Wilder Penfield, The Neuro is recognized internationally for integrating research, compassionate patient care and advanced training, all key to advances in science and medicine. Neuro researchers are world leaders in cellular and molecular neuroscience, brain imaging, cognitive neuroscience and the study and treatment of epilepsy, multiple sclerosis and neuromuscular disorders. For more information, please visit theneuro.com.

Contact Information
Contact: Anita Kar
Organization: The Neuro
May 2, 2013