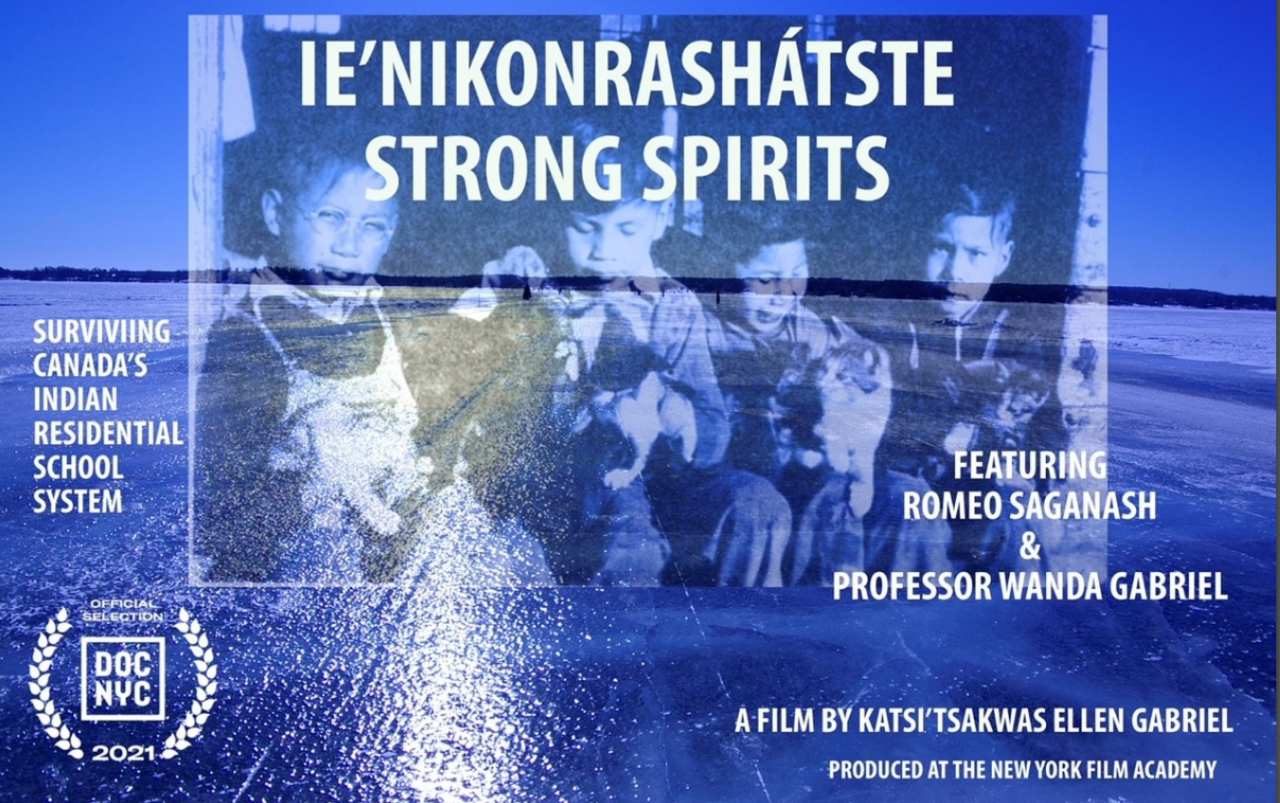 On June 21, National Indigenous Peoples Day, the McGill University Health Centre, in collaboration with School of Population and Global Health at the Faculty of Medicine and Health Sciences of McGill University, will host a film screening and special guest lecture by Katsi'tsakwas Ellen Gabriel. The English documentary is entitled Ie'nikonrashátste – Strong spirits: Surviving Canada's Indian residential school system.
This event is an ideal way to participate in this important day, and is part of the hospital's efforts to raise awareness about the historical, social, and political realities of Indigenous Peoples. By highlighting the importance of supporting the autonomy, sovereignty and self-determination of Indigenous Peoples, this event will in turn help improve the care provided to these patients and their families.
Group Zoom viewing:
For the McGill community, there will be a group Zoom viewing at the School of Population and Global Health (2001 McGill College Avenue, room 1140).
Virtual viewing:
For those who can't attend in person, please register using the Zoom link.
AGENDA
12:00 Introduction of Katsi'tsakwas Ellen Gabriel by Dr. Samir Shaheen-Hussain
12:05 Introduction of documentary by Katsi'tsakwas Ellen Gabriel
12:10 Documentary screening
12:45-13:00  Question and answer session with Katsi'tsakwas Ellen Gabriel
About Katsi'tsakwas Ellen Gabriel
Katsi'tsakwas Ellen Gabriel, from Kanehsatà:ke Kanien'kehá:ka Territory, is a documentarian, visual artist and Indigenous human and environmental rights activist.
In 1990, Gabriel graduated from Concordia University with a Bachelor of Fine Arts degree. She believes that education controlled by Indigenous peoples, based upon languages, culture and traditional forms of governance, are paramount to the recovery and reconciliation.
Gabriel was well-known to the public when she was chosen by her community of Kanehsatà:ke to be their spokesperson during the 1990 "Oka" Crisis. Since 1990, she has advocated for the rights to self-determination of Indigenous peoples and has worked diligently to sensitize the public on the issues and realities of Indigenous peoples. She participated in the United Nations Permanent Forum on Indigenous Issues and the Expert Mechanism on the Rights of Indigenous Peoples.
Gabriel is a steering committee member of Indigenous Climate Action, addressing the needs and solutions to the violations of Indigenous peoples' rights, the climate crisis and environmental rights issues.
In 2004, Ellen Gabriel was elected president of the Quebec Native Women's Association, a position which she held for more than six years. She received the Golden Eagle Award from the Native Women's Association of Canada in 2005 and the International Women's Day Award from the Barreau du Québec in 2008. In August 2008, Gabriel was the recipient of the Indigenous Women's Initiatives "Jigonsaseh Women of Peace Award" for her advocacy work