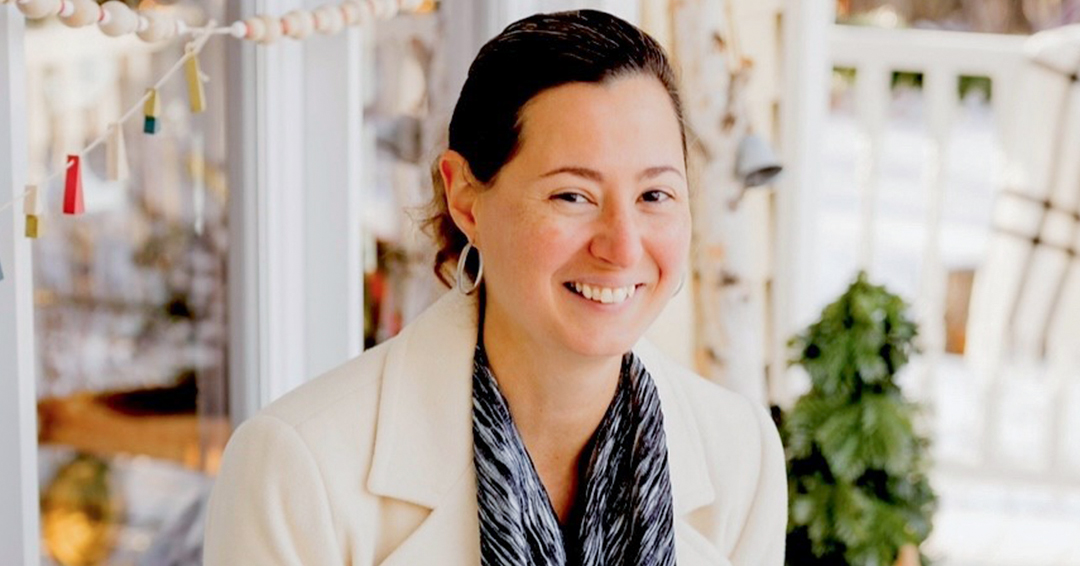 Nathalie Saad's debut novel may be delayed, but understandably so. Her many medical and administrative roles in and around McGill University have her daily agenda booked solid. Parenting will surely add to her workload. The pulmonologist and mom-to-be is also Assistant Dean, Student Affairs, Undergraduate Medical Education at the Montreal Campus, Office of Medical Learner Affairs, Faculty of Medicine and Health Sciences. She also serves as Director of the Pulmonary Rehabilitation Program at Montreal's Mount Sinai Hospital and is Vice-President of the Collège des médecins du Québec (CMQ). Fortunately, she was able to set aside some time to discuss her multi-faceted career.  
Juggling act  
To maintain a balanced existence, Nathalie Saad, MD, retreats on weekends to a cottage by the lake she shares with her significant other in Quebec's Eastern Townships. Ensconced in tranquility, her downtime is occupied by her first love, literature (the subject in which she obtained her undergraduate degree), the culinary arts, and of course, outdoor recreation. "I'm an Eastern Townships kind of girl," Dr. Saad says, "It's a different environment. I can go to the lake, winter, or summer, either snowshoeing or paddle boarding." Not surprisingly, she manages to squeeze in a little work as well. 
Back at the office, Dr. Saad works on innovative strategies to implement Mount Sinai's Tele-Pulmonary Rehab Program, a healthcare delivery system she developed. "We started up in 2017 with the program very small because pre-pandemic, telemedicine wasn't really a thing," she recalls. "Nobody actually knew what it meant or thought it was a way to do things. But we grew quite rapidly during the pandemic. In two to three years, we set up a lot of programs. We're in 13 different sites across the province, but we would like to continue growing and provide accessibility to pulmonary rehab via a guichet d'accès en santé (health access counter) to reach out to the western part of Quebec. Had it not been for the pandemic, I think even the kind of telemedicine program I have now would have taken at least another five to 10 years to really solidify, because the laws weren't in place to make it happen and patients and physicians weren't ready for it." 
As one might imagine, establishing a new entity requires a specific set of administrative skills, those which do not necessarily come with medical training. That's where Dr. Saad's EMBA came into play. "The HEC-McGill EMBA model was a great place for me to look at the problem of accessibility in pulmonary rehab with a completely different twist. It also gave me a lot of tools from a management standpoint, that I wouldn't have otherwise had. I learned how to better manage people and create teams using different approaches. And that's what allowed me to start my medical career, looking at things from another perspective and doing things a little differently. You need to take a look at what's done elsewhere and in fields completely outside of what you do, in order to be creative and see opportunities where otherwise you wouldn't have." 
Dr. Saad's administrative skills are also essential in her role as Assistant Dean of Student Affairs at McGill's Office of Medical Learner Affairs, which provides medical students with counselling in wellness, career and financial issues. "Our mandate is actually pretty broad," she says. "Attending medical school can be a difficult time. You start in medicine, but you don't quite know where you're going to end up as a resident. So, career counselling is very important because you have four years basically to decide what you're going to do for the rest of your life. The office also helps students navigate school policies concerning accommodation, absence, parental leave, and provides advice on how to manage starting a family, which can be quite stressful to manage." The Office of Medical Learner Affairs also provides advice to students struggling with financial obligations. 
Standard bearer 
Her experiences also led to her getting involved with the Collège des Médecins du Québec. The College is a professional organization responsible for setting educational standards for physicians and regulating the practice of medicine. "For me it's very important that we look at solutions within the healthcare system and never lose focus of the primary reason why we're in medicine, and that is to deliver high-quality care. We're also involved in medical education, which made it a logical continuum in terms of career path." 
At the moment, Dr. Saad is examining several aspects of regulation. "There were a lot of changes in the last few years, in terms of how regulatory bodies were organized in the province. There are provincial laws guiding regulatory bodies that specify good practices for risk management, financial management, et cetera. Also with the College, I'm involved with the other Canadian regulatory bodies and to some extent, the education side." And with the changes proposed under Quebec's Bill 15 – which would create a Crown corporation called Santé Québec to run the province's publicly funded healthcare system – there will surely be more work to come.  
Setting goalposts 
Having a carefully defined set of career goals in mind, Dr. Saad says McGill has provided the optimal setting in which to achieve them. "McGill offered a lot of flexibility, and the Jewish General Hospital was very open to new ideas," she says. "That was the deal clincher for me. I started off my practice with the idea of doing pulmonary rehab a little bit differently than it had been done in the past in the province, and I needed an environment that was going to be willing to allow me to implement my ideas. The minute I got to McGill they were very receptive of the kind of career path I wanted. The result is I have a medical education and medical administrative kind of career, instead of the more traditional medicine and research path." 
But what about that novel? "I'm going to work on it! It's still in the back of my mind."  
This story originally appeared in the Department of Medicine's Annual Report 2022-23. Read the full report.