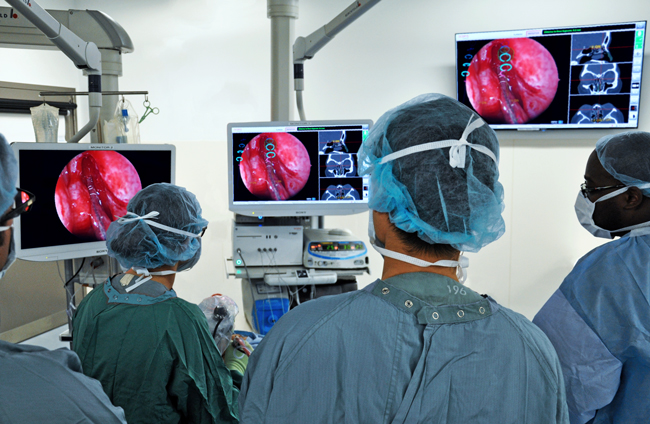 By Patricia Vasquez, MUHC Communications

New technology using augmented reality* and mixed-reality** is assisting surgeons with planning and real-time positioning in patients who require ear, nose and throat surgery. The state-of-the-art technology, known as Target Guided Surgery (TGS), aims to improve patient outcomes and safety in this complex surgery, which is performed in close proximity to the optic nerve and the brain. The McGill University Health Centre (MUHC) is the first institution in North America to use augmented and mixed reality in sinus surgery.

TGS integrates seamlessly with the operating room video endoscopy system and provides the clinical team with unique abilities to perform and observe the surgery. The technology, which is created by Berlin-based tech-company Scopis, can also be used in craniofacial, spinal and neurological operations. Scopis chose the MUHC as a centre of reference for TGS because of the institution's expertise in otorhinolaryngology surgery and strong educational focus.

Dr. Marc Tewfik
, MUHC director of Rhinology and assistant professor in the department of Otolaryngology at McGill University, performed the first surgery using this unique and highly advanced navigation system. "One of the main benefits of using TGS is the ability to identify critical anatomical structures and to plan the safe placement of surgical instruments," said Dr. Tewfik. "Endoscopic sinus surgery is particularly complex and in addition to improving safety, this technology reduces surgical time."
"Surgical planning, as well as the actual surgery, can be recorded by the Scopis system. This feature turns any operation into educational content that we can use to teach residents," said Dr. Nader Sadeghi, who is chair and chief of the McGill and MUHC departments of Otolaryngology – Head and Neck Surgery. "This technology supports our focus on education and in using innovative solutions for complex medical challenges."

* Augmented reality (AR) is a technology that layers computer-generated enhancements on top of existing reality in order to provide additional information and to allow interaction.

** Mixed reality is the merging of real and virtual worlds to produce new environments and visualizations where physical and digital objects co-exist and interact in real time.

Click on the thumbnail to watch the video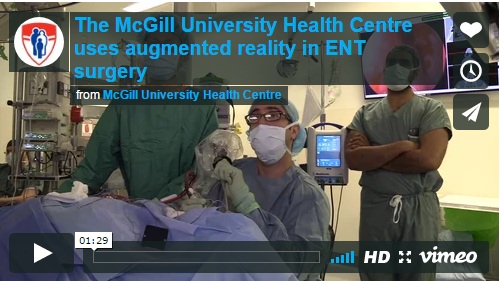 June 1, 2017