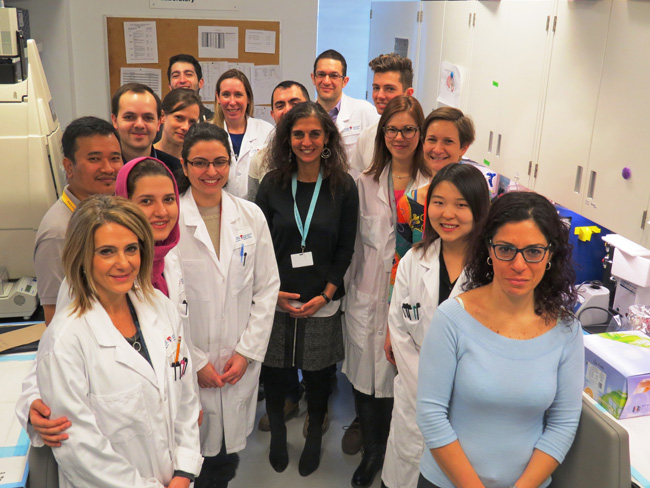 By MUHC Public Affairs

A team from the Research Institute of the McGill University Health Centre (RI-MUHC) led by Dr. Nada Jabado, hemato-oncologist at The Montreal Children's Hospital of the MUHC was selected as one of the top Canadian teams to attack brain cancers in children and adults. This New Cancer Stem Cell Dream Team led by The Hospital for Sick Children (SickKids) in Toronto, received $11.7 M (CAD) in funding for four years to focus on the cancer stem cells that drive the growth of tumours. The announcement was made on World Cancer Day, Feb. 4, at SickKids Research Institute.

"This team is called the Dream Team and today, our dream comes true," says Dr. Nada Jabado, co-principal investigator of the Dream Team and a researcher from the Child Health and Human Development Program at the RI-MUHC and a professor of Pediatrics at McGill."As clinicians, we see children and adults affected by these devastating and incurable brain tumours without being able to save them. Thanks to this major funding we hope to better understand these tumours and be able to provide a more efficient treatment for patients in a near future."

The team will focus on glioblastomas in adults and children and on   of infants, both of which have a dismal outlook for patients and for which treatment options are limited. Less than 10 percent of adults survive longer than five years after a glioblastoma diagnosis. In children, cancers of the brain and central nervous system are the No. 1 pediatric cancer killers, even though leukemia is the most common pediatric cancer.

Researchers have found that these cancers contain brain tumour stem cells (BTSCs). While similar to nerve stem cells that mature during normal brain development, abnormal programming in BTSCs allows them to drive tumour relapse (or the ability of the tumours to grow back again) and drug resistance. The Dream Team's goal is to understand the abnormalities in BTSCs so that they can identify vulnerabilities that can be used to develop new drugs that are effective against brain cancers.

A total of 11 research teams across Canada, recognized as international pioneers of stem cell research, will work together and bring a high-level of expertise in their respective research fields including genomics, epigenomics, computational biology and neurobiology.

Dr. Jabado's research focuses on pediatric glioblastomas. Her team was the first to identify two genetic mutations involved in up to 40 per cent of pediatric glioblastomas which led to better understanding why this cancer remains unresponsive to treatments. Dr. Jabado's research is revolutionizing the way scientists view astrocytomas in children and young adults, paving the way for targeted therapies for these deadly tumours.

The SU2C Dream Team will be led by Dr. Peter B. Dirks, neurosurgeon and senior scientist at SickKids, who was the first to identify cancer stem cells in brain tumours in 2003. It will be co-led by Dr. Samuel Weiss director of the Hotchkiss Brain Institute and professor in the Cumming School of Medicine at the University of Calgary, who was awarded the Canada Gairdner International Award in 2008 in part for his discovery of adult neural stem cells in the brains of adult mammals.

Read the national press release that was published by Stand Up To Cancer Canada