Certification of substantial completion of Glen site is issued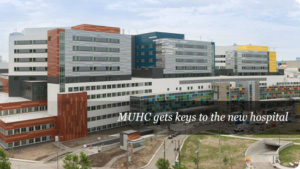 MONTREAL November 7, 2014 — Today, the McGill University Health Centre (MUHC) has full access to the new facilities at its Glen site in Montreal. With the Independent Certifier's issuance of a substantial completion certificate, we can now move ahead with the activation process to prepare to receive patients, organize research facilities and train healthcare professionals at the site.
The Glen site is the new home of the Montreal Children's Hospital, the Royal Victoria Hospital, and the Montreal Chest Institute, as well as the Research Institute of the MUHC and the new Cedars Cancer Centre. One of the largest hospital projects in Canada, the Glen site construction began in July 2010 following the selection of Groupe immobilier santé McGill (GISM), a general partnership composed of SNC‐Lavalin and Innisfree, to design, build, finance and maintain the Glen site under a public‐private partnership (P3) agreement.

"We have achieved a great milestone and succeeded in creating an environment that will support our mission as a leading academic health centre offering the full spectrum of complex care. These healing facilities will also make our patients feel more comfortable and empowered over their health," said Normand Rinfret, MUHC Director General and Chief Executive Officer. "I am grateful for the patience, dedication and hard work of the MUHC staff, the commitment of our partner, and the support of the community. We should all be very proud as we move into the next phase of this project and prepare for the arrival of patients. In the next few months, we will continue our private discussions with GISM to settle contract interpretation issues."

Since October 1, Early Activators have been at work in the Research Institute of the MUHC (block E) to ensure that all equipment, systems, furniture and other elements are present, have been tested and are functional. The Research Institute's move is scheduled for February 2015. Over the next few months, hundreds of operational and clinical Early Activators will join them in order to ensure that the hospital facilities (blocks A‐B‐C‐D) are fully operational: from light switches to equipment, they will validate that everything is ready to welcome patients. In addition, over 8,500 MUHC staff members will receive training and orientation in preparation for the first patient move scheduled for April 26, 2015.

November 12, 2014