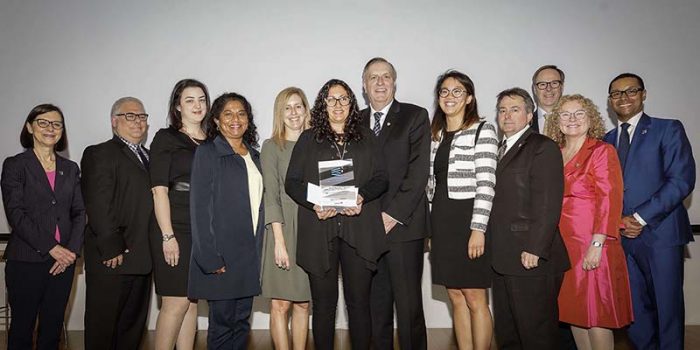 Source: MUHC
Our teams did not return empty handed from Les Prix d'excellence du réseau de la santé et des services sociaux 2019 on May 31, earning a pair of honourable mentions for pioneering innovative projects aimed at benefiting our patients and staff.

The Ministry was so impressed with the Controlling Specific Infection Successful Strategies (CSISS) program to reduce nosocomial infections that it awarded the team behind the initiative a distinction in the Prix Isabel-et-Michèle-Beauchemin-Perreault category.

"We are so proud of everyone involved in this initiative," says Anaïck Briand, CSISS Project Manager. "What's important is that a major interdisciplinary project that implicates patients and front-line personnel to improve the quality of care for patients at the MUHC was highlighted by the MSSS."

'Knowing how we are doing' is the official CSISS motto that comes to life in hallways across the MUHC as interdisciplinary teams that include patients and families, huddle for 15 minutes for real-time analysis and brainstorms aimed at creating on-the-ground action plans. This initiative has come  a long way to improving infection control practices such as hand hygiene and the disinfection of our environments and equipment.

Nosocomial infections affect approximately 10 percent of the Quebec population, killing up to 4,500 people every year. Three years on from its inception, the CSISS program's impact is clear as it has cut C. difficile cases in half.

"It's a program that continues to evolve and we will continue striving to make it better," says Briand. "What motivates the team even more is seeing how we have broken down silos from different departments over the past three years and how teams have come together to make a difference."

The CSISS wasn't the only candidate to return home with an award. The team behind the Opal smartphone app won the prestigious Coup de Coeur des ministres honour.

With just a few taps, the Opal patient portal app gives patients access to unique features such as contextualized medical data and personalized educational material, including lab results, medical notes and treatment plans. Recognizing that patients are people with busy lives, Opal also gives them the ability to check in and be notified for appointments using their smartphone.

Congratulations to both teams for representing the MUHC at this prestigious event and exemplifying the groundbreaking, transformative work being done across our sites every day.

June 6 2019