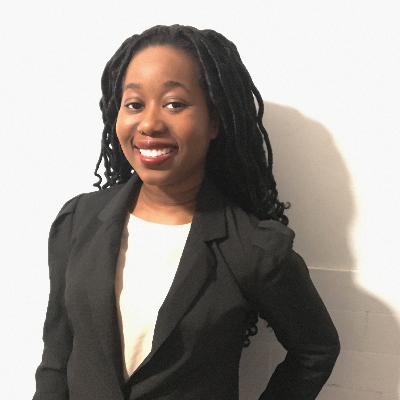 Khandideh Williams, an MSc student in the Department of Family Medicine, was born and raised in Montreal by two immigrant parents from the Caribbean. Shortly after high school, her interest in sciences grew and she began getting involved in research and student leadership at Dawson College. Khandideh then completed herBachelor's degree in Microbiology and Immunology at McGill University. During this time, she expanded her knowledge about health and illness mechanisms and got involved in several research projects. With a background in basic sciences and bench research, Khandideh wanted her next endeavour to further equip her to hone her passion for health and healthcare equity and her interest in the social factors related to healthcare delivery and its outcomes. She joined McGill's Department of Family Medicine in Fall 2020 to pursue her MSc, with the goal of engaging in research that may inform policies to improve healthcare provision within vulnerable populations.
Getting to know Khandideh

"I am truly proud of my multicultural heritage," says Khandideh. "Although my parents did not have the opportunity to pursue a tertiary level education during their younger years, they have always instilled the importance and value of education in me. Their consistent support and encouragement motivated me to explore new activities and to enjoy learning." Khandideh recalls not being exposed to many Black professionals while growing up. "I sometimes questioned my ability to succeed in science and research, and other disciplines that are often dominated by non-racialized persons. Even so, I have remained focused and motivated despite this lack of representation since I understand the power of seeing oneself in inspiring positions. For this reason, I aim to be a role model to young Black children who aspire to obtain a higher education and to join academia or research," shares Khandideh.

Khandideh's thesis, which she is completing under the supervision of Drs. Alayne Adams and Jeannie Haggerty, is focused on healthcare equity. Her thesis research involves a qualitative study exploring how race influences primary healthcare accessibility during the COVID-19 pandemic. Using an intersectionality lens, Khandideh will investigate the experiences that persons from various racial categories relate having faced when seeking primary healthcare services to determine potential barriers and facilitators that influence access. "The Department of Family Medicine stood out to me given its unique focus on community engagement and its mission to train students and professionals to make valuable contributions to the development and sustainability of the Canadian healthcare system," she notes.

Khandideh was elected Vice President, Academic of the Family Medicine Graduate Student Society in Spring 2020. "I am both very happy and honoured that the students in the Department trusted to elect me to this position as a first-year MSc student," she says. In addition to her thesis-specific work, Khandideh has also been involved in an environmental scan on youth-led mental health and wellness initiatives. This study is being conducted in support of the Listen Up project led by McGill's School of Population and Global Health and aims at identifying gaps in the evidence used to develop programs for youth mental health. "I believe that it is important to hear, include, and amplify youth voices when developing initiatives for their mental health so that they may be appropriate," she explains.

Black History Month
This Black History Month, Khandideh is celebrating all young and emerging Black scholars and professionals who continue to find the motivation to shatter the glass ceilings which have traditionally been out of reach. She names Kamala Harris, the first African-American and first Asian-American United States Vice President, as an example of someone she admires. "I believe that it is important for McGill, and other educational institutions, to participate in, and engage their communities with, Black History Month events because Black History is everyone's history. Black history and Black contributions should actually be discussed, shared, and celebrated year-round," she notes. "Since the contributions of Black people to Canadian history are not sufficiently represented, every effort should be made at all institutions to highlight Black legacies and Black voices during Black History Month. It is a time for reflection and a time to give thanks to those who have helped pave the way for us all today."

Recent events shook the world and reminded everyone that systemic racism might persist in the healthcare setting. Khandideh believes that one challenge that should be addressed is the lack of cultural safety policies within many clinical practices. "We must also address the issue of career advancement in the healthcare setting and in academia, whereby women and people of colour are less likely to be published, cited, and promoted," she adds. "Addressing the question of whether the practice is the result of covert discrimination or whether it is the result of other latent socio-economic factors should help to improve the delivery of healthcare throughout the province of Quebec and Canada as a whole."

To move forward, Khandideh encourages people in positions of power to acknowledge that a change is warranted and considers that people who are aware of the changes that must be implemented should obtain decision-making opportunities and positions of power. "A diverse staff will promote the introduction of novel perspectives, opinions, and strategies that may be more beneficial and equitable," she explains. "That being said, I do think it is also important to mention the numerous civilians of varying ages, academic backgrounds, and occupations who continue to advocate for change at different levels of society. These voices are crucial in igniting the movements that will increase awareness and catalyze change. We are powerful in numbers, after all."
February 22, 2021