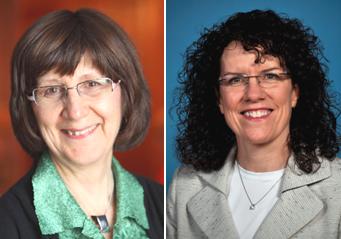 On May 15, The Women's Y Foundation announced the laureates of the 2013 Women of Distinction Awards. This year's winners will be honoured at a Benefit evening to be held next September 30th.

Five McGill grads and/or profs are among the 13 honorees, including 2 professors from the Faculty of Medicine. YWCA Women of Distinction include McGill profs Marianna Newkirk (for science & technology) and Lynne McVey (health). McGill grad Frédérique Vallières, co-founder of Reach Out To Humanity, named Montreal YWCA's Young Woman of Distinction. McGill grad Martine Hébert, a UQAM prof and an expert on sexual abuse, is named Montreal YWCA Woman of Distinction for Education. (H/T Daniel McCabe).
Executive Director of the Douglas Mental Health University Institute since January 2012, Ms. Lynne McVey, also served as Director of Nursing and Clinical Operations at the Jewish General Hospital, and  Co-Director of the Segal Cancer Centre. Ms. McVey is an Associate Professor at the School of Nursing at McGill University in addition to being a principal lecturer at the University of Montreal's Faculty of Medicine for the Health Administration Program. She teaches management, leadership, patient safety, and partnership between nurses and doctors. Since her appointment as Executive Director of the Douglas Institute, Lynne McVey has firmly established her goal of improving access for the population to specialized mental health services both at the Douglas and in the community.
Associate Professor of Medicine at McGill, Dr. Newkirk's area of research is autoimmune disease. She is also a co-founder of Immunology Montreal, a project developed to furnish the Montreal community with immunology education through outreach activities. The organization aims to increase awareness of immunology issues and influence domestic policy by involving local educators and political figures. Additionally, Dr. Newkirk actively organizes scholarships for Montreal students to attend CSI and served as treasurer of the International Union of Immunological Societies (IUIS), an umbrella organization for many national and regional immunology societies. Also, in 2004, Dr. Newkirk organized an International Congress of Immunology in Montreal.

Each year, the YCA Women of Distinction awards celebrate women from all backgrounds for their daily actions, their influence, their impact and their achievements enrich the collectivity. They are each in their own way exceptional women who contribute positively towards advancing the role and place of women in today's society.

For more information and to view the videos of the Laureates, click here.
May 29, 2013