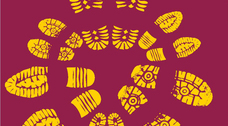 The Douglas Institute is proud to be one of the ten member organizations of MONTRÉAL WALKS for mental health.

MONTRÉAL WALKS for mental health is an annual event. In 2011, more than 800 people walked together as an effort to help destigmatize mental illness and collect funds to improve mental health services.

The 2012 edition of MONTREAL WALKS will take place on Sunday, October 14 at Phillips Square.
10:00 a.m. – Douglas Team Meeting Point: corner of Union and Cathcart (CIBC bank).
11:00 a.m. – Walk begins
Join the Douglas Institute team, which our Executive Director, Lynne McVey, will also be part of. Many of our partner organizations, such as AMI QUÉBEC, Revivre, CSSS Cavendish, and others will also be there for this 4th edition of MONTREAL WALKS. Margaret Trudeau has generously accepted to be the event's Honorary Chair.

Note: Registration is free but mandatory on the Montreal Walks Web site (team name = Douglas Institute)

Make a donation today and help the Douglas Institute Foundation finance projects which will improve the quality of life of our patients. You just need to sponsor the Douglas Institute Team. Select Douglas Mental Health University Foundation as the organization.

Contact:
Annie Cuerrier

HR advisor

Douglas Institute

Tel.: 514-761-6131, ext.: 2795

annie.cuerrier@douglas.mcgill.ca
October 11, 2012