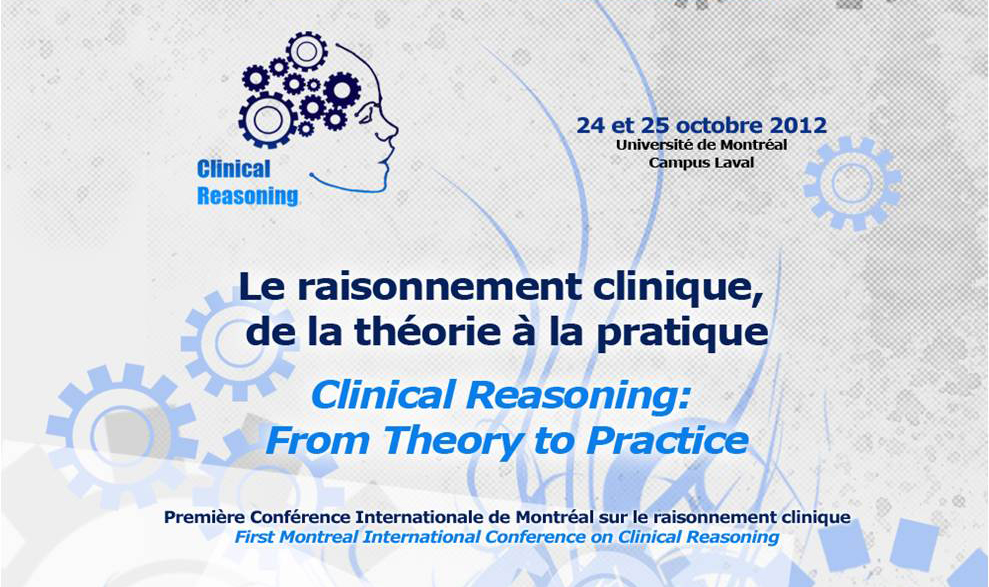 The upcoming 1st Montreal International Conference on Clinical Reasoningwill explore the tenets of clinical reasoning in an academic context. Taking place at the Laval Campus at the Université de Montréal on October 24 and 25, 2012, participants will descend on Montreal from around the world. Distinguished plenary speakers include Dr. Kevin Eva (UBC), Dr. Sílvia Mamede (Erasmus University Rotterdam) and Dr. Steven J. Durning (Uniformed Services University). The meeting will also feature a variety of activities, such as poster and oral presentations and workshops.
"This is actually the first conference of its kind. This doesn't exist anywhere in the world. There's really a burgeoning community of people who are interested in this topic worldwide. The idea was to gather these people together all in one place and exchange ideas about the topic," says Dr. Stuart Lubarsky, one of the Conference Planning Committee Members and Centre for Medical Education Core Faculty Member.

The conference is being planned by McGill University's Centre for Medical Education in collaboration with the Centre de pédagogie appliqué aux sciences de la santé de l'Université de Montréal and the Collège des médecins du Québec. Lubarsky and Educational Research Scientist Dr. Meredith Young are the McGill representatives on the organizing committee. Says Lubarsky, "We have an ongoing collaboration with the people at the Université de Montréal and, particularly within the field of clinical reasoning. We've already collaborated on a number of projects in this field, so the conference is sort of a natural evolution of that collaboration."

Building new collaborations and making long-lasting contributions the field of clinical reasoning are end goals of the conference. "What I'm hoping is that the field of clinical reasoning becomes more widespread and more well-known. Any time people come from around the world get together at conferences; they meet, they talk, they see you're doing interesting things. Hopefully new collaborations will be forged. The other idea is to put Montreal on the map as a real centre for this particular area of clinical reasoning because we have a lot of people interested in it," says Lubarsky.

For complete conference details and to register for the 1st Montreal International Conference on Clinical Reasoning visit: http://montrealconferenceclinicalreasoning.ca/index.php?page=en

By Deanna Radford

October 12, 2012