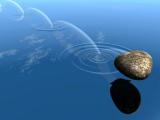 If you are affected by chronic anxiety or pain you may want to check out a highly structured program based on yoga and meditation, aimed at reducing stress and stress-related illnesses.
"Research by Jon Kabat-Zinn, founder of the University of Massachusetts' Stress Reduction Clinic, established the MBSR (Mindfullness-Based Stress Reduction) Program as an effective medical intervention for chronic pain and stress-related illnesses such as high blood pressure." (Globe and Mail, February 20, 2011).
Gina Rubinsky is a registered psychologist, mindfullness-based stress reduction facilitator, and certified yoga teacher.  She will discuss the Mindfullness-Based Stress Reduction (MBSR) Program, its content and goals, as well as explore its usefullness in cultivating and maintaining health and well-being in the face of increasing demands and life stressors.  In addition, there will be some guided mindfulness meditation integrated.
Friday, May 9, 2014


12:15 to 1:15 p.m.


Leacock Building, LEA 219
To register, go here
QUESTIONS?  Send an email to reception.pensions@mcgill.ca