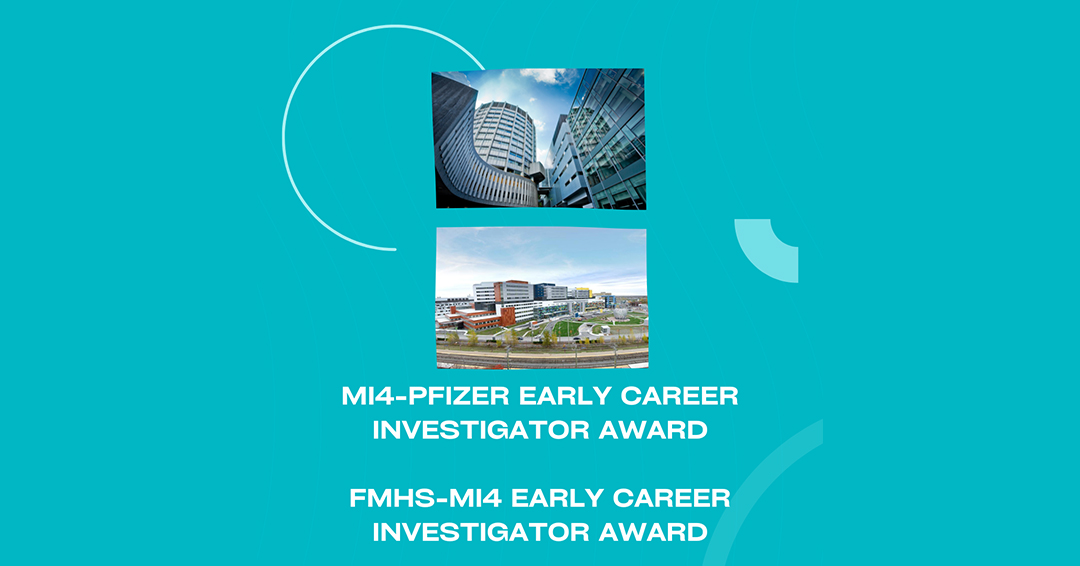 MI4 is pleased to award funding to two investigators in Year 2 of the MI4 Pfizer Early Career Investigator Award program.
Qian Liu, PhD, an Assistant Professor at McGill University's Institute of Parasitology, received the award for her project, Single-molecule interactions between Nipah virus and the interferon-induced transmembrane proteins.
"This award will help me launch my research program rapidly and foster my interdisciplinary research. My research program aims to decipher the mechanisms of infection and immunity of deadly zoonotic viruses from a single-molecule perspective using cutting-edge super-resolution imaging technology," said Prof. Liu.
With the help of the award, Prof. Liu hopes to understand virus-host interactions by mapping out the single molecule behaviours on a nanoscale.
"This has been challenging as the current technologies are often harmful to biological specimens to achieve a single-molecule resolution. With my expertise in molecular virology, fluorophore chemistry, and single-molecule imaging, I strive to reach this goal by diminishing the boundaries between disciplines and generating new knowledge."
Laurence Chapuy, MD, PhD, a scientist at the McGill University Health Centre Research Institute, received the award for the project Plasticity of human monocytes towards regulatory macrophages in Crohn's disease.
"Receiving the MI4 Pfizer Award is a great honour and recognition of the importance of my research project on inflammatory bowel diseases. As a new investigator, I need support to develop my research, which aims to better understand the mechanisms of intestinal fibrosis in patients suffering from Crohn's disease," says Dr. Chapuy.
Dr. Chapuy's project will allow the application of cutting-edge technologies to characterize the mononuclear phagocytes that populate the fibrotic tissues of Crohn's disease patients and understand their involvement in fibrosis.
"By combining single-cell level analysis and advanced tissue imaging techniques, I will be able to dissect the mechanisms that promote intestinal fibrosis. This data will be a first step in developing therapies to promote fibrosis-free intestinal repair in Crohn's disease patients," said Dr. Chapuy.
FMHS-MI4 Early Career Investigator Award
MI4 also announces that it  has partnered with the Faculty of Medicine and Health Sciences to support an additional project, with help from a gift from the Charles O. Monat Foundation, for the FMHS-MI4 Early Career Investigator Award. The Award has gone to  Ajitha Thanabalasuriar, PhD.
Prof. Thanabalasuriar, an Assistant Professor at McGill University's Department of Pharmacology and Therapeutics received funding for the project Deciphering the mechanism of e-cigarette mediate development of lung disease.
"The award is boosting the potential of new investigators. Securing federal Tri-Agency or even provincial funding is demanding, requiring a flawless proposal and more than adequate amounts of preliminary data. To have MI4-type funding specifically geared for early career investigators is crucial. It gives us a chance to build on preliminary observations to have a solid case for other funding sources. As we leave our postdocs, we have great ideas, but having the right amount of preliminary data and hiring the right people takes time. This award gives a chance to take high-risk projects to build ground-breaking research programs," said Prof. Thanabalasuriar.
Prof. Thanabalasuriar expects the funding provided with the award to turn into a high-impact publication, long-term funding and a presentation at a national conference.
About the MI4-Pfizer Early Career Investigator Award
Since 2021, MI4, with a donation from Pfizer Canada, has been recognizing the contributions of early career scientists and researchers across the McGill and MUHC community by giving them the opportunity to carry out important infectious disease or immunity research and participate in discoveries that could save people's lives. Two $100,000 awards are given each year, one to a PhD scientist and one to a clinician-scientist.
About MI4
The McGill Interdisciplinary Initiative in Infection and Immunity (MI4) brings together a group of more than 200 scientists and researchers, with the goal of developing new solutions for infectious and immune diseases and delivering these solutions to the patients and populations who need them most.