A message to the McGill community
Stuart H. (Kip) Cobbett
Chair of the Board of Governors of McGill University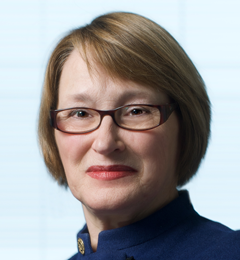 On behalf of the Board of Governors, I am delighted to announce that Dr. Suzanne Fortier has been selected as the 17th Principal and Vice-Chancellor of McGill University, effective in early September 2013 for a five-year term. The Board reached a unanimous decision on the selection, following the recommendation from the Advisory Committee formed to assist in the search.

Dr. Fortier has served most recently as President of the Natural Sciences and Engineering Research Council of Canada (NSERC). Prior to joining NSERC in January 2006, she held a variety of senior academic leadership positions at Queen's University, including Associate Dean of Graduate Studies and Research, Vice-Principal (Research) from 1995 to 2000, and Vice-Principal (Academic) from 2000 to 2005.

Dr. Fortier was selected based on her outstanding scholarship, commitment to academic excellence, and demonstrated ability to lead McGill. She has made her mark as a highly distinguished professor and chemist, and has authored or co-authored more than 80 scientific publications. She is well known as a leader and passionate advocate of higher education and research in Canada and internationally, and has demonstrated success in building collaborative partnerships.

Dr. Fortier is a proud graduate of McGill, where she received a BSc (1972) and a PhD (1976).

Dr. Fortier has received numerous awards and distinctions. Her distinguished service includes membership on the International Jury of France's Investissements d'Avenir, the boards of the Canada Foundation for Innovation, Genome Canada and the Canada Research Chairs, as well as the Steering Committee of the Network of Centres of Excellence.

Principal Munroe-Blum will complete her second term of service on June 30, 2013. An Acting Principal will be appointed to serve from July to September, while Dr. Fortier complies with the transition period between her departure from NSERC and her new opportunity at McGill, in accordance with the Conflict of Interest Act and the Office of the Conflict of Interest and the Ethics Commissioner.

The Board of Governors extends a heartfelt thanks to all members of the Advisory Committee for their dedication and wisdom. We believe that their commitment and diligence has resulted in the choice of an outstanding Principal-Designate, who possesses the vision, experience and skills necessary to continue McGill's academic and research excellence, support to our students and capacity to serve our communities – here in Quebec and Canada, and indeed, around the world.

For more information about Dr. Fortier or about the selection process, please consult the following website

I know you will join me and the Board in extending to Dr. Fortier a very warm welcome

— back — to McGill.

Stuart H. (Kip) Cobbett

Chair of the Board of Governors of McGill University

March 5, 2013