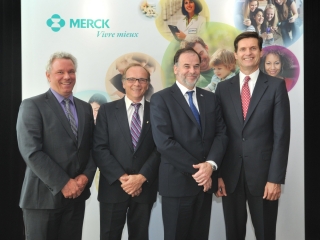 Merck Canada announced yesterday the allocation of a total of $16 million in grants to Quebec's four faculties of medicine. McGill, along with Université de Montréal, Université de Sherbrooke and Université Laval will each receive $4 M to support health research with a translational component conducted in areas of unmet medical need. The announcement was made in Quebec City at the BioContact Quebec Biopharmaceutical Partnership Symposium, in the presence of Dr. Thomas R. Cannell, President and Managing Director, Merck Canada Inc., and of Pierre Duchesne, Minister of Higher Education, Research, Science and Technology.
"At Merck, we strive to identify and support areas that will have the most effect on fulfilling the unmet needs of patients, who are at the core of everything we do. In addition, we want to contribute to strengthening the life sciences sector in Quebec through research performed by teams of world class scientists. We believe that with these grants, we have achieved both of these goals," said Dr. Cannell.

"As populations age and diseases become increasingly chronic and complex, the health care challenges we face are significant. Collaborations like these are fundamental in advancing the biomedical research being conducted by our outstanding scientists, and in translating their discoveries into better health care for Quebecers. We are tremendously proud to be partnering with Merck Research Laboratories to bring the benefits of our work to society more swiftly," said Dr. David Eidelman, Vice-Principal (Health Affairs) and Dean of the Faculty of Medicine at McGill University.

"Today's announcement proves without a doubt that world-class businesses such as Merck have confidence in Quebec expertise to advance life sciences research. It also helps reinforce the collaborative efforts of numerous researchers from Quebec universities. High-calibre scientific research is central to Quebec's development," said Minister Duchesne.

This announcement marks the latest contribution by Merck towards its commitment to inject $100 million over five years in biopharmaceutical R&D in Quebec. Today's announcement brings the total contributions by Merck to approximately $84 million.

About Merck

Today's Merck is a global healthcare leader working to help the world be well.  Merck is known as MSD outside the United States and Canada. Through our medicines, vaccines, biologic therapies, and consumer and animal products, we work with customers and operate in more than 140 countries to deliver innovative health solutions. We also demonstrate our commitment to increasing access to healthcare through far-reaching policies, programs and partnerships. For more information about our operations in Canada, visit
www.merck.ca
.
PHOTO (from left to right): Dr. Daniel Bourbonnais, Associate Dean-Research and Scientific Innovation, Université de Montréal; Dr. Philippe Gros, Vice-Dean, Life Sciences, McGill University; Mr. Pierre Duchesne, Minister of Higher Education, Research, Science and Technology; and Dr. Thomas R. Cannell, President and Managing Director, Merck Canada Inc.

Related coverage
Merck
In French:

Le Journal de Québec
La Presse
Radio Canada
Québec Hebdo
October 4, 2013