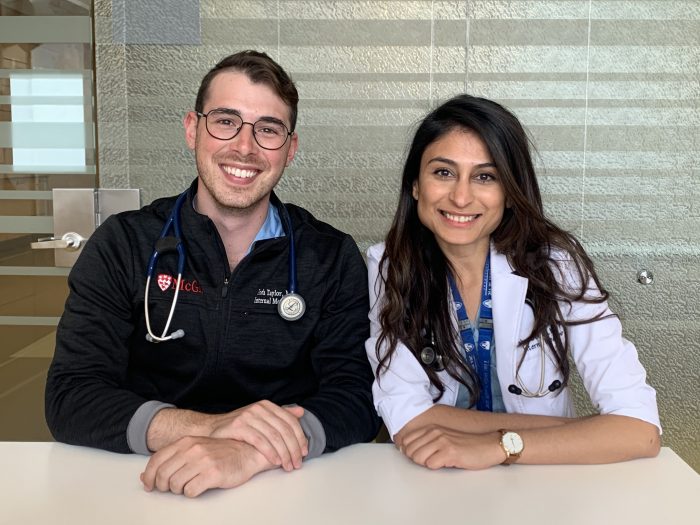 By Matthew Brett

Experiences of burnout and career dissatisfaction may occur along a medical professional's career trajectory, so two residents are carrying out a new initiative to address burnout among their medical colleagues.

The "IMthere4U" Resident Mentorship and Wellness Program was launched on July 1, 2020 and required recruitment of 29 senior residents and 20 faculty mentors.

The overarching goal of the program is to create a strong support network in the McGill Core Internal Medicine program while promoting community-building and providing a safe space for new residents as they navigate through the challenges of residency.

Dr. Ning-Zi Sun, a General Internist, Assistant Professor in the Department of Medicine and an Associate Member of the Institute of Health Sciences Education, is involved in supporting this initiative.

Educational initiatives affiliated with Institute members often take a life of their own, and this new project is certainly one of them. Dr. Sun is taking the back seat, providing guidance to two medical residents who are leading this initiative.

Dr. Zahra Sohani, an Internal Medicine resident at McGill, and colleagues found that half of residents who participated in a recent study experienced burnout at some point in their training. The pandemic may exacerbate these trends, Dr. Sohani says.

"It's hard to accept that after all the training, most have felt burnt out," Dr. Sohani stresses. "The burden of burnout seems to be accelerated in the time of the pandemic as it brought to attention some intrinsic systemic limitations that have always been there, but that were causing frontline residents more and more stress."

These findings led her to team up with another McGill resident, Dr. Josh Taylor, to develop IMthere4U. The initiative was presented at an Institute members' meeting for input before the team launched the project this past summer.

"Honestly, we've been overwhelmed with the excitement and support we've received from residents and staff alike," Dr. Taylor notes. "Everyone is genuinely pumped to participate in this type of program."

IMthere4U: mentorship and wellness at heart
Participants are new PGY1 residents who are grouped into mentorship teams with one or two senior residents and a faculty member for the duration of the program. The pairs and triads were matched based on commonalities outside of work, such as personal interests and hobbies.

Each mentor is meant to "check-in" with their mentee at least once a month and encouraged to "hang out" informally while respecting public safety measures in place during the pandemic. Lately, this means Zoom hangouts.

Sessions are also to take place every three months where mentor-mentee pairs come together and debrief about challenges faced, shared experiences and having difficult conversations.

The mentorship program will become part of a research project to determine whether burnout levels improve. Dr. Sun's experience with medical education research through the Institute will be helpful for this aspect of the project as well.

"This project is coming together nicely and it's nice to see residents playing an active role in improving the wellbeing of their colleagues and peers," said Dr. Sun.

Mentorship and wellness amidst the pandemic
The pandemic threw an unexpected and significant wrench in this mentorship and research initiative, but organizers have adapted.

"Mentorship as an integral part of training in medicine is something we had discussed before the pandemic, but its need became much starker during the pandemic," says Dr. Sohani. "It was for this reason that we expedited the launch of the program."

Everything from pairing participants to organizing meetings between mentors and mentees has required a rethink. Large group sessions and debriefs were planned but had to be re-envisioned with group sessions replaced by one-on-one meetings.

The stresses placed on everyone by the pandemic were laid bare and the research team is hopeful that this mentorship initiative can help address concerns, Dr. Sohani noted.

Amidst the second wave of the pandemic, Drs. Sohani and Taylor are planning to work with the WELL Office to incorporate additional strategies into the program.

"We're hopeful that with enough buy-in from staff and residents, we can ultimately establish the IMthere4U initiative as a mainstream part of the Internal Medicine residency program for many years to come," Dr. Taylor says.

October 20 2020