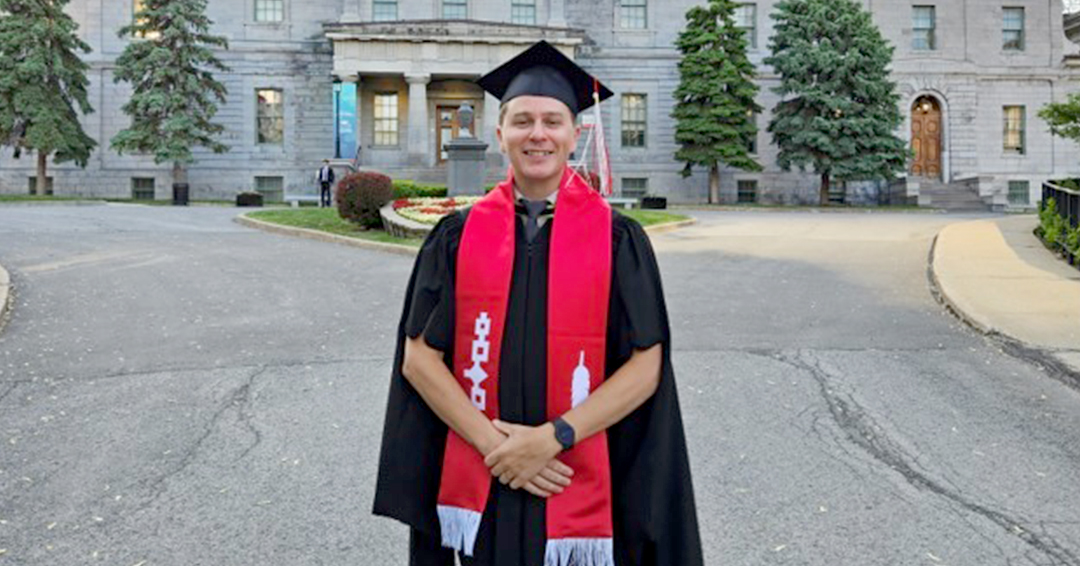 As part of our Spring Convocation 2023 coverage, we asked graduates from our six Schools to share their experiences of completing a degree in McGill's Faculty of Medicine and Health Sciences. Here, we meet Class of 2023 grad and McCall MacBain Scholar Josh Swain, a Métis from Manitoba who completed his MSc in Public Health in the School of Population and Global Health, conferred on May 30. Congratulations Josh! 
Name: Josh Swain 
Degree: Master of Science in Public Health 
Hometown: Kinosota, Manitoba 
 What did you love most about studying at McGill and in the Faculty of Medicine and Health Sciences?  
McGill has always been a dream university for me. Not only is it a renowned research institution, but it is one of the most globally representative universities with students from all around the world. I loved the atmosphere, the beauty of campus. FMHS specifically has been fantastic in terms of quality of education I have received through the SPGH and my program. My professors and lecturers were all extremely knowledgeable and trailblazers in their respective fields.  
Would you care to share a particularly proud or challenging moment from your degree? 
My proudest was also my most challenging, and that was passing a particularly difficult course in first semester, EPIB607, Inferential Statistics. The learning curve was extremely steep, even for someone who considers themselves to have a decent grasp of stats concepts. However, reaching out to ask for help and working with a tutor, I was able to overcome the hurdle and pass the course. I won't lie: I let out a scream of excitement and then a huge sigh of relief upon seeing my grade posted to Minerva.  
Your fave hangout or study spot on campus? 
I'm a McCall MacBain Scholar, and one of the coolest parts about being in the program is having access to our scholars lounge. It sits directly across from the Roddick gates overlooking campus and is just such an inspiring place to get work done, as you are usually surrounded by fellow scholars. I also particularly enjoyed the study area at the 2001 McGill SPGH floors.  
A cultural touchstone that defines the past few years as a student at McGill? 
Honestly, its been a whirlwind but some of the greatest years of my life. So I'd have to say [TV series] Ted Lasso. It's all about dealing with your own emotional and mental health, overcoming obstacles, and loving the people who help you along the way! 
If you could change one thing in the world to make it better, what would you choose? 
I would get rid of partisan political rhetoric and revive trust in science and fact.  
Any shoutouts?  
I have to give a huge shoutout to Dr. Ananya Banerjee for helping to advocate for more representation for Indigenous world views in the SPGH.  
To the owner of Super Sandwich on the corner of Sherbrook and Peel for feeding me pretty much every day.  
To my friends in my MScPH program for being there when I needed them.  
Thank you to First Peoples House for their support of Indigenous students on campus.  
Oh and to my incredible partner Garth for keeping me sane the last couple years.  
Top tip for incoming students in your program?  
I only have one, and that is DO NOT be afraid to ask for help when you need it. You have nothing to be embarrassed about.  
Anything you'll miss? 
I'm really going to just miss being on campus in general. It really is a beautiful and inspiring place.  
What's next for you?  
I am about to begin my career in Public Health, and specifically Indigenous health advocacy and practice. I will be joining Anishnawbe Health in Toronto and I am very excited.