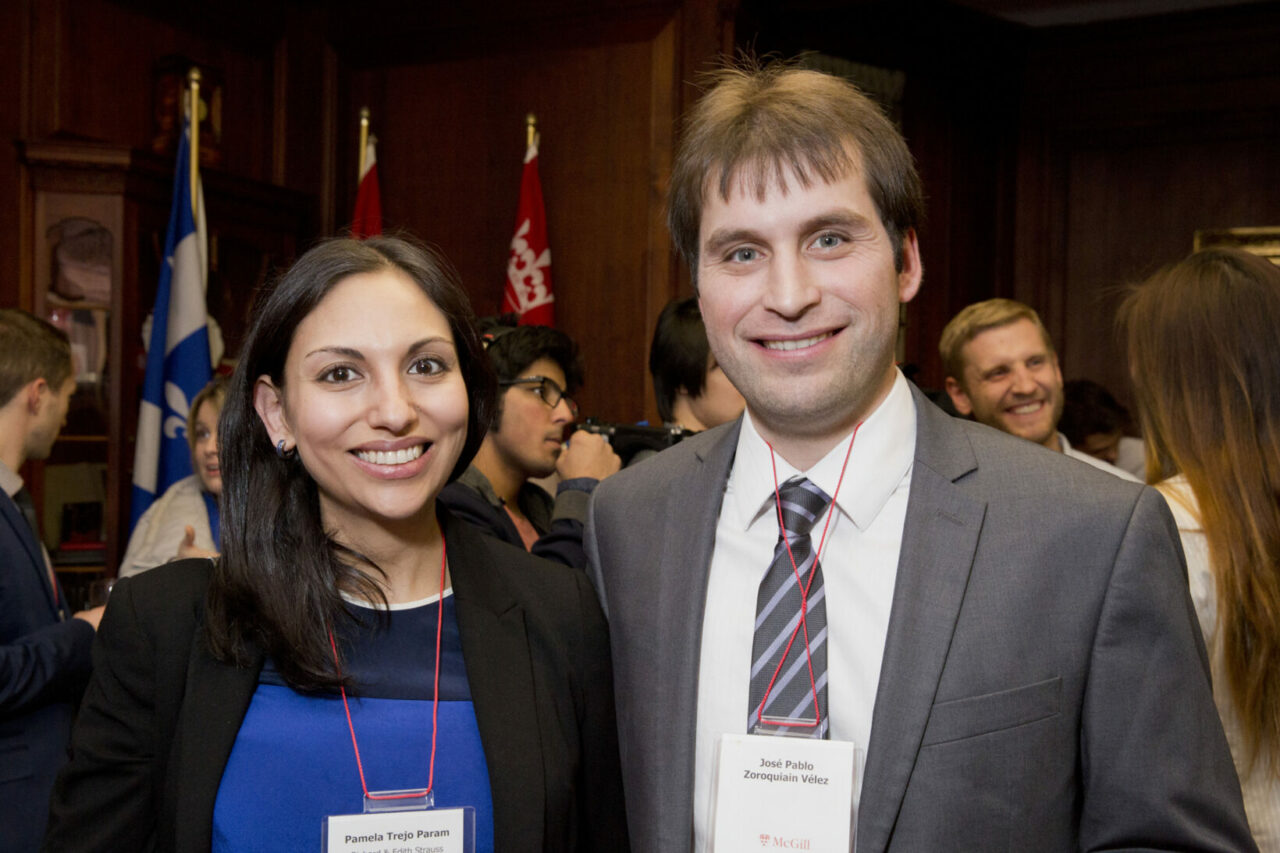 By Anne Chudobiak

"I cannot express my gratitude," said Pamela Trejo Param, expressing a sentiment much in evidence at the Faculty of Medicine's 5th Annual Scholarship Reception, celebrating student achievement and donor support, held at Holmes Hall on Thursday, April 2.

The Chilean endocrinologist is able to study bone metabolism in bone metastases in patients with breast cancer at McGill thanks to a Richard and Edith Strauss Fellowship. "It was a great opportunity. Otherwise, I wouldn't be doing research here. Without this support, it would be impossible for people like me. It's priceless."

"It's really the whole family who benefits," added husband Pablo Zoroquiain, with whom Dr. Trejo Param has a toddler and a newborn baby ("Twenty-six days old!").

"It is so wonderful to see the students who were selected," said Ralph Cooke, MDCM'57, who attended the event on behalf of his Class, which, in 1992, in honour of their 35th reunion, endowed the Merle Peden Bursary. Miss Peden, who was Secretary of the Faculty of Medicine from 1953 to 1967, is remembered by many alumni from that era as having been the unofficial Medwell Office, looking out for the students' health and well-being. "She started the same day we did," said Dr. Cooke.

Guests included the Faculty's most recent donor, Elaine Wang, MDCM'77, who had only that day made another gift, this time, in very generous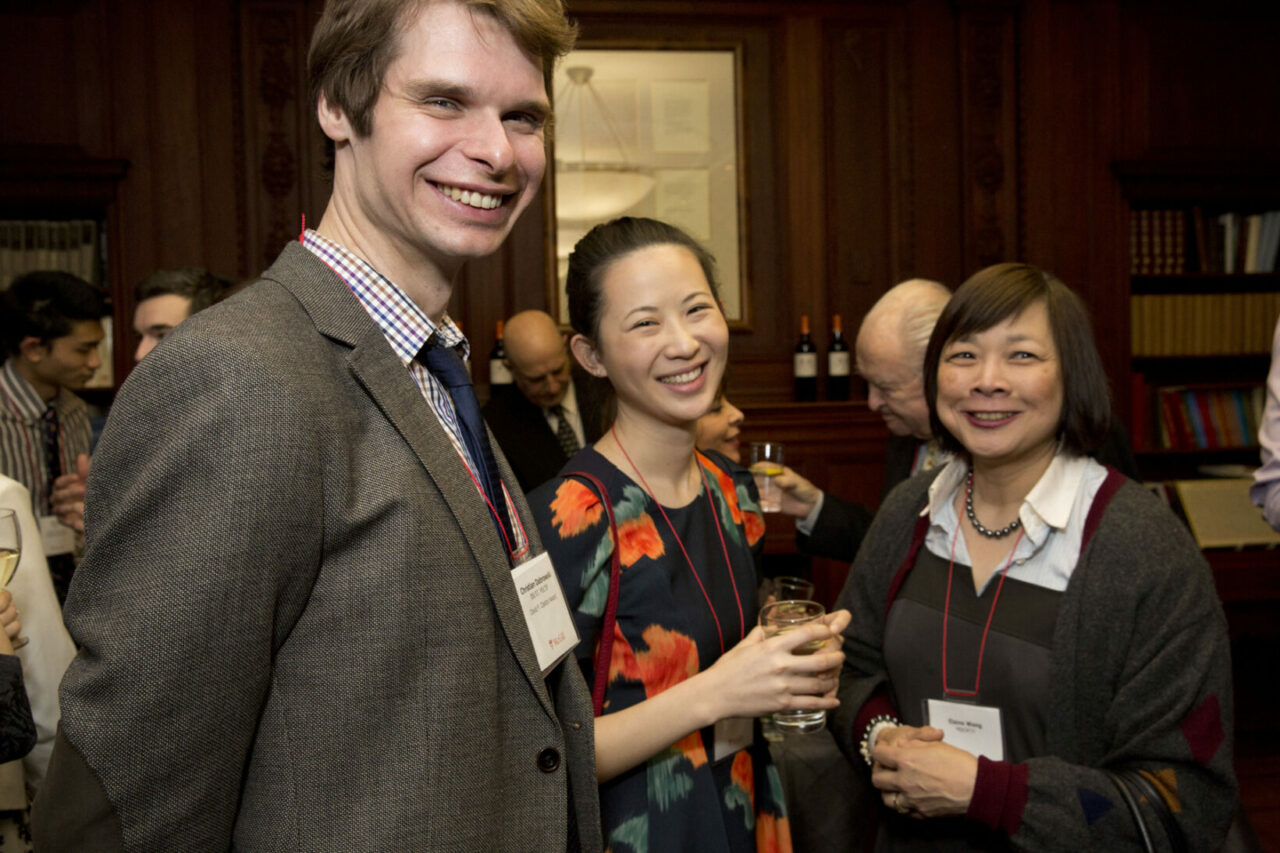 support of a Humanitarian Prize to be awarded at Convocation as well as a Travel Award in Global Health. "I felt it was important to give back to a very good medical school. My McGill degree has stood me in good stead, especially when speaking with colleagues in the States," said Dr. Wang, who divides her time between Ontario and Connecticut.

Michael Johnstone, BSc'77, MDCM'82, came, with his wife, Ellen, all the way from Boston for this chance to mingle with student recipients. Dr. Johnstone sponsors a research bursary for female students in honour of his late mother, Rose Mamelak Johnstone, BSc'50, PhD'53, the first and only female Chair of the Biochemistry Department, from 1980–1990. "She was a scientist in the time of very few female scientists," said Dr. Johnstone of his mother, who grew up, "dirt poor," near Boulevard Saint-Laurent in the same Jewish immigrant quarter immortalized by Mordecai Richler. "Not only was she a biochemist, she was also involved in equal rights at McGill, making sure that there was equal pay for equal work."

Many of the donors mentioned family as having inspired their philanthropy. David O'Hashi, BSc'57, MDCM'61, supports three bursaries at the University, including one in the Faculty of Medicine named for his parents, Kanekichi and Shizue O'Hashi."They're the instigators. They're the ones who put me through college. I owe it to my parents that I got this far. Having given me that chance, I thought I had better do something to help out someone who was really in need. That's why I did a bursary and not a scholarship. I wanted it based on need."

When asked what difference donor support has made in her life, Med-1 student Katrina Gong, BA'13, recipient of the James Moses and Stella Frosst Alexander Scholarship, said, "At a really practical level, it's about not having to worry about a part-time job." This gives her extra time for her studies, but also for her hobby, playing the violin. It also has the potential to open doors: "James Moses Alexander went to McGill and was well connected to the University of North Carolina, where, in 3rd year, if we still hold the scholarship, we can do a rotation, at Chapel Hill, which is so cool."

Ms. Gong's classmate, Mark Woo, recipient of the Frederick Penton Loftus Lane Bursary, for academic excellence on the basis of need, said, "I'm from out of province. My tuition is a great deal higher. Having the additional financial aid is very helpful to me."

Riany de Sousa Sena, a PhD candidate in the School of Physical & Occupational Therapy and recipient, in 2011, of a Richard and Edith Strauss Fellowship, is grateful for the extra push that winning the Patricia Ann MacDonald Wells Van Daele Memorial Award has given her as she nears the end of her studies. Miss de Sousa Sena examines "eccentric" methods to improve physical activity in people with  chronic respiratory disease. One such method, reverse rather than forward pedaling on a stationary bike, has already netted some encouraging results, enabling study participants to exercise at four times their normal intensity. "The patients get so excited. They say, this bike is magic. I can go at this intensity for 30 minutes and I can't walk for five minutes."

"I have had research on the brain for several years," said Jonathan Di Tomasso, BSc(NutrSc)'08. The Philip Kuok Fellowship, offered in collaboration with the Rossy Cancer Network, enabled him to take the leap from working as a registered dietician at the MUHC, where his work centred on patients and families living with cancer, to pursuing graduate research on nutrition and nutrition assessment tools for cancer rehabilitation. "One of my hypotheses is that this nutrition assessment tool can predict outcomes of cancer treatment, and, if so, it would be really useful in the hands of oncologists, nurses and dieticians."

"This Fellowship is making it possible."

Special guest, Alice Chan-Yip, MDCM'62, took the podium to explain what motivated her to set up an endowment fund in 2005. "That was the year I closed my pediatric practice and I had the time to think about giving back to my alma mater."

"In the early 1970s, I was given a pediatric practice by a senior colleague who left to go to Calgary. It took me no time to discern that the practice, being primarily English-speaking clientele, was very different from a clinic I had started at the Montreal Chinese Hospital. It showed me that healthcare services were not adequate for the newcomer." She looked – and found – ways to increase breastfeeding rates, improve detection times for development delay, and decrease anemia for children in the Chinese community.

Later, in her semi-retirement, she developed an interest in patients presenting with psychosomatic complaints.

Two of the awards Dr. Chan-Yip sponsors in the Faculty  – the Dr. Alice Chan-Yip Muliculturalism Award and the Dr. Alice Chan-Yip Award for Graduate Research in Psychosomatic and Integrative Medicine – encourage students to consider cultural and psychosocial determinants of health.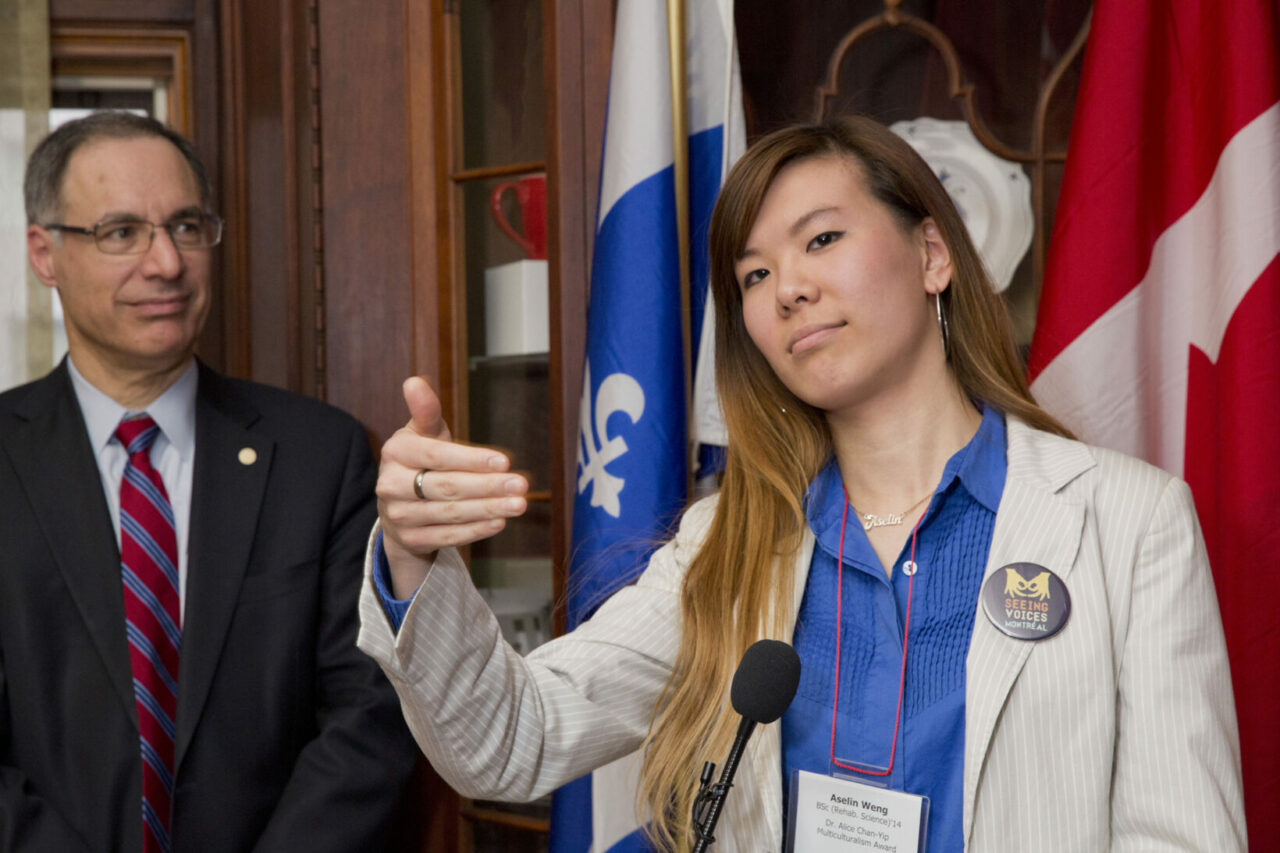 Aselin Weng, BSc (Rehabilitation Science)'14, recipient of the Dr. Alice Chan-Yip Multiculturalism Award, also addressed the audience. Founder and Executive Director of Seeing Voices, the only Deaf theatre company in Quebec, Ms. Weng introduced herself first using American Sign Language, before going on to explain, in spoken English, how much Dr. Chan-Yip's generosity and encouragement had meant to her: "It could not have come at a better time."

The Award allows Ms. Weng to concentrate on schoolwork and Seeing Voices, rather than having to work at a part-time job as a swimming instructor. "Our sign language teacher has started giving classes to healthcare professionals," she said of the company, which is also preparing for an upcoming production of The Little Mermaid, to be presented in both American Sign Language and spoken English.

Ms. Weng mentioned that, as an immigrant of Taiwanese descent, it was particularly meaningful for her to receive this support from someone who had done so much for Montreal's Chinese community.

"It feels great to be recognized for your clinical and academic achievements," said Alexander Trotsky, BSc (Rehabilitation Science)'14, inaugural recipient of the Lois Radcliffe Memorial Prize. "I am very grateful that there are donors out there who are giving back. The financial part is great, but the recognition might be even more meaningful."

"I feel very supported and encouraged," said Afiqah Yusuf, MSc'12, doctoral student in Psychiatry and recipient of a Maysie MacSporran Graduate Studentship, summing up the main message of the evening.