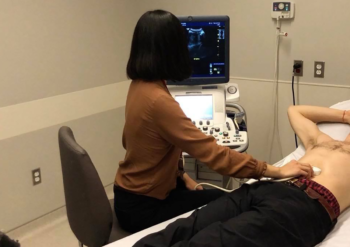 Launched by third-year McGill medical students Kacper Niburski and Laura Ran Yan, Sonoist uses real patients and ultrasound machines to provide medical students an opportunity to refine and enhance their ultrasound skills beyond the exposure they receive through their medical school curriculum.

Working with staff on the internal medicine wards at the McGill University Health Centre's Glen site and the Jewish General Hospital to access ultrasound machines and patients, each Sonoist session accommodates up to four students working with four real patients that have a wide variety of ultrasound pathologies, such as pleural effusions, bladder distension and others.

Each two-hour session begins with a Sonoist team member teaching the proper technique, discussing findings and building a differential of pathologies. They then go to the patients' rooms, and each student scans them, discusses their findings aloud, and talks about their clinical reasoning. The goal is to better the ultrasound technique of students not only by teaching them to scan in a more efficient and technically sound way, but also by allowing them to see the positive correlation to clinical application, achieved by employing scans where they see the point-of-care pathology they would be looking for regularly.

Bettering ultrasound skills for better patient care
Kacper and Laura began Sonoist because they felt that, while medical students practice a lot of technical ultrasound, their clinical acumen was often lacking. "Students were confused as to how to use ultrasound as a point-of-care measure," explains Kacper. "They also were lacking the means to understand positives, working only on models without actual pathology. So, we wanted to make ultrasound more regular, more clinically-centered, and show that patients benefit from clinicians who are able to expand their physical exam and differential diagnosis with a readily available tool."

Supported by the McGill Medical Students' Society's Special Project and Community Involvement Committee, Sonoist has so far been targeted at McGill medical students. There are plans to expand availability to residents and other healthcare practitioners in 2020, and, if all goes well, to other medical schools further down the line.

Kacper and Laura believe that improving the abilities and comfort level of students with respect to ultrasound will ultimately benefit patients. "Patient care can be made more efficient and whole by using available tools like ultrasound," says Laura. "For example: rather than waiting for an x-ray, a clinician can use ultrasound to appropriately assess their patient's pleural effusions. It is also important as it allows the patient, too, to visualize their pathology. This makes the patient a steward in their own health, and helps build the patient-doctor relationship. Sonoist is about creating the future of healthcare practitioners who can use all tools to better patient care."

For more information: sonoist.com

December 16, 2019