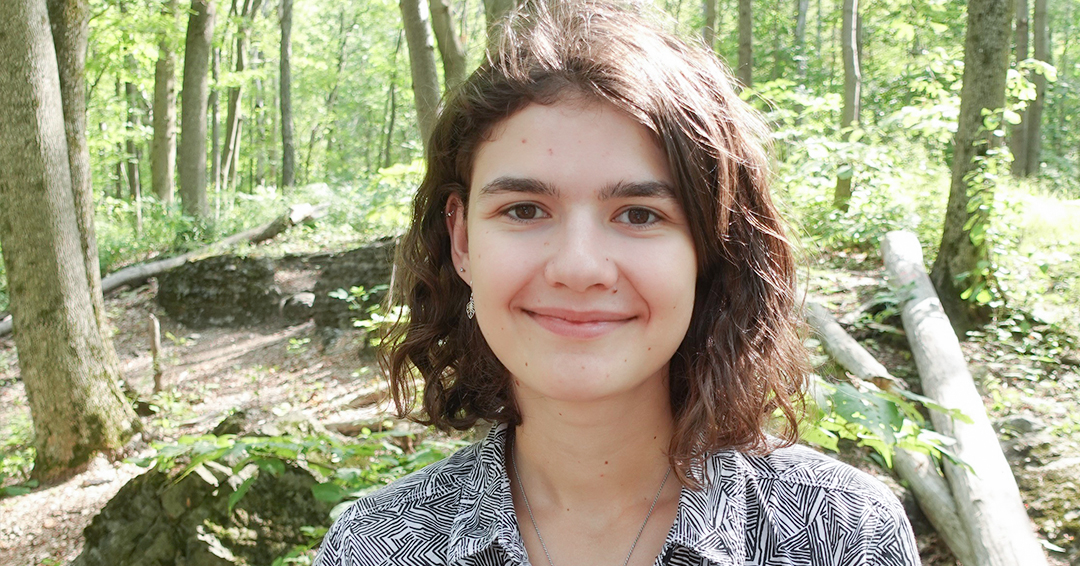 On a warm summer evening in June, an elderly client enters the Decarie Square vaccination centre to receive her second dose of the Pfizer vaccine. She's anxious, lightheaded, and suffering pain from several health issues, including Parkinson's disease. She also feels a slight pressure to hustle because she is one of the last clients of the day and doesn't want to delay staff from enjoying what remains of the pleasant weather.
The woman is greeted by first year McGill medical student Anda Gaita, who has been working at the clinic in her spare time since March. Gaita reassures her, holds her hand and explains that she has no reason to feel pressured. Vaccination may seem simple to some, but it's not to everyone. Gaita vaccinates the woman, accompanies her to the washroom several times and even helps her to her car.
In a message sent to McGill Vice Principal (Health Affairs) and Dean of the Faculty of Medicine, Dr. David Eidelman, the woman explains that Gaita's thoughtful, compassionate and empathetic manner not only calmed and reassured her, but even helped alleviate her pain. The message goes on to call her a shining example of a medical practitioner that puts heart and mind to their work and a beautiful example of how to live the values of McGill's Medical School and of the university at large.
This way of treating patients may not have seemed special to Gaita – indeed, she makes a point of stating that she acts this way toward everyone – but from a patient's perspective the experience is deeply touching. "I try to see beyond the illness and understand the patient," explains Gaita. "I want to be a healer, rather than just someone who treats."
"This is a perfect example of whole person care," explains Dr. Tom Hutchinson, who leads McGill's Programs in Whole Person Care. "It's not a trick or a technique, but rather a philosophy that involves connecting with patients in a physical, psychosocial and personal way in order to promote healing." Unlike diseases and their treatments, whole person care is not the kind of thing that can be gleaned from textbooks. "The best way to teach it is through experiential learning that combines exercises, discussion, reflection and roleplay, in small group sessions and in facilities like the SIM Centre," notes Hutchinson.
Whole person care may not heal a patient alone, but its absence can certainly get in the way of healing. According to a recent study in the Journal of General Internal Medicine, more patients said their negative health care experience was related to their interaction with the physician than the quality of the care they received.
The concept of whole person care dates back to the beginning of medicine, but its influence began to fade in the latter part of the last century. "We began to lose focus on caring for the patient and became preoccupied with budgets and efficiency," recalls Hutchinson. "In health care, efficiency tends to be measured in very superficial ways, like how many patients can be seen in a certain period of time. This is highly ineffective because we end up providing incomplete and unsatisfactory care to multiple people who often end up returning."
This impersonal way of providing health care also leads to increased burn-out in health care workers and detracts from what is truly rewarding about medicine – the act of caring for another human being. It is a sad fact that medical school, with its focus on diseases and treatments, can drain students of their natural empathy and selflessness, turning them into clinicians that perceive patients as a collection of conditions.
"Most medical students come with a natural openness and passion for whole person care," explains Hutchinson. "We don't need to instill that in them – it's simply there. All we have to do is encourage it and keep that light from being extinguished."
Gaita agrees. "Most of the students in my cohort entered medical school because they are passionate about people and health care, and they want to make a difference," she says. "We're in this profession for the patients, so we should make it about them."
McGill hosts the 4th International Congress on Whole Person Care, October 21-24, 2021, https://www.mcgill.ca/wpccongress/