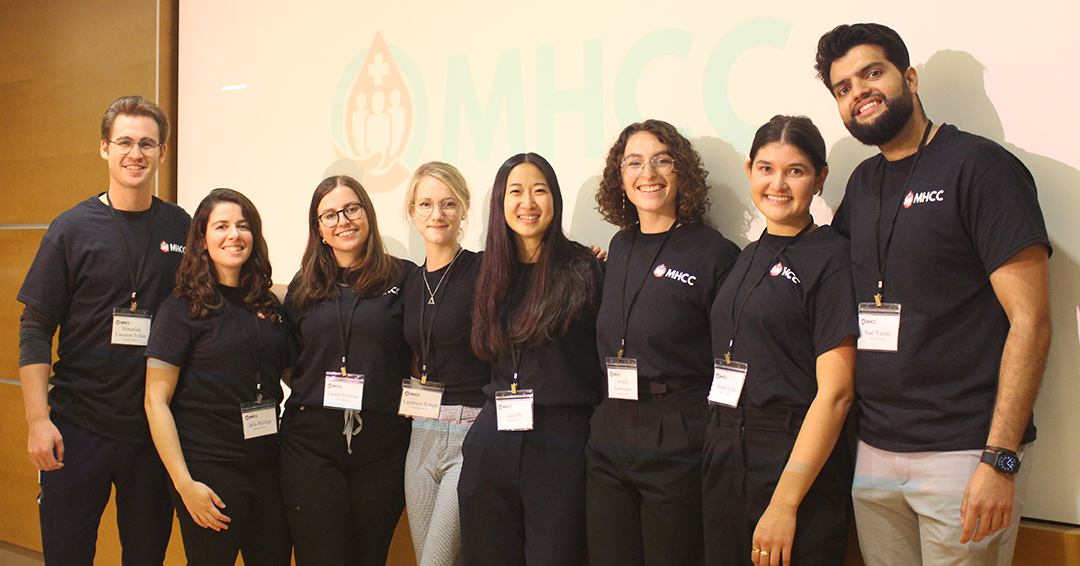 At the McGill Healthcare Management Consulting Case Competition, learners presented "innovative but pragmatic" solutions for older emerg patients and those who leave before seeing a physician 
On September 13, 2023, a case competition organized by McGill medical students revealed creative solutions to one of the most urgent issues facing healthcare in Quebec: overcrowded emergency departments (EDs).  
The McGill Healthcare Management Consulting Case Competition (MHCC) took place at Montreal's Shriners Hospital, and invited teams of medical students to develop proposals to reduce ED overcrowding and improve patient flow. Amid tough competition, three teams were selected as winners by the judges. 
The event attracted over 100 attendees, including residents, emergency medicine physicians and healthcare management experts.  
"We believe the solutions to overcrowding could be best identified by the people working in emergency departments," says Saad Razzaq, a medical student and President of the MHCC's organizing committee. 
"After the collaborative efforts of students, residents and attending physicians, lots of ideas and solutions that impressed the judges were presented. We hope that some of the solutions can be used in practice and potentially inform care in Quebec."
Solutions that help vulnerable patients 
Participating teams were invited to present solutions that focused on one or two patient groups:  
patients who leave the emergency department without being seen by a physician, who tend to be younger and/or members of marginalized communities and who may develop more severe long-term symptoms 
older patients who come to the emergency department, who often require more complex care and who are more likely to be admitted to wards 
Teams received a fictionalized case, which used anonymized data from a Quebec hospital, as context for their proposals. They were discouraged from putting forward ideas that have been tried already (such as creating more space, hiring more staff or extending working hours) but rather to share innovative but pragmatic ideas.  
Winning ideas 
1st place: The first-place team recommended the creation of a dedicated geriatric emergency medicine team focused on the care of older patients. They also suggested the development of an evidence-based, fast-track protocol that would triage patients and determine resources needed for their care. 
2nd place: The team in second place also proposed a geriatric emergency care team, but also clearly identified the roles of each member, provided clear protocols for care and admission and established a plan to measure its effectiveness.  
3rd place: The third-place team focused on patients who left the emergency room without being seen by a physician. To ensure these patients were assessed earlier, they proposed the creation of a new shift for an emergency physician who was already part of the care team. On this shift, the physician would work days and evenings – the times when the number of patients leaving without being seen is highest.   
Impressive proposals
"For medical students to realize that there are system problems and to want to come up with creative solutions is very important for the future of medicine," says Robert Primavesi, MDCM, Associate Professor in the Departments of Emergency Medicine and Pediatrics at McGill University and Emergency Physician at the McGill University Health Centre (MUHC), who is on the MHCC's Steering Committee. "These will be our future leaders, who will likely implement some of these solutions." 
Dr. Primavesi also praised the leadership of Razzaq and the other members of the MHCC's organizing committee for inviting attending physicians, healthcare managers and others alongside students and residents.  
"What is impressive about this competition is that it's student-initiated," he says. "This wasn't just a competition for students – they wanted to engage the larger community as well." 
Potential for positive impact on patient care 
Razzaq and the organizing committee want to bring the ideas presented to the attention of decision-makers in Quebec's health system to ensure they have a tangible effect on patients' experience. They also aim to open the competition to participants across Quebec next year.  
"We want to be able to bring more motivated learners, physicians, managers and others together, see what solutions we can come up with and create a better healthcare system for future generations," Razzaq says.  
The MHCC grateful acknowledges the support of its sponsors: Mandy's, La Caisse Desjardins du Réseau de la santé, Garde-Malade, McGill Medical Students Society and Boustan Mascouche.