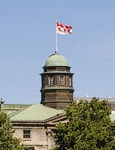 McGill University Principal and Vice-Chancellor Suzanne Fortier appeared today before the Committee on Culture and Education at the National Assembly of Québec. Reviewing the university's achievements over the past three years, Fortier described McGill's performance in this extremely competitive international climate as a "tour de force."

"The competition to attract top talent is fierce, and it is an international one. What is at stake is Québec's capacity to remain in the ranks of innovative societies," noted Professor Fortier, adding that if Québec is fortunate to have McGill, the reverse is also true.

"More than half of our students are Quebecers. McGill creates an exceptional environment for these students, as they get to meet students from around the world. McGill can attract the best professors and the best researchers because it attracts the best students. And we can attract the best students because they are attracted to Québec."

Principal Fortier stated that the reinvestment announced by the Québec government last year, slated to come into effect in 2015, will be "extremely welcome," since McGill's operating expenses continue to climb, in part due to the costs associated with the deferred maintenance of the university's infrastructure, estimated at over $800 million.

The increase in operating expenses and the loss of revenue due to government cuts led McGill to implement this year a series of cost-cutting measures totalling $43.5 million.

The McGill representatives also told Committee members that the university has put in place a range of tools to measure its performance, including a detailed set of indicators, adopted by McGill's Board of Governors in the spring of 2013.

Today's presentation is part of an accountability process that brings Quebec university leaders before the Committee every three years to provide an update on their performance and development plans. A detailed report is submitted along with the presentation.

To watch the McGill presentation, go to: http://www.assnat.qc.ca/fr/video-audio/index.html.

The text of McGill's presentation will be available soon at: http://www.mcgill.ca/principal/principals-desk/speeches.

December 4, 2013