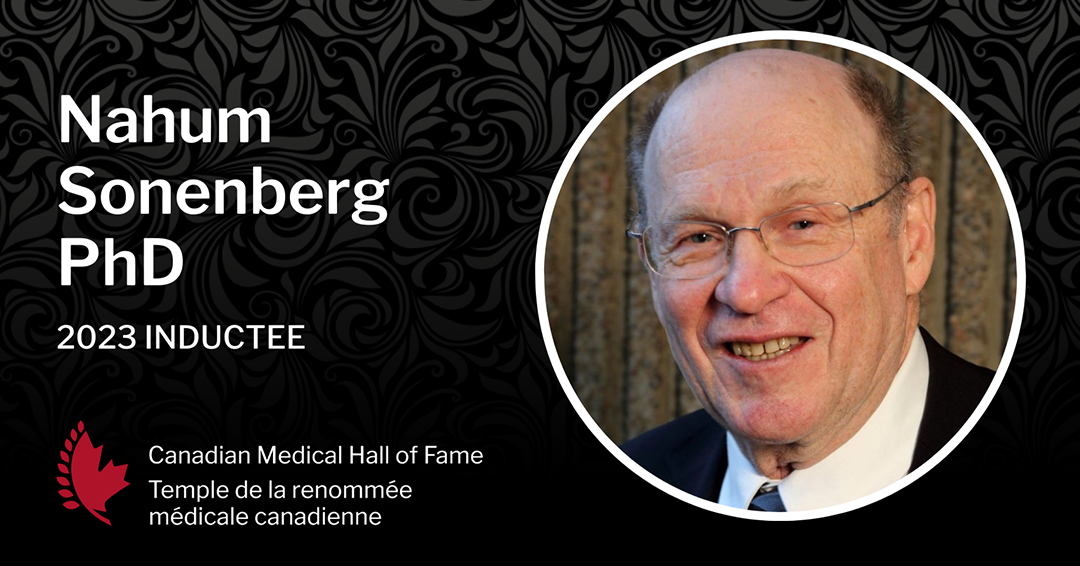 On September 28, Cynthia Forbes, MD, chair of the Canadian Medical Hall of Fame (CMHF), announced the Canadian Medical Hall of Fame Class of 2023, which included the Faculty  of Medicine and Health Sciences' Nahum Sonenberg, PhD.
Improvements in medical care are increasingly dependent on discoveries of basic research. Prof. Sonenberg, one of Canada's preeminent biomedical scientists, has advanced our understanding of viruses, cancer growth and development, memory and cognition, synaptic plasticity, spatial learning, and autism spectrum disorders. The common element in this diversity is Prof. Sonenberg's insight into the mechanisms of deciphering genetic information to produce proteins, a process known as messenger RNA translation. Prof. Sonenberg's discovery of eIF4E, the protein that binds mRNA and recruits it to the ribosome to commence translation was a landmark event helping unravel the mechanisms controlling the rate of protein synthesis, the foundation of the modern field of translational control. Dr. Sonenberg has said, "What attracted me to the field was that the nature of proteins and everything that follows—our behaviour, our wellbeing, everything—is dictated by genes." From Prof. Sonenberg's insights into genetic functioning, new drug compounds and therapies continue to be developed. A celebrated scientist of world reputation, Prof. Sonenberg has helped realized the health enhancing potential of biochemistry and molecular biology research.
Joining Prof. Sonenberg in the Class of 2023 are:
The Late Stephen Blizzard, MD | Ottawa, ON
Pilot, physician, decorated peacekeeper, who overcame systemic racism to become a much-honoured authority on aviation medicine. 
Elaine Carty, CM OBC MSN CNM | Vancouver, BC
Helped to promote legalization and professional recognition of midwifery throughout Canada.
Carol Herbert, MD CCFP FCFP FCAHS FRCPS (Glasg) | Vancouver, BC and London, ON
Innovative health care educator and mentor promoting equitable and accessible health care for all.
Jean-Lucien Rouleau, CM MD FRCPC FACC | Montréal, QC
Renown cardiologist instrumental in developing life saving medication sacubitril/valsartan for treatment of chronic heart failure.
Canadian Medical Hall of Fame Laureates are Canadian citizens whose outstanding leadership and contributions to medicine and the health sciences, in Canada or abroad, have led to extraordinary improvements in human health. Their work may be a single meritorious contribution or a lifetime of superior accomplishments. Pioneers in their field, they are role models who inspire young Canadians to pursue careers in the health sciences. "The Canadian Medical Hall of Fame is proud to welcome these six individuals whose outstanding contributions to health have made Canada, and the world, a better place," said Dr. Forbes. "Their impact is well documented, and they have earned their place alongside our 149 Laureates."
These Canadian and international leaders will be celebrated at a ceremony held in association with the Faculty of Medicine at Dalhousie University on June 22, 2023, in Halifax, Nova Scotia. "Dalhousie University is honoured to host the 2023 Canadian Medical Hall of Fame induction ceremony," says
Dr. David Anderson, Dean of the Faculty of Medicine at Dalhousie University. "We look forward to recognizing and celebrating the incredible achievements and legacies of these six remarkable individuals, all of whom have made an indelible mark on the lives of Canadians and people around the world."
Congratulations Prof. Sonenberg!