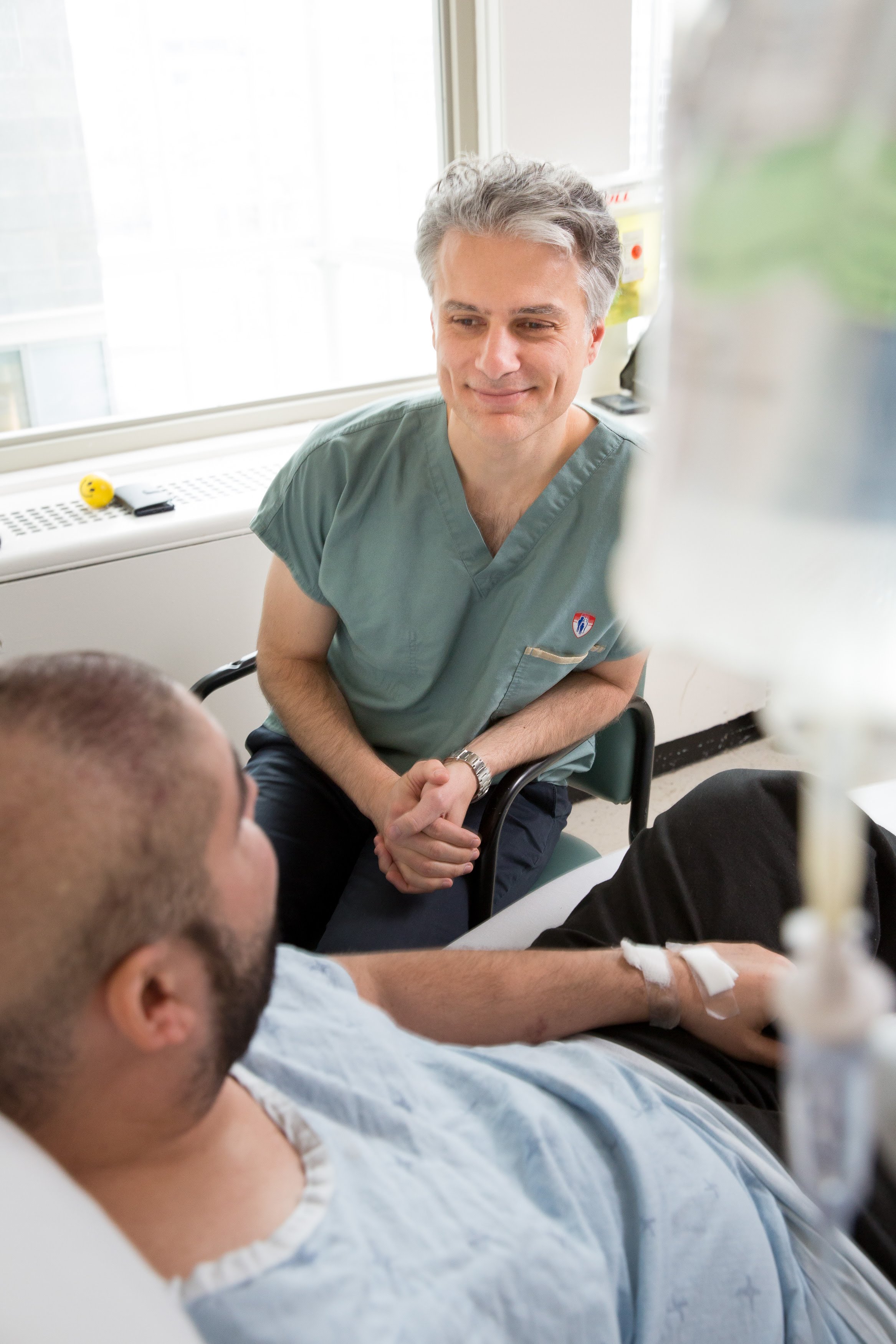 By Lisa Dutton
McGill has doubled enrollment in its MDCM & PhD Program.  A career as a physician-scientist is extremely rewarding and meaningful. It is challenging career that requires creativity, perseverance and passion. For more information about the MDCM & PhD Program, please contact Kimberly John at:  mdphdadmin.med@mcgill.ca.
 
Meet Dr. Kevin Petrecca, a graduate of McGill's MDCM & PhD Program (Class of 2002)

Dr. Petrecca opens heads and cuts into brains for a living. He is a neurosurgeon specializing in brain cancer. When not in the operating room, you'll find him in his lab perfecting a neuro-oncology surgical tool or maybe doing fundamental research to determine why brain cancer stem cells are treatment resistant. Then again, you might find him hanging out with his wife and three children.

Passionate about his work
To say he is busy is an understatement. "I have the luxury of doing what I am interested in. I never actually have to go to work or work late because it isn't work. I love the balance. I love treating patients and love doing my research. You need to work in a place that values physician-scientists and with colleagues who understand your dual role. After that it is fun," he says.

Not really sure he wanted to be a doctor
Dr. Petrecca did things in reverse when he started McGill's MDCM & PhD Program. He focused on research and put off his medical studies. "I deferred medicine as long as I could because I wasn't really sure I wanted to be a doctor, however, I soon discovered I really liked taking care of people and making a difference in their lives."

There is no doubt Dr. Petrecca makes a difference. He, along with Frédéric Leblond of Polytechnique Montréal and the Research Centre of the Université de Montréal, received the 2017 Québec Science Discovery of the Year Award. They developed a fiber-optic probe, no bigger than a pencil, that differentiates between cancer cells and healthy brain cells in a matter of seconds.

Improving patient outcomes
"Often it is impossible to visually distinguish cancer from normal brain, so invasive brain cancer cells frequently remain after surgery, leading to cancer recurrence and a worse prognosis. The probe improves patient outcomes," Dr. Petrecca says.

Dr. Petrecca acknowledges physician-scientists bring a unique perspective to biomedical research that is inspired by their experience caring for patients. "All fields require people to move them forward. The contribution physician-scientists make to both research and patient care is critical if we are going to answer the most pressing health care issues facing society."

Find out more about the MDCM & PhD Program.With their dual degrees, physician-scientists are poised to bridge the gap between research and clinical practice. Most will spend the majority of their time doing research and the remainder taking care of patients. This allows them to identify novel and clinically relevant questions at the patient's bedside that inspire and inform their research.To ensure trainees are able to focus on their studies and research, the University provides guaranteed annual funding of $25,000. Register today
October 3, 2018