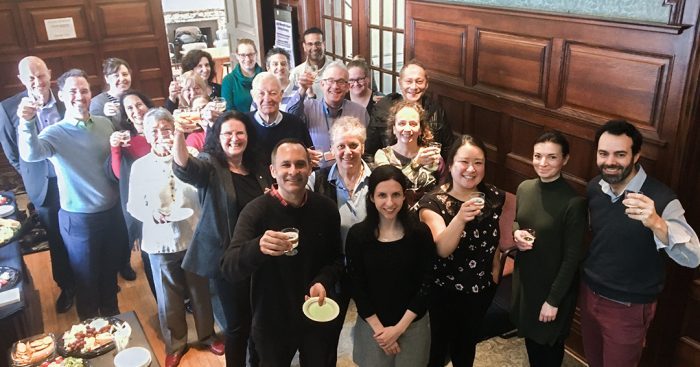 By Matthew Brett

Institute of Health Sciences Education members, staff and friends raised a glass on Zoom during a June 4 celebration of the Institute's first anniversary, also enjoying a heartfelt roast and toast for retiring Institute members, Dr. Richard Cruess and Dr. Sylvia Cruess.

The celebration was also an opportunity to recognize Drs. Ilana Bank, Fraser Moore and Geoffroy Noel, three Institute members who recently received the 2020 Canadian Association of Medical Education (CAME) Certificate of Merit.

Dr. Yvonne Steinert also shared her reflections, with her term as Institute Director scheduled to end this fall after 15 years of leadership.

The Institute launch party took place on June 11, 2019, and this is now recognized as the Institute's founding date. That same spirit of celebration filled the Zoom airwaves as Institute members celebrated the first anniversary.

"While it's unfortunate that we cannot celebrate this toast in the same room, it is evident that the strength and warmth of our Institute community transcends any digital divide," said Dr. Steinert. "We are here together. What a privilege and a joy!"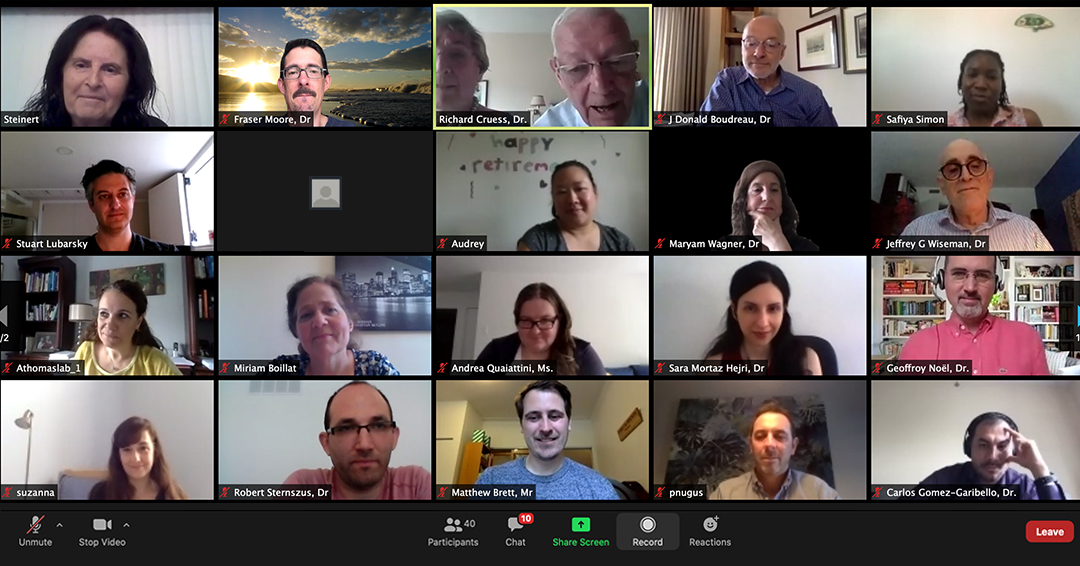 A vibrant first year

The Institute is the first of its kind in Canada, serving as an academic hiring and teaching unit that can provide graduate programs in health sciences education and offer an academic home to faculty members, much like a traditional department. What makes it unique is that the Institute designation facilitates collaboration beyond traditional departmental lines and disciplinary boundaries to create new knowledge, enable capacity-building, and promote knowledge translation.

At the core of this approach is the belief that better health sciences education leads to better patient care and biomedical sciences research. With health sciences education in hand, the Institute advances research and theory that leads to changes in the education of future health professionals and scientists, with the ultimate goal of enhanced health care. The Institute is also a community – and a place – for shared learning and development.

This past year, Institute members approached health sciences education with full hearts, sharp minds, and an overriding sense of humanism. Leading global scholars visited to advance the need for a teaching renaissance, compassion and empathy in care, and the role of emotion in teaching and learning.

Through the fall and into the winter, Institute members renewed their commitment to international associations, presented at conferences across the globe, published in leading academic journals, received Tri-council and other research funding, and won prestigious awards while continuing to advance theory, research methodologies, policies and practices.

International partnerships also continued, including a visit to McGill by a cohort of medical educators from Gifu University in Japan, to collaborate and improve bedside teaching.

Adapting to the pandemic
The novel coronavirus pandemic struck as the Institute approached its first anniversary, sadly resulting in the postponement of the inaugural Richard and Sylvia Cruess Symposium on Health Sciences Education.

Nonetheless, Institute members persevered, leading pandemic-response efforts on the frontline and exploring new lines of inquiry into clinical, laboratory and remote teaching and learning, the study of grief, mental health literacy, and educational curricula tailored to the pandemic. The Institute also released a small research fund for members to look at educational advancements or innovations in response to COVID-19.

Toward a new chapter: looking forward
The first anniversary toast this June 4 marked a confluence of events that signal the closing of an Institute chapter and the beginning of a new one.

Drs. Richard and Sylvia Cruess retire after remarkable McGill careers, and Dr. Yvonne Steinert's term as Director is coming to a close after 15 years of actively advancing health sciences education locally, nationally and globally.

"I am incredibly grateful and humbled by this experience," wrote Dr. Steinert in a Message from the Director. "I am also very excited about the future of the Institute. Our faculty members and staff are phenomenal, as are our students and emerging scholars, who inspire us daily. Thank you for 15 wonderful years."

Dr. Steinert will leave the newly founded Institute in strong standing, with a new PhD program that was recently approved by university Senate that is now pending provincial approval.

A new Foundations in Health Sciences Education Graduate Certificate is in the works and a new Institute faculty member is being hired to help enrich the Institute's graduate program offerings.

The Institute is enjoying a clear sense of direction, enhanced visibility, and a renewed sense of energy following its 2019 launch. The Institute also aligns with the Faculty of Medicine in advancing a comprehensive mandate focused on the art and science of medicine and the health professions, the biomedical sciences, and education.

The June 4 celebration was significant for the Institute, bringing together members who have influenced health sciences education globally, paving the way for a new and emerging generation of scholars and practitioners.

A toast, on behalf of the Faculty of Medicine, to the Institute's past and to its future. Santé!
June 10 2020