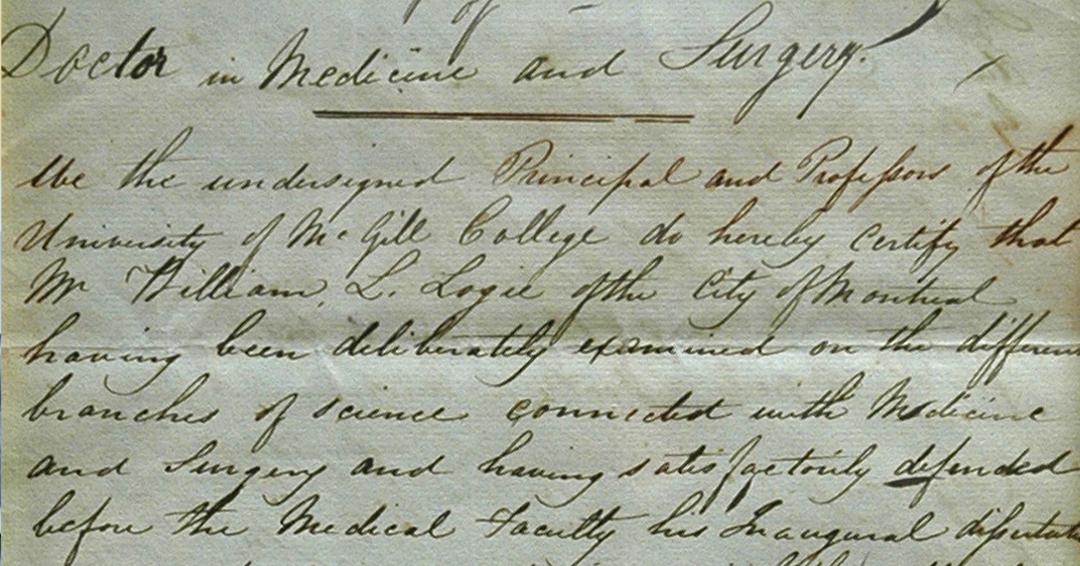 During this special convocation for the Bicentennial Class of 2021, we look back at the story of McGill's (and the Faculty's) very first grad, William Logie, who, like this year's grads, trained during a deadly epidemic – Montreal's devastating  cholera outbreak of 1832
By Gillian Woodford
Montreal-born William Leslie Logie was granted his Doctorate in Medicine and Surgery in May 1833, becoming both McGill's very first graduate and the first doctor fully trained and educated on Canadian soil.
By all accounts a competent trainee who was well liked by his professors and peers, Dr. Logie completed, as part of his degree requirements, a dissertation on cynanche trachealis, better known as croup. His supervisor was Dr. William Robertson, one of the Faculty of Medicine's founding professors. Dr. Logie and his fellow med students had their trial by fire working alongside Dr. Robertson in the "fever sheds" in Point St. Charles during Canada's devastating first cholera epidemic during the summer of 1832. As many as 4,000 Montrealers died.
The following year, Dr. Logie graduated as part of the new university's very first convocation. He was the sole graduate that year, owing to the fact that he had begun his studies at the Montreal Medical Institute, the institute that had merged with McGill in 1829 to become its first teaching department, and so had a year's advance on his classmates. His solo convocation, attended by many luminaries of Montreal society, was held at the Museum of Natural History Society of Montreal and covered by local newspapers, including the Montreal Gazette.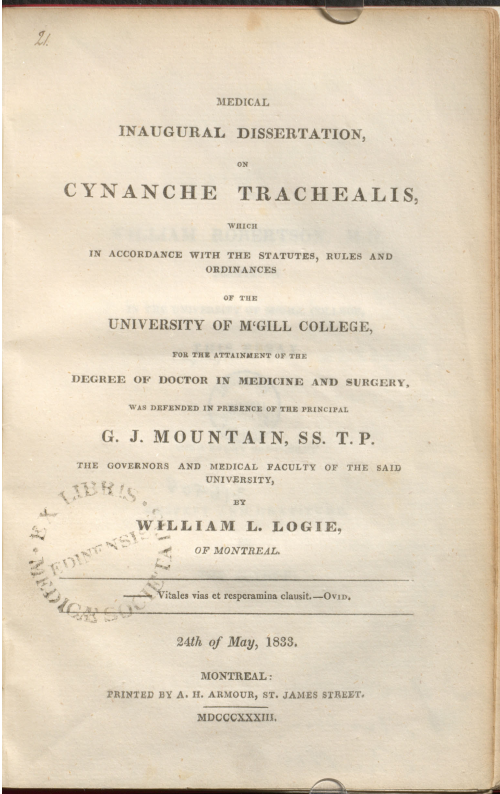 Unfortunately for Dr. Logie, his moment of glory would be overshadowed by a bureaucratic tussle that would ultimately result in him leaving Montreal for good. The Montreal Board of Medical Examiners, which was embroiled in a power struggle between the medical establishment and McGill's new medical school, refused to grant Dr. Logie a licence to practise medicine in Lower Canada unless he agreed to undergo further Board evaluations. He and his professors refused, and a court case ensued. The licence was eventually issued, but by then Dr. Logie had already left Montreal.
He settled in Louisiana, where he practised for many years. In around 1850, Dr. Logie and his family relocated north to Geneva, New York, possibly to be closer to his family in Quebec. Geneva was home to Geneva Medical College, a progressive institution that had graduated the first female medical graduate in the United States, Elizabeth Blackwell, in 1849, a year before Dr. Logie arrived. When the Civil War began in 1861, two of Dr. Logie's sons enlisted in the Union Army; his eldest son would perish in the war in 1864.
Dr. Logie ended his days living with his son, Charles, who also became a successful physician.
Dr. William Logie died in 1879, having never practised medicine in the country where he made history.
This story is part of  200 Years, 200 Stories, the Faculty of Medicine and Health Sciences' Bicentennial storytelling project. 

Take part! Send your Faculty memory (can be an anecdote, a shout out, a photo, a video, etc) to: bicentennial-bicentenaire.fmhs-fmss@mcgill.ca – we'll compile the highlights and share during Homecoming 2021.
Further reading:
B. R. Tunis and E. H. Bensley. William Leslie Logie: McGill University's first graduate and Canada's first medical graduate. Can Med Assoc J. 1971 Dec 4; 105(11): 1259–1263.
David S. Crawford, Emeritus Librarian, McGill University. Montreal, medicine and William Leslie Logie: McGill's first graduate and Canada's first medical graduate. 175th Anniversary, 1833–2008. Osler Library Newsletter. No 109, 2008.
June 8, 2021