The Dean talks about the importance of these issues at the Douglas annual general meeting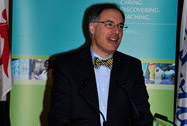 David Eidelman, MD, CM, Dean of the Faculty of Medicine at McGill University, underscored the importance of mental health for the Faculty of Medicine's 2013 strategic orientations.
During a speech he gave at the Douglas Institute's annual general meeting on December 6, Dr. Eidelman talked about the major role that the Douglas Institute and McGill play in understanding and treating mental illnesses. This is the first time that the Dean of Medicine at McGill University has been invited to give a speech at this annual event.

Before an audience of Douglas employees, partners and Verdun residents, Dr. Eidelman stressed that the Douglas Institute's clinical programs are among the most important in the McGill RUIS and that the integration of its research and clinical activities is exemplary on many levels.

"Mental health problems affect all Quebecers," stated the Dean. "As a public institution, we are responsible for addressing these issues. The Douglas has an important role to play in this area, and it will be part of the priorities for the Faculty of Medicine and the University."

In conclusion, Dr. Eidelman reiterated that he would like to continue the joint projects currently being conducted with the administration of the Douglas Institute Research Centre.

December 20, 2012