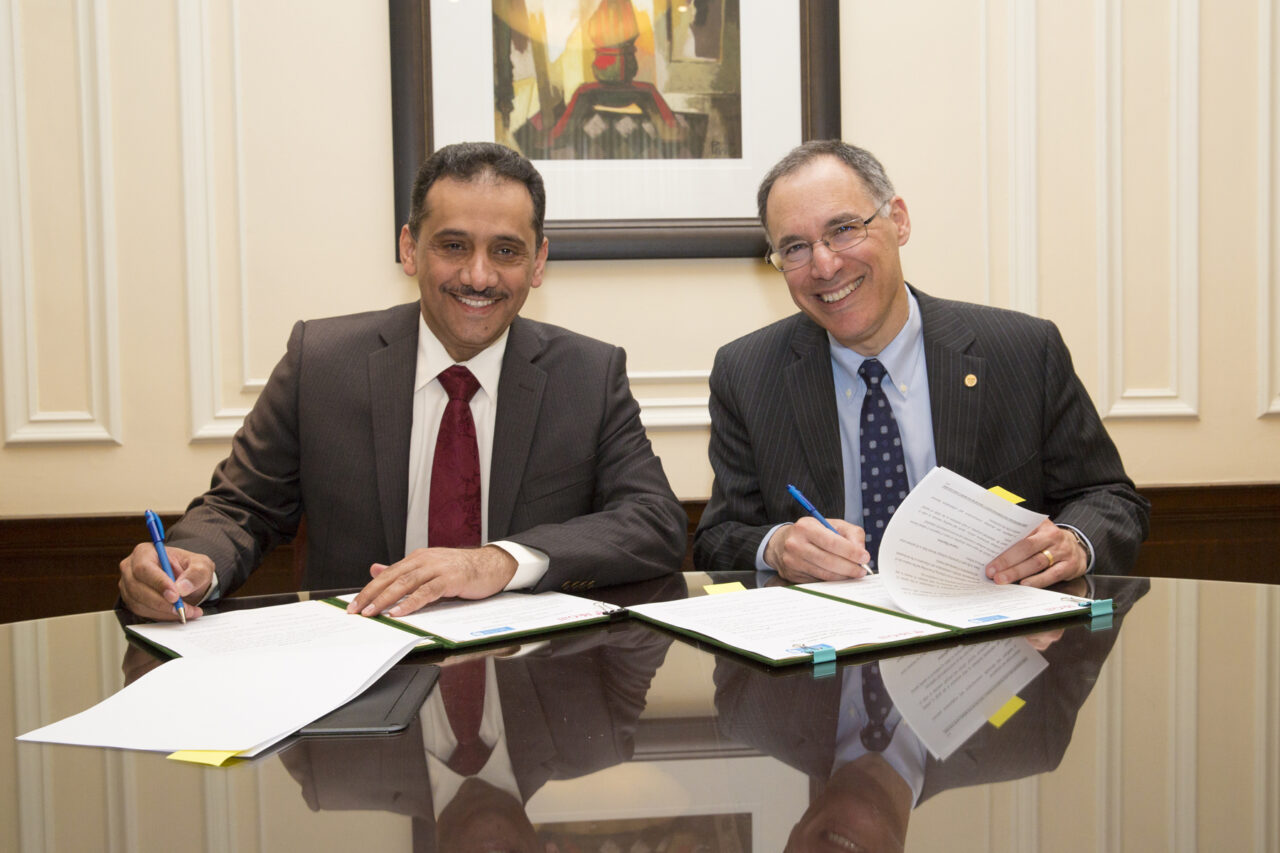 McGill's Faculty of Medicine signed an agreement with King Saud University (KSU) on June 4, 2014.  McGill was graced with a visit from KSU officials, which included the KSU Rector, His Excellency Prof. Badran Alomar, Dr. Abdulrahman Al-Muammar, Vice-Rector for Health Specializations,  Prof. Fahad AlZamil, Dean of the College of Medicine and Supervisor of University Hospitals, Prof. Ayman Abdo, Vice-Dean for Postgraduate Studies and Research,  Dr. Mazen Hassanain, Director of the Demonstrators and Lecturers Support Unit and lead of the international collaboration office at KSU and Dr. Omar BaHammam, Dean of the College of Architecture.

The group, the highest-level delegation from the Saudi Ministry of Higher Education to ever visit Canada, was in Montreal to sign a new five-year agreement with the Faculty of Medicine to pursue and strengthen academic collaborations in health fields, with specific areas of interest related to postgraduate medical education, graduate studies, clinician scientist program and scholar exchange, to name but a few components.

In addition to signing the agreement, the delegation had the opportunity to meet with several faculty leaders and was delighted to connect with Saudi demonstrators sponsored by KSU and currently studying within the Faculty of Medicine, and their McGill Faculty of Medicine supervisors.  The day was closed with a visit to the Montreal General Hospital to discuss the experimental surgery program, one area of particular interest to KSU. "It is a source of pride for us at McGill to show-off the KSU students and our outstanding supervisors," said Dr. David Eidelman, Vice-Principal (Health Affairs) and Dean at McGill's Faculty of Medicine. His Excellency, Prof. Alomar noted his appreciation for the opportunity to meet with and learn from the KSU students. "Twenty-five percent of our Faculty is represented by graduates from McGill," he said to the students in attendance. "I am sure we will take back with us your experience and success to share with our colleagues back home."

During the "meet and greet" event, Dr. Hussam Alamri, a KSU resident in general surgery and PhD-candidate at McGill, presented an overview of the activities of the current KSU students. Alamri highlighted their success, noting that combined, the students have published more than 30 manuscripts during their time at McGill and have presented at more than 50 international conferences. Additionally, more than one-third of the current KSU residents and students at McGill have either already obtained or are in the process of obtaining a graduate degree.

The agreement itself builds on the existing Combined Acceptance Program agreement signed between the two institutions in 2012. The impact of the partnership is not lost on Alamri. "I am happy today because two universities that I represent are meeting to collaborate and share," he said. "Many Saudi doctors have McGill connections, either through their residency or fellowships, and they are providing outstanding health care for Saudi Arabia."

Prof. Abdo spoke of KSU's interest in the manner in which McGill combines the clinical with the science. "This agreement will allow us to work with McGill to develop programs that don't currently exist in Saudi Arabia," he said.