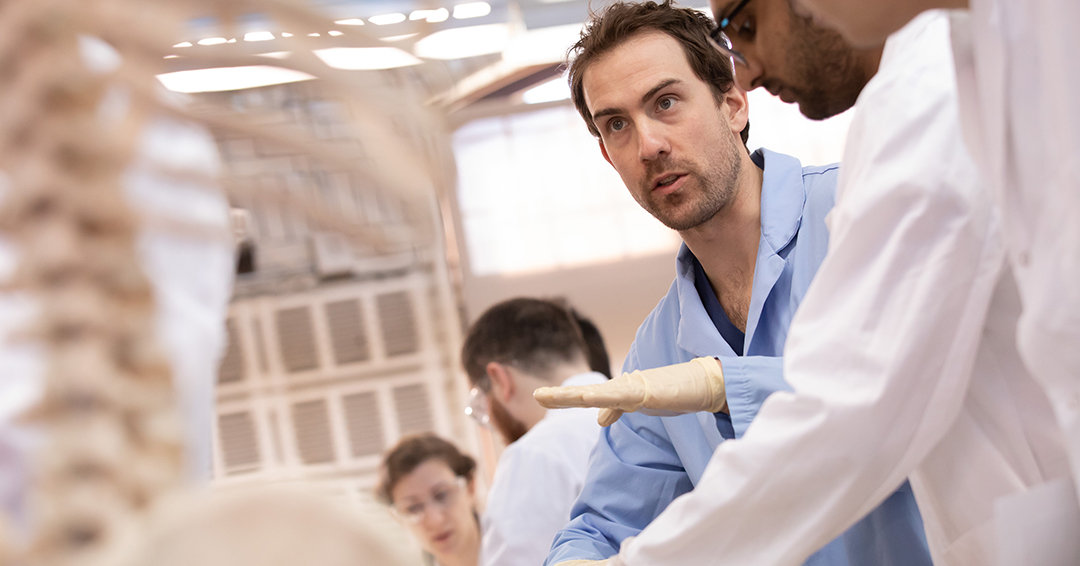 Ask any medical doctor, surgeon or dentist who has graduated from McGill who their first patient was and they will likely reply that it was an anonymous donor from the university's Body Donor Program for Teaching and Research. 
Led by Program Administrator Joseph Dubé and Gabriel Venne, PhD, Director of the Division of Anatomical Sciences, Associate Professor in the Department of Anatomy and Cell Biology and Associate Member in the Institute of Health Sciences Education, the program accepts more than 100 donors each year who are used by students with a full body dissection requirement as part of their curriculum. In the Fundamentals of Medicine and Dentistry course, medical and dentistry students spend the entire first year and a half in the anatomy lab studying with a donor. Students in nursing, physical and occupational therapy and undergraduate anatomy programs use the lab as well. Overall, donors have an impact on the education of more than a thousand students every year.  
Donors come from all walks of life and donate their bodies to education and science for a variety of reasons. For example, while battling cancer, prominent philanthropist, palliative care advocate and founder of the McGill Council on Palliative Care, Kappy Flanders, chose to participate in the program. Her daughter, Judith Flanders, says, "She had no belief in organized religion, so I don't think a cemetery appealed to her much. She was also very claustrophobic, and while she knew objectively that being underground was not something that would worry her after she was dead, the very idea of it caused her distress. So, I think the combination of factors – working for decades in palliative care; knowing the McGill donor program so well and having attended the commemorative services in the past; and her own emotional responses — made the decision easy. Speaking to the staff before her death, and those who came to collect her after death, was made as easy as possible — not merely following a death, but a death that occurred in the first months of COVID-19." 
While donors in the anatomy lab are studied by undergraduate and beginning health professions students, there is also a selection of donors that are used for higher-level medical professionals, such as trained surgeons and surgical residents from various surgical specialties. "They're trying new techniques for a specific procedure or trying out new medical equipment to see how it works on an actual human body," Dubé explains. 
With the advent of computer-based anatomy platforms, the necessity of body donors today is sometimes debated. According to Prof. Venne, there are several distinctions to be made in favour of using human donors. "Everything that we see in the textbooks and virtual models are a romantic representation of anatomy and far from the reality. Each donor has their story, has their uniqueness in terms of anatomy, in terms of pathology of life," he explains. "Each donor brings a lot of information relevant to what students will be facing during their practice, which is the uniqueness of every individual. There is no app that can get remotely close to what can be offered with donors."  
He adds that the learning opportunities go far beyond anatomy. "There's so much to be learned during anatomy labs – teamwork, empathy development, the "soft skills to enhance communication with patients, colleagues and peers", the fine motor skills – that will be important for the student's future practice." 
At the end of the academic year, the Program holds a commemorative ceremony honouring donors, inviting their families and friends to attend. Many anatomy lab students attend as well, doing readings about the importance of their work with the body donors in the lab and how it has transformed and affected them philosophically, emotionally and professionally. During the event, student musicians and a choir perform pieces in homage to the donors. 
"It's a beautiful event," says Prof. Venne. "The ceremony is performed to show how grateful we are to the donors and their families. Students are invited to interact with families where they talk about their experience and convey how impactful donations are on improving the care that will be administered to future patients."