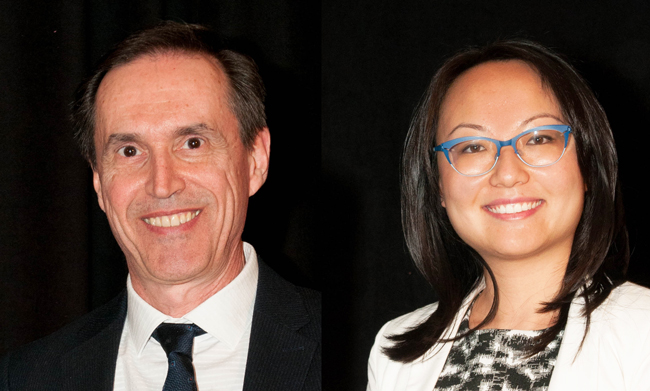 By Neale McDevitt, McGill Reporter

The Quebec Medical Association (QMA) recently handed out its 2017 Awards of Excellence and members of McGill's Faculty of Medicine won two of the four prizes.

The QMA'a 2017 Prestige Award went to Dr. Guy-Paul Gagné, assistant professor in the Department of Obstetrics and Gynecology and President of the Society of Obstetricians and Gynaecologists of Canada. Among other things, Dr. Gagné is Chair of the MOREOB (Managing Obstetrical Risk Efficiently) program, which promotes safety in hospitals and birth centres across Quebec, Ontario and British Columbia.

Dr. Gagné is "a leading figure in the field of obstetrics and gynaecology," said the QMA citation and "each stage of Dr. Gagné's career has proven a milestone in the advancement of obstetric practices."

The Prestige Award is the greatest distinction conferred on a QMA member. It acknowledges excellence and contribution to the advancement of medicine and society in humanitarian, ethical, scientific, socio-economic, and educational or communication fields.

Dr. Ji Wei Yang was named winner of the 2017 Emerging Professional Award, given to a resident in recognition of her significant commitment to society or to the medical community, or the quality of her research or publications which have contributed to the improvement of the delivery and quality of care.

Dr. Yang was lauded for being an "inspiring role model for up-and-coming physicians." In addition to being Chief Resident of her residency program in 2016, Dr. Yang has been a guest speaker for endocrinology students at all levels of training, and has authored six publications and more than fifteen scientific presentations for regional and international conferences.

Dr. Yang is committed to the cause of vulnerable populations and her work earned her an award from Médecins Résidents du Québec in 2015 and a Leadership Award from the Canadian Diabetes Association in 2016.

June 1, 2017