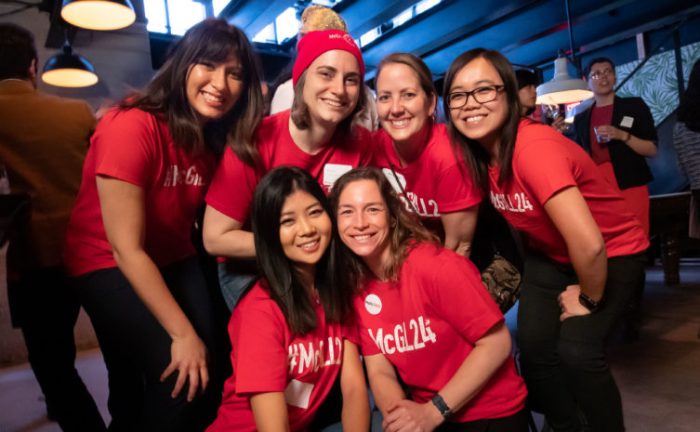 Record-breaking, 24-hour day of giving raises nearly $2.3 million from 5,244 donors for causes across the University
Source: McGill Reporter

McGill24, McGill's fourth annual day of giving held on Wednesday, March 13, raised nearly $2.3 million from 5,244 donors for causes across the University.

In its fourth year, McGill24 has broken records yet again, surpassing funds raised in any previous year and strengthening its position as the largest Canadian university fundraiser of its kind. The 24-hour digital fundraiser, which plays out mainly on web and social media platforms such as Facebook, Twitter and Instagram, has raised over $6.3 million in its four-year history.

"It's wonderful to see the enormous support McGill24 receives," says Vice-Principal (University Advancement) Marc Weinstein. "In our fourth year, McGillians continue to demonstrate great confidence in the University. We are deeply grateful for the generosity of our alumni, students, faculty, staff, parents and friends, who demonstrate the true meaning of being #McGillProud."

Participants in McGill24 gave generously in support of student programs, academic faculties, research initiatives, libraries and more. For the fourth year in a row, the campaign featured challenge funds and matching gifts that provided additional funding from generous donors when fundraising targets were met. Faculty and regional challenges and matching gifts for young alumni, students and student-led projects on McGill's crowdfunding platform, Seeds of Change, inspired McGillians to further participation.

On campus, students, faculty and staff were decked out in McGill24 gear and snapped photos in front of large, red McGill24 gift tags, which designated equipment and buildings made possible by philanthropic gifts. More than 100 faculty and staff ambassadors in units across campus devoted their time and energy to keeping the McGill24 spirit strong and to motivating their peers to give.

For this year's theme, McGill Moments, the campaign called upon all members of the community to share their favourite McGill Moments – fun memories related to McGill and Montreal. Alumni and friends submitted stories about surviving the season's first snowfall, attending to a cow in labour at Mac campus, and taking a professor's feedback about a term paper's "purple prose" to heart.

Check out the collection of McGill Moments as submitted by members of the University community.
March 15, 2019