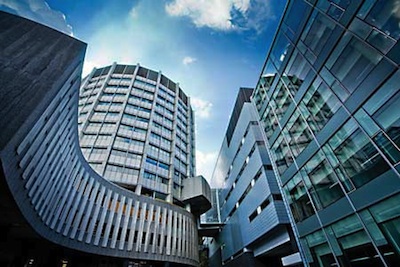 First university-owned laboratory in Quebec to garner top marks for sustainable construction

McGill University's Life Sciences Complex has been awarded LEED gold certification for new construction from the Canada Green Building Council (CaGBC-), a significant upgrade from the silver rating that was first sought. Completed in 2008, it is the only university-owned laboratory building in Quebec to achieve the LEED gold rating.

Administered by the CaGBC, the Leadership in Energy and Environmental Design (LEED) program is an internationally accepted benchmark for the design, construction and operation of green buildings. Key categories include sustainable site development, water efficiency, energy efficiency, materials selection and indoor environmental quality.

"This is an incredibly important achievement for McGill. It shows how we can plan, construct and operate our infrastructure in a way that not only meets the modern needs of the users, but also helps us meet our sustainability objectives. It is a very concrete demonstration of McGill's growing commitment to the environment and a celebration of what we can achieve when we put our minds to it," said Jim Nicell, Associate Vice-Principal (University Services).

The Life Sciences Complex is composed of two new facilities, the Francesco Bellini Life Sciences Building and the Cancer Research Building, as well as the existing McIntyre Medical Sciences Building and Stewart Biological Sciences Building. The Rosalind and Morris Goodman Cancer Research Centre is housed in both the Cancer Research Building and the McIntyre Medical Sciences Building. The facilities are home to 60 principal investigators and 600 researchers, joined by more than 2,000 researchers, technical personnel, graduate students and postdoctoral fellows in the adjacent Stewart Biology and McIntyre Medical Sciences buildings.

Key features of Life Sciences:

• Energy conservation initiatives include a heat recovery system, innovative management of fume hoods (air changes and presence sensors), lighting efficiency (with more than 75 per cent of occupied space naturally day lighted and artificial lighting zoned to complement accordingly), and heating, ventilation and air-conditioning systems with variable speed drives. The infrastructure and equipment selected ensure the building is 38 per cent more energy efficient than the Canadian National Model Energy Code.

• The rainwater captured from the building's reflective roof is stored in a 50,000-litre cistern and used for toilets and urinals, cutting potable water consumption by 50 per cent.

• The green roof, in addition to reducing energy consumption, also mitigates the urban heat island effect.

• 96.4 per cent of construction-related waste was diverted from landfill.

• 30 per cent of materials used contained post-consumer or post-industrial recycled content.

• More than 20 per cent of materials were locally sourced or produced.

"Our intention is to continuously take steps to minimize the environmental impact of our construction activities during the construction itself as well in the operation of the infrastructure over the long term. Furthermore, we will focus on the development of durable and low-maintenance infrastructure that meets and adapts to the needs of the users over time," Nicell said. "We are always trying to keep the future in mind, which is fundamental to sustainability. As part of this, LEED certifications or similar formal and informal approaches will certainly continue to play a role in our construction work in the future."

Watch the Life Sciences Complex video

January 31, 2012