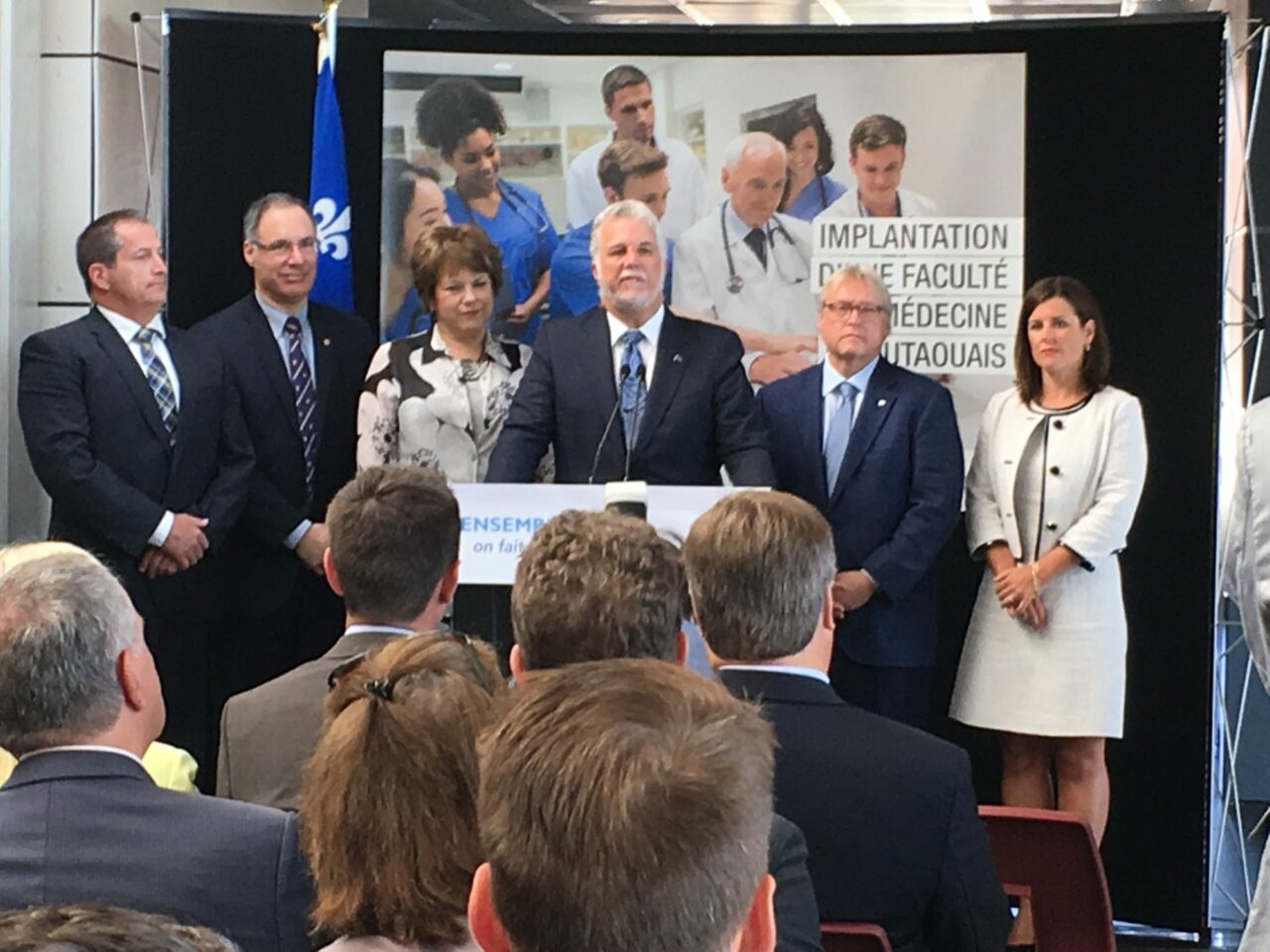 McGill University welcomes the Government of Quebec's announcement today of an investment to develop a McGill Faculty of Medicine satellite medical campus in the Outaouais region
The funding, announced by Quebec Premier Philippe Couillard, who was joined by Minister of Health and Social Services Gaétan Barrette, Minister of Higher Education Hélène David and Minister of Justice and Minister responsible for the Outaouais region Stéphanie Vallée, is earmarked to develop the operational plan for the McGill satellite medical campus and to break ground on construction of the required infrastructure. Two new levels will be added to Gatineau Hospital's emergency facilities, one to serve as the new location of the Gatineau Family Medicine Unit and the second to house McGill's undergraduate medical education.

"We are proud to partner with the Quebec Ministries of Health and Education and CISSS Outaouais to build on the medical training provided in this region," said Prof. Suzanne Fortier, Principal and Vice-Chancellor, McGill University. "We have a long history and roots in Quebec, including in Outaouais. We are committed to help build health care capacity here."

"With today's announcement, we can proceed with our plans for a satellite medical campus to train the next generation of physicians to provide exemplary care to the population in this region," said Dr. David Eidelman, Vice-Principal (Health Affairs) and Dean of Medicine at McGill, in Gatineau for the announcement. "Our successful collaboration in the Outaouais region dates back more than three decades, and we now look forward to taking it to the next level in the context of our RUIS McGill mandate and our social responsibility in this region."

McGill's new satellite medical campus will enable medical students in all four years of study to receive their complete medical education in Outaouais, taught in large part by clinician-teachers from the region, which in turn will reinforce their connection with the community. This increased capacity is expected to triple the number of medical trainees in Outaouais.

McGill University and l'Université du Québec en Outaouais (UQO) also announced the signing of an agreement to collaborate in the development of health care training programs in the region. Priorities include the ratification of an agreement for the training of specialized nurse practitioners in primary care, as well as the creation of a working group to develop  nurse practitioner training specific to mental health and pediatrics. The two universities will also explore services for McGill students in Outaouais, in compliance with accreditation standards.

"Decisions at the government and university levels have a direct impact on recruitment and retention of physicians in Quebec regions," said Dr. Gilles Brousseau, Assistant Dean, Medical Education, McGill University – Outaouais Region. "Training future physicians as early and as long as possible in a given community has been shown to be one of the best recruitment strategies for young physicians. The development of the McGill satellite medical campus will enable us to train more physicians, and also interdisciplinary cohorts of other health care practitioners working with our partners in the region, including UQO."

McGill is now ready to advise the Committee on Accreditation of Canadian Medical Schools, as required, regarding its intention to establish a McGill satellite medical campus in the Outaouais region. It will progressively increase the number of trainees in the region and proceed with the development of the satellite campus in phases. Once the infrastructure is in place the complete undergraduate medical program and the Gatineau Family Medicine Unit can move to its new location.

Click here to read the Government of Quebec's release.
September 6, 2016