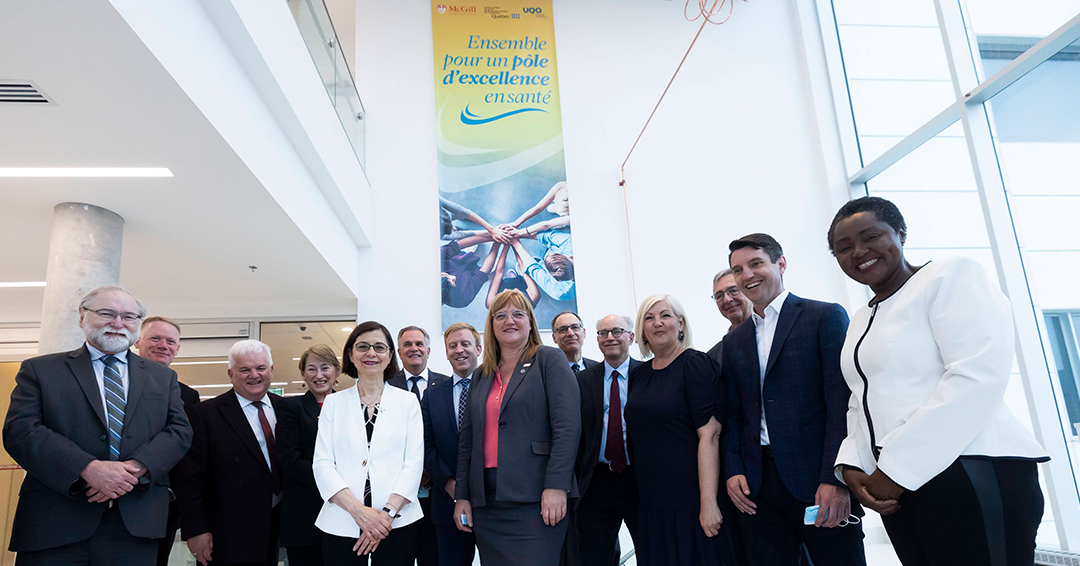 Campus Outaouais becomes a leader in French-language medical education for the region
The new Gatineau-based Outaouais Campus was officially inaugurated by McGill University's Faculty of Medicine and Health Sciences on May 16, 2022,  in the presence of Minister of Higher Education Danielle McCann and MNA for Chapleau Mathieu Lévesque. The campus – an outcome of a close and longstanding collaboration between McGill University and the Centre intégré de santé et des services sociaux (CISSS) de l'Outaouais, as well as l'Université du Québec en Outaouais (UQO) and the Quebec government – marks a major milestone for the region.
"After a two-year wait, we are delighted to finally celebrate the campus's official inauguration with our leading partners, UQO and CISSS de l'Outaouais," said McGill University Principal Suzanne Fortier. "The new campus will be vital to French-language medical education in Outaouais and will contribute to the delivery of quality health care in the region."
McGill University, with its local partners, aspires to create a hub of healthcare excellence centred around teaching, research and healthcare delivery in Outaouais. The new campus offers the full range of medical education and training programs in French, including a four-year undergraduate medical education program, family medicine and other residency programs, and a pre-med qualifying year, the latter offered in collaboration with Université du Québec en Outaouais. The campus and clinical settings will welcome some 150 physicians in training each year.
"It's a privilege to officially inaugurate Campus Outaouais, the culmination of a decades-long partnership. By offering our programs right here, we are training a new generation of healthcare leaders in Outaouais," said Dr. David Eidelman, McGill University's Vice-Principal (Health Affairs) and Dean of the Faculty of Medicine and Health Sciences.
The medical program's first cohort began online learning in August 2020, in the midst of the pandemic, and the campus opened its state-of-the-art facilities above Gatineau Hospital's Emergency Department in 2021.
"It's truly satisfying to see more than 35 years of efforts in the Outaouais region yielding such high returns," said Dr. Gilles Brousseau, Vice-Dean and Director, Campus Outaouais, who was presented with the médaille de l'Assemblée nationale during the event by MNA for Chapleau, Mathieu Lévesque for his leading role in establishing the campus and for advancing health care and medical education in Outaouais. "From the Gatineau Family Medicine Unit created in 1987 to the integrated clerkship program launched in 2010 and now the new Outaouais Campus, we've strived to train doctors who are committed to serving society and caring for the people of this region." Since the launch of McGill's Family Medicine residency program in Gatineau, 70–80% of residents have stayed to practise in Outaouais after completing the program.
"By training doctors locally, the Outaouais Campus brings a new vitality to the region that leads to more family doctors staying in the area to serve the local population," explains CISSS de l'Outaouais President and CEO Josée Fillion. "I appreciate their contribution to the CISSS de l'Outaouais. They raise our region's academic and research profile and grow the ranks of our medical teams, greatly improving our population's access to quality health care. A huge thank you to McGill University for its contribution and long-standing collaboration."