AUGUST 29, MONTREAL – During a ceremony held today at McGill University's Faculty of Medicine, the School of Physical & Occupational Therapy (SPOT), in partnership with CBI-Concordia Physio Sport NDG, was officially recognized as a FIFA Medical Centre of Excellence. Joining the University of British Columbia as one of only two such sites accredited by FIFA in Canada, the primary focus of the Centre will be to educate the soccer community about different aspects of athletic performance from training principles, to nutrition and sport specific skills.

"We are pleased to have been selected by FIFA as one of the two Centres of Excellence in Canada, in partnership with CBI-Concordia Physio Sport NDG," said Dr. Annette Majnemer, Vice-Dean of Education at McGill's Faculty of Medicine and Director of SPOT, who will serve as Managing Director of the Centre. "The designation recognizes our existing strengths in areas related to the diagnosis, treatment and rehabilitation of soccer-related injuries, allowing us to build on them while at the same time promoting the world's most popular sport, soccer."

Professor Jiri Dvorak, FIFA Chief Medical Officer and Chairman of F-MARC (FIFA Medical Assessment and Research Centre) was in Montreal to present the official accreditation certificate and signage.

"We are very much looking forward to cooperating with the FIFA Medical Centre of Excellence in Montreal and the Canadian Soccer Association – especially in regards to concussion research and nationwide implementation of the injury prevention programme "FIFA 11+"" said Prof. Dvorak.

Dr. Samuel Benaroya, Associate Vice-Principal and Vice-Dean (Health Affairs) at McGill's Faculty of Medicine, who served as host for the inauguration event, noted that he was "impressed with the academic rigour and quality of the research carried out by FIFA and the FIFA Medical Centres of Excellence."

FIFA is committed to improving the short and long-term health of soccer players, with the focus being on injury prevention, optimising performance and injury care. To achieve this, FIFA recognises established centres that have demonstrated medical, educational and research expertise in soccer. The official FIFA accreditation granted to these elite centres will enable members of the soccer community to know which centres have a history of commitment to soccer when specialised services are required.

"In addition to education and injury prevention, another key component of the Centre will be to conduct research as it relates to soccer with the purpose of making soccer safer and more enjoyable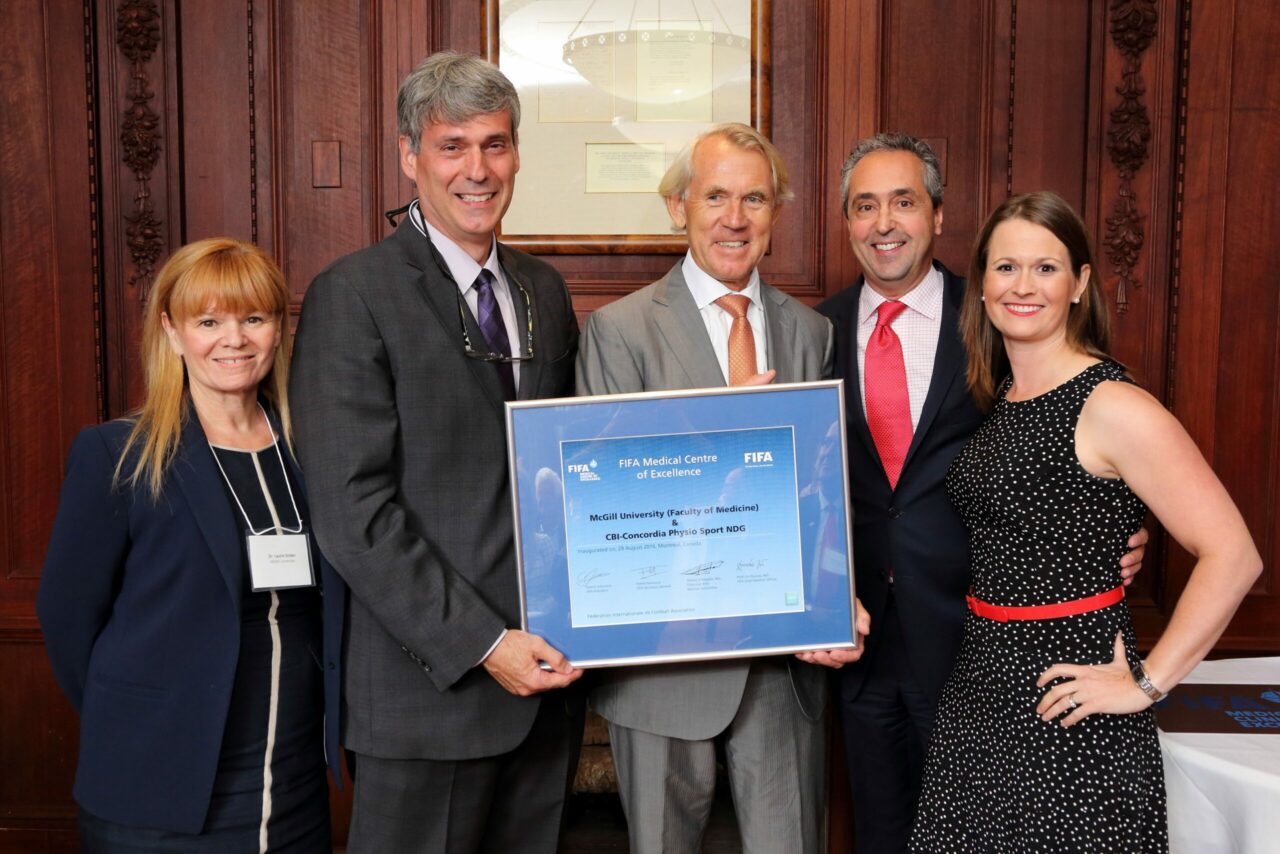 to play," noted Dr. Moreno Morelli, a professor in the Department of Orthopedic Surgery at McGill and Medical Director for the FIFA Centre of Excellence. "By far our strength is in concussion treatment, a hot topic in the world of sports, and in ACL (anterior cruciate ligament) injury management, prevention and long-term consequences."

The team at CBI-Concordia Physio Sport NDG involved with the Centre possesses a bevy of experience working with soccer players. Its members include physicians and physiotherapists who have treated both players of the Montreal Impact and the Canadian National Soccer team. "We have a longstanding relationship with McGill and are excited about the opportunity to deepen this partnership through this initiative," said Karen Meyer, Director of Operations at CBI-Concordia Physio Sport. "Ongoing research and dedication to innovating for impact to secure better health care outcomes is at the core of what we do at CBI. We are looking forward to exhibiting this by supporting research opportunities through this partnership and to providing the best treatment that will ultimately benefit the soccer playing public."

"On behalf of Canada Soccer, we would like to thank FIFA and McGill University for the establishment of the FIFA Medical Centre of Excellence here in partnership with CBI-Concordia Physio Sport NDG.  These centres will support Canada as a leading soccer nation and the growth and development of the game in our country," said Canada Soccer President, Victor Montagliani.  "Through the Centre's education programs, the importance of training principles, nutrition, and sport-specific movement preparation will contribute to injury prevention for Canada's over 850,000 registered soccer players of all ages."

For more information on the McGill University Faculty of Medicine: www.mcgill.ca/medicine

For more information on CBI-Concordia Physio Sport: https://www.cbi.ca/web/concordia-physio-sport

For more information on FIFA: www.fifa.com / www.f-marc.com

August 30, 2016