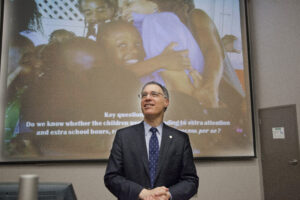 The 2013 recipients of the Maude Abbott and Haile T. Debas Prizes were celebrated during McGill University's Faculty of Medicine Faculty Council and Town Hall meeting held on June 5. During the event Dr. David Eidelman, Vice-Principal (Health Affairs) and Dean of Medicine, presented the laureates with their awards before each had the opportunity to share highlights of their research with the audience in attendance at McGill's Charles F. Martin Theatre.
The 2013 prize recipients – Drs. Nitika Pant Pai and Jaswant Guzder – are leaders in their respective fields advancing the science and making an impact on health both here and abroad. Dr. Aparna Nadig, the 2013 recipient of the Faculty of Medicine Prize for Research in a School for Health Professions, is currently on leave and will be honoured in 2014.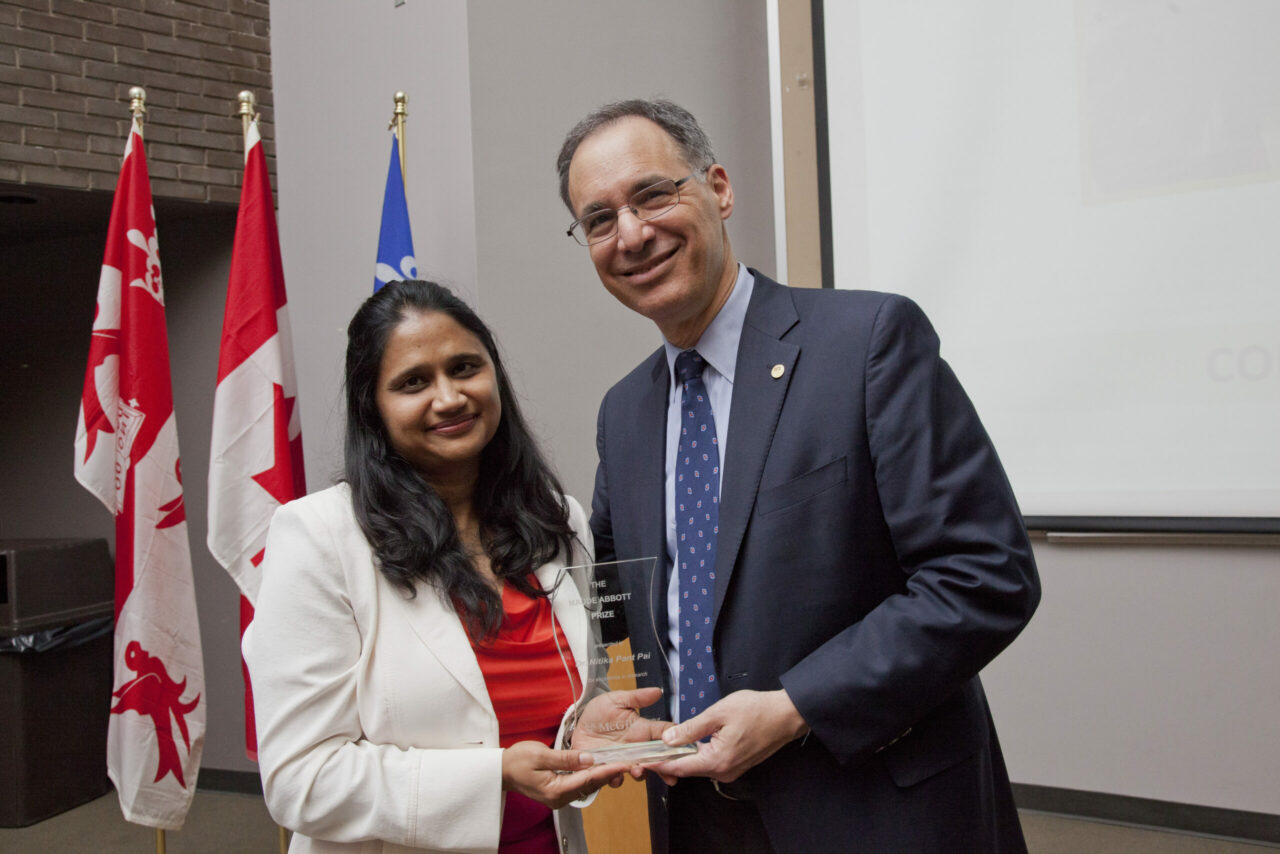 The Maude Abbott prize, established in 2010, recognizes outstanding female faculty members who excel in education, research or administration, with a focus on the early career stage.  "The Maude Abbott Award inspires me to work harder and come up with expedited screening solutions with rapid point-of-care technologies for marginalized populations worldwide," said Dr. Nitika Pant Pai, Assistant Professor in McGill's Department of Medicine, Clinical Researcher with the McGill University Health Centre and the 2013 Maude Abbott laureate. Dr. Pant Pai's research may change the way that people the world over are tested for the HIV virus.
Despite more than 33 million people worldwide already inflicted with AIDS, in many places with large sections of at-risk populations, six out of ten inflicted remain undiagnosed, often as a result of the social stigma or shame associated with being tested for the infection in health care facilities. In response, Dr. Pant Pai and her team have developed confidential screening packages with a Food and Drug Administration approved self-testing kit. Her packages have proven in studies to provide results that are almost as accurate as clinically administered tests, in settings as diverse as South Africa and Canada.
Adoption of the self-test can offset the stigma associated with being tested and increase the likelihood that the disease is detected early enough to provide treatment and limit co-infection. In-tune with the continuous evolution of technology around the globe, Dr. Pant Pai is focused on pushing the bounds of the revolutionary self-test kit even further through the development of a diagnostic application for smart phones.
A copy of Dr. Pant Pai's presentation is available here.
The Haile T. Debas prize was established to promote equitable diversity at all levels in the Faculty of Medicine. This prize recognizes a faculty member who helps promote diversity, whether acting as a role model, mentor or by implementing new policies to increase underrepresented minorities in undergraduate or postgraduate training, faculty recruitment, retention and/or promotion. The 2013 Haile T. Debas laureate is Dr. Jaswant Guzder, an Associate Professor in the McGill Department of Psychiatry, Head of Child Psychiatry and Director of Child Day Treatment at the Jewish General Hospital and an Associate to the McGill School of Social Work.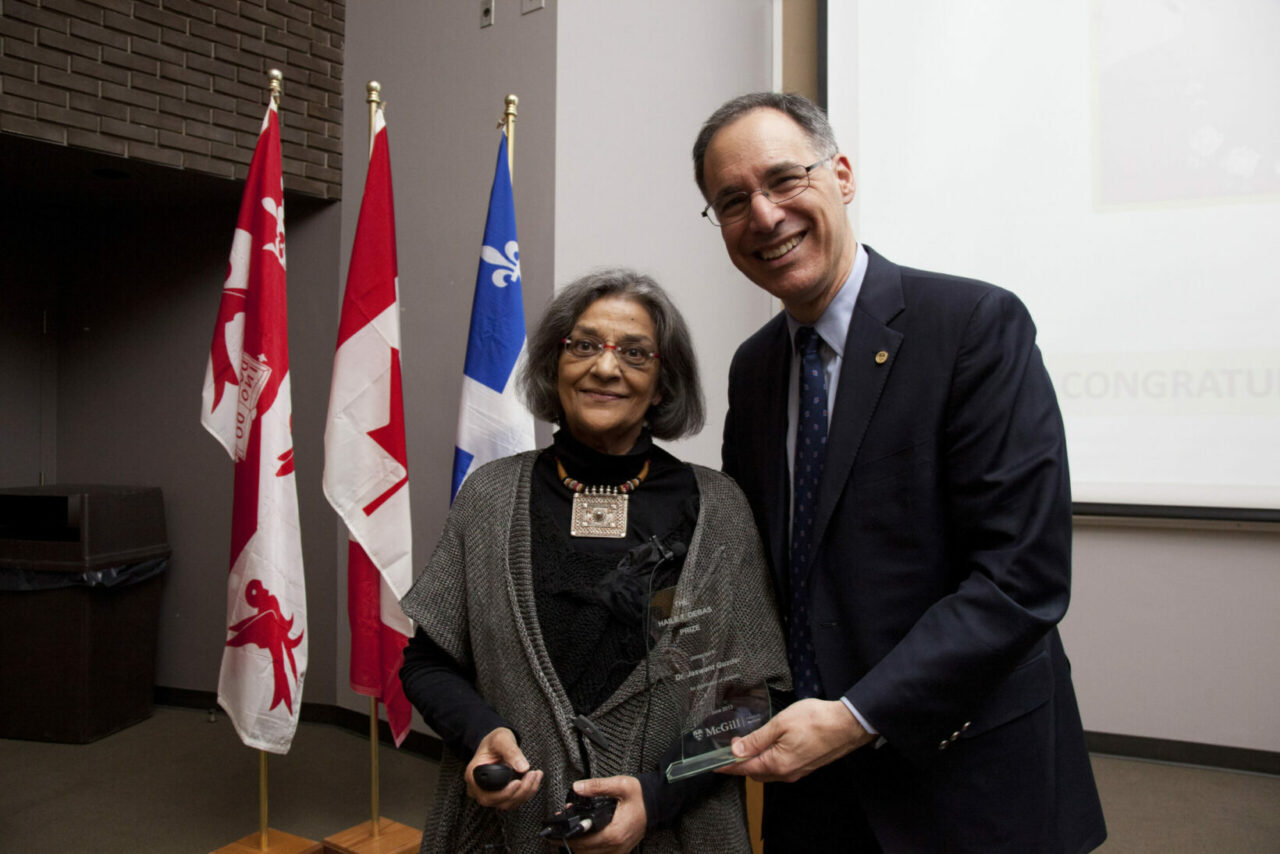 "It was an honour to be awarded the Haile T. Debas Prize, in the spirit of his work on diversity and equity," said Dr. Guzder. "As a third generation South Asian in Canada, I am especially grateful as I have always been acutely aware – through both historical and personal experience – that the promotion of equity and diversity has long been not only a part of my McGill experience but a responsibility as part of the McGill Faculty of Medicine. During my work involving global mental health projects, local community services and mental health training, the issues of human rights and promoting equity in diverse societies have become major values. These issues have moved from relative invisibility in our training to becoming significant agendas in shaping our institutions and identities as part of our work as healers and global citizens."
Dr. Guzder's research involves collaborators in India, Nepal, Israel, Turkey and the Caribbean.  During the Town Hall event, it was her work undertaken with colleagues at CARIMENSA in Jamaica, with whom she contributed to the development of the Dream a World program, of which she spoke. The project, aimed at fostering resiliency in youth living in the tumultuous and violent neighbourhoods of inner-city Kingston, targeted at-risk children with cultural therapy in an effort to increase their odds at successfully completing an education. The program had a great impact on these youth for whom life starts on a negative trajectory given the considerable obstacles and difficult circumstances in their place of birth. The program was so successful that, although participants were selected from those who exhibited the most risk, students who were excelling in their education were also clamoring to be included!
A short documentary on the Dream a World program is available here courtesy of Drs. Fredrick Hickling and Hilary Robertson Hickling from the University of West Indies.
June 18, 2013