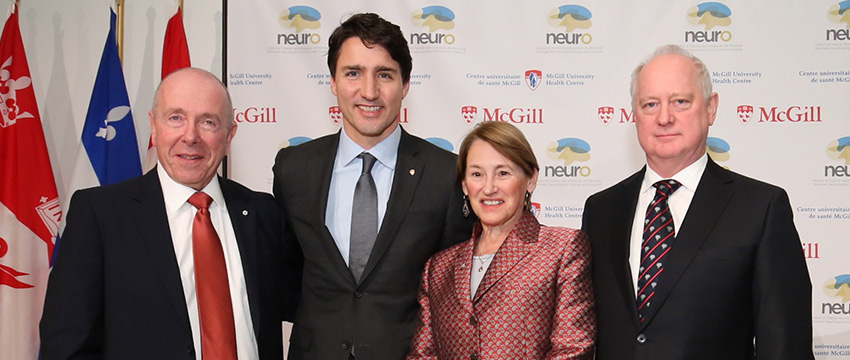 Tanenbaum Open Science Institute to open new horizons and accelerate discovery in neuroscience
The Prime Minister of Canada, Justin Trudeau, was present today at the Montreal Neurological Institute and Hospital (MNI) for the announcement of an important donation of $20 million by the Larry and Judy Tanenbaum family. This transformative gift will help to establish the Tanenbaum Open Science Institute, a bold initiative that will facilitate the sharing of neuroscience findings worldwide to accelerate the discovery of leading edge therapeutics to treat patients suffering from neurological diseases.

"Today, we take an important step forward in opening up new horizons in neuroscience research and discovery," said Mr. Larry Tanenbaum. "Our digital world provides for unprecedented opportunities to leverage advances in technology to the benefit of science.  That is what we are celebrating here today: the transformation of research, the removal of barriers, the breaking of silos and, most of all, the courage of researchers to put patients and progress ahead of all other considerations."

Neuroscience has reached a new frontier, and advances in technology now allow scientists to better understand the brain and all its complexities in ways that were previously deemed impossible. The sharing of research findings amongst scientists is critical, not only due to the sheer scale of data involved, but also because diseases of the brain and the nervous system are amongst the most compelling unmet medical needs of our time.

Neurological diseases, mental illnesses, addictions, and brain and spinal cord injuries directly impact 1 in 3 Canadians, representing approximately 11 million people across the country.

"As internationally-recognized leaders in the field of brain research, we are uniquely placed to deliver on this ambitious initiative and reinforce our reputation as an institution that drives innovation, discovery and advanced patient care," said Dr. Guy Rouleau, Director of the Montreal Neurological Institute and Hospital and Chair of McGill University's Department of Neurology and Neurosurgery. "Part of the Tanenbaum family's donation will be used to incentivize other Canadian researchers and institutions to adopt an Open Science model, thus strengthening the network of like-minded institutes working in this field."

"We thank the Tanenbaum family for this generous investment, which allows us to further accelerate progress to meet the needs of patients,ˮ said Professor Suzanne Fortier, Principal and Vice-Chancellor of McGill University. "The Open Science movement is gaining momentum, with global initiatives underway in the European Union, Japan and the United States. The Montreal Neurological Institute and Hospital will become the first academic institute worldwide to fully embrace Open Science. The Tanenbaum Open Science Institute will set the global standard for this movement and position McGill, Montreal, Quebec and Canada at the forefront of scientific progress.ˮ

Video: Open Science – Science Re-imagined: bit.ly/2hBYXHq

Source:                The Montreal Neurological Institute and Hospital, McGill University

December 16, 2016