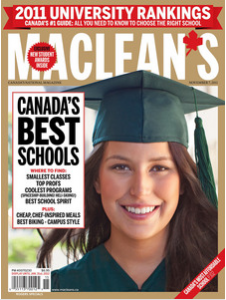 For the seventh year in a row, McGill University is ranked first in the medical-doctoral category in Maclean's magazine's annual issue devoted to Canadian universities.

"We are gratified by this recognition," said McGill Principal and Vice-Chancellor Heather Munroe-Blum. "As McGill celebrates its 190th anniversary this year, we are determined to remain among the world's leading universities, committed to excellence in teaching, research and service to communities in Quebec, Canada and internationally.

"These results reflect the remarkable quality and dedicated efforts of our faculty, students and staff."

The Maclean's medical-doctoral category includes 15 Canadian universities with medical schools and a broad range of PhD programs.

McGill also ranked 17th in the world in the 2011 QS World University rankings, and placed 28th globally in the recently published Times Higher Education World University Rankings for 2011.

The Maclean's ranking measures a number of aspects of a university's operation. McGill was a leader in a number of areas, including:
First in student awards for the 13th consecutive year
First in scholarships and bursaries as a percentage of budget
First in reputational survey
"While different rankings measure different elements of performance, and each approach has its strengths and weaknesses, our consistently strong showing in a range of widely followed rankings underscores McGill's position among the world's leading universities," Prof. Munroe-Blum said.
Read the Maclean's story.
PRESS COVERAGE
Montreal Gazette
Canoe (French)
Metro (French)