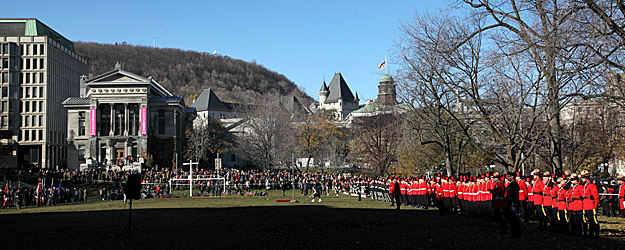 Sent on behalf of Jim Nicell, Vice-Principal (University Services)

McGill, which is now the permanent home for the Royal Canadian Legion's official Montreal Remembrance Day ceremonies, will again play host to the event this Sunday, Nov. 11, at 10:30 a.m. on the downtown campus's lower field. And all members of the community are welcome to participate in this moving ceremony that will feature bands, marching and the laying of wreaths.

At Macdonald Campus, Remembrance Day services will take place Thursday, Nov. 8, at 10:30 a.m., at the War Memorial located just in front of the Raymond Building. This event will also include students from Macdonald High School, John Abbott College and guests from the nearby Ste. Anne's Veteran's Hospital.

The Nov. 11 event downtown will bring together veterans, dignitaries and the event's special guest of honour, the Honourable Pierre Duchesne, Lieutenant-Governor of Quebec.

The ceremony will include a 21-gun salute from four cannons positioned in front of McGill's Arts Building, as well as the laying of wreaths and performances by military bands. Please do not be alarmed by the loud sound of the gunfire.

To honour this tradition, on the 11th hour of the 11th day of the 11th month, Canadians pause to remember the thousands of men and women who sacrificed their lives in military service on behalf of their country.

Two minutes of silence will be observed at 11 a.m., between the first and second gun salutes.

November 7, 2012