$35.5 million in development assistance announced recently by Government of Canada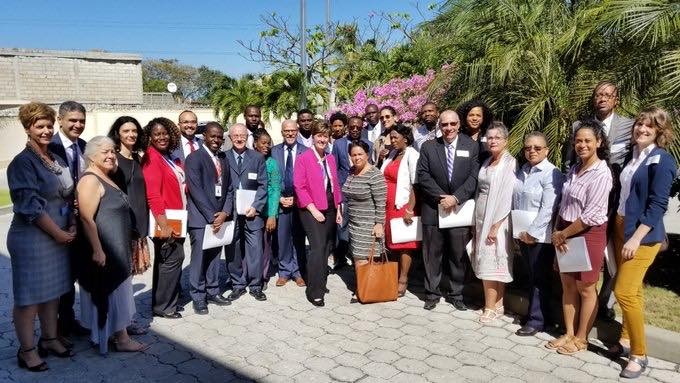 Despite improvements in many health indicators in Haiti, slightly over half the children born there are delivered without medical assistance and the country lacks health care workers. In an effort to combat these issues, in late February,  the Honourable Marie-Claude Bibeau, Minister of International Development and La Francophonie, visited Haiti and announced support for three projects aimed at helping to build Haitian authorities' capacity to recruit and train midwives in the most underserved regions and improve access to sexual and reproductive health services for Haitian women.

Dr. Julia von Oettingen, Assistant Professor in the Department of Endocrinology at McGill University's Faculty of Medicine was among those who joined the Minister in Haiti as McGill's representative to the Global Affairs Canada initiative, which is comprised of 25 partner organizations. "This partnership provides a platform to develop more concerted Canadian efforts in the Haitian health sector," notes Dr. von Oettingen. "For too long, Haiti has suffered from too many well-intentioned but uncoordinated initiatives. This partnership is a unique opportunity to reduce redundancies and instead join forces to make use of our often complimentary expertise and collaborate. I think this partnership will be key in propelling larger scale, productive and successful projects forward."

Dr. von Oettingen was first approached about participating in this initiative by Global Affairs Canada in early 2017. At the time the department was reaching out to Canadian organizations and institutions already involved in the health sector in Haiti and had heard about the research and medical education work in pediatric endocrinology that she had been doing in Haiti.  She was invited to participate in planning meetings and to help prepare the Call to Action. She reached out to McGill's Global Health Programs and to colleagues across McGill who are actively involved in projects in Haiti. The projects were added to the Canadian Partnership for Women and Children's Health (CanWaCH) platform that has been developed to create a cartography of Canadian-Haitian health sector projects to facilitate better coordination of these projects and improve future collaboration and awareness of Canadian-Haitian activities.

"There has been a substantial increase in McGill's global health activities over the past few years, and our involvement in Haiti is steadily growing," says Dr. von Oettingen, who is also a pediatric endocrinologist at the Montreal Children's Hospital. "Across the Faculty of Medicine it's fantastic to see capacity building projects ranging from hand hygiene to medical education to clinical research. Just recently, the departments of Medicine and Pediatrics added a Non-Communicable Diseases program to the growing number of McGill programs involved in Haiti. I'm looking forward to seeing these efforts grow even bigger and integrate into the partnership."

Students and trainees interested in participating in any of the projects being carried out in Haiti should contact McGIll Global Health Programs.

April 5, 2018