McGill leads the largest public awareness initiative in Canada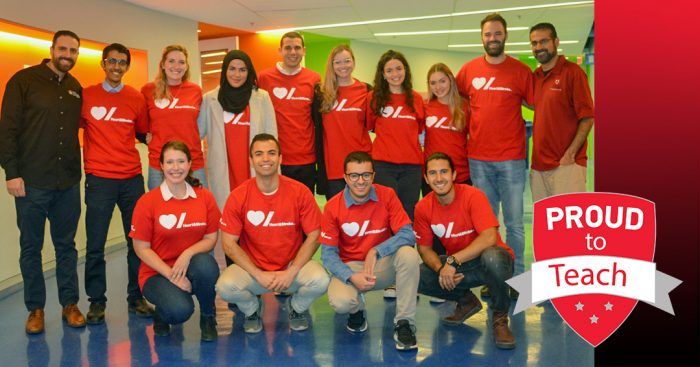 By Diane Weidner, Steinberg Centre for Simulation and Interactive Learning
On October 16, 2015, Katrysha Gellis collapsed at work from a sudden cardiac arrest.  Luckily, her two colleagues knew what to do… one called 911 and the other immediately started performing cardiopulmonary resuscitation (CPR). Thanks to their quick action, this young woman survived. "I was given the gift of heartbeats and a second chance at life by my colleagues who sprang into action," says Katrysha. Her story is a powerful reminder that bystander CPR can, and does, save lives.
The large majority of cardiac arrest deaths occur in homes and public places. In fact, up to 55% are witnessed by a family member, co-worker, or friend. Without warning, cardiac arrest strikes suddenly and what happens in the first few minutes after an arrest can have a significant impact on survival.
Because the majority of people who witness a cardiac arrest do not perform CPR, the survival rate of victims of cardiac arrest outside of a hospital is only 5%. Responding to a cardiac arrest by administering CPR can at least double the odds of survival and recovery.
"Most often, if you see a cardiac arrest victim, it's going to be someone that you know, someone that you care about, someone that you love… it's not a common occurrence, but when it happens, we need you to act," says Dr. Farhan Bhanji, Director of Education at the Steinberg Centre for Simulation and Interactive Learning, in a short, informative video that was shown to McGill students in large  auditoriums on October 16th as part of World Restart a Heart (WRAH) Day, a global initiative that aims to increase public awareness and rates of bystander CPR.
Offering CPR training on campus
For months leading up to WRAH Day, student volunteers from McGill's Steinberg Simulation Centre Interprofessional Learners Committee (SILC) planned outreach activities and developed tools and partnerships with the goal of educating the McGill community on the importance of CPR.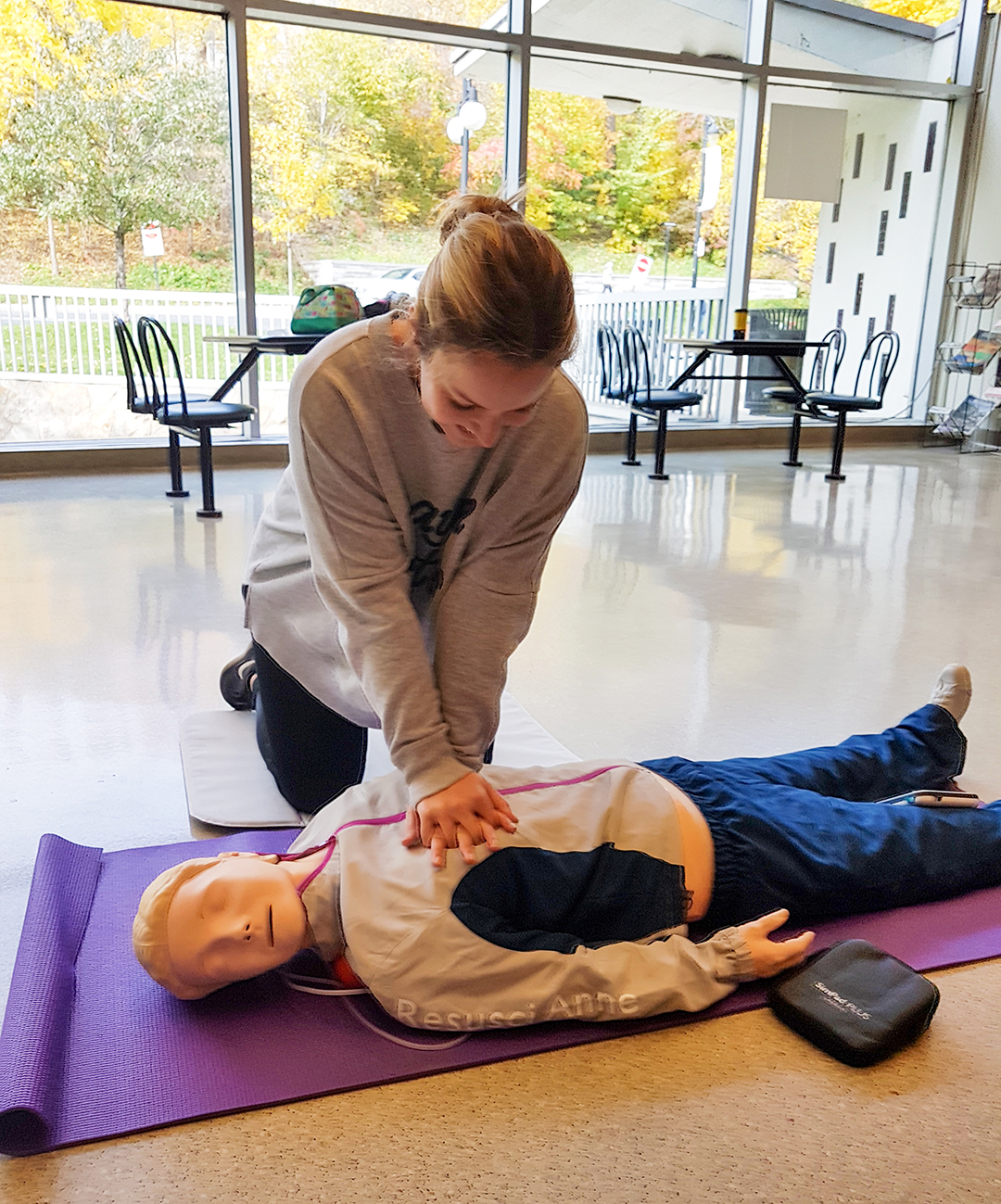 In addition to presenting an informative video to over 2100 students in classes across campus, the volunteers engaged with students, faculty and staff at educational CPR booths at the McIntyre Medical Building and the McLennan Library.  They offered hands-on training using task trainers and high-fidelity feedback manikins that measured chest compressions for optimal rhythm, depth and hand placement.  McGill nursing student Elizabeth Macdonald was able to improve her technique and increase her CPR performance score from 35% to 100% by pushing a little harder during compressions—a valuable lesson!
McGill occupational therapy student Magdalena Cordoba and physiotherapy students Jeremy Benchaya and Helen Palleh-Wiesel visited the booth together, eager to learn more about CPR and practice chest compressions.  "I learned the rhythm of CPR, how fast you have to go, and that you have to do the compressions hard," states Magdalena.  "Now I know how to react in a cardiac arrest situation, and will hopefully be able to save someone's life," adds Jeremy, feeling better prepared should he ever encounter a situation that requires lifesaving intervention.  "In the past, I would have been reluctant to do anything because I would have been scared to hurt the person more, but the volunteers explained that there's nothing I could do that would make the situation worse," says Helen, echoing a sentiment that was heard often throughout the day.  It's important for people to know that if someone is suffering from a cardiac arrest, the heart has stopped beating so CPR can only help.
McGill leads the largest WRAH activity in Canada
The McGill WRAH event was shared widely on social media and featured on CBC Radio's afternoon show, Let's Go, during an interview with fourth-year medical student and SILC Chair Olivia Monton: "I'm very passionate about simulation-based education and initiatives that bring simulation to the community. I think World Restart a Heart Day is an incredible way to enhance CPR knowledge and skill, and hopefully take a step towards decreasing cardiac arrest deaths in our very own community."
It was very powerful to see so many people gathered together over this important cause.
McGill Faculty of Medicine leadership dropped by for a CPR refresher and to encourage the volunteers, including Dr. Samuel Benaroya, Associate Vice-Principal and Vice-Dean of Health Affairs and Beth Cummings, Associate Dean, Undergraduate Medical Education.
Representatives from the Heart and Stroke Foundation of Canada came to see and support the initiative, including Doug Roth, Chief Finance and Administration Officer and Head of Social Enterprise. "I really believe that these types of initiatives can—and will—save lives," said Doug, who is working to bring more CPR training to classrooms across the country.
Also present was Dr. François de Champlain, Emergency Physician at the McGill University Health Centre and Founding President of the Jacques de Champlain Foundation, a charitable organization dedicated to improving resuscitation care in Quebec by promoting easy and rapid public access to Automated External Defibrillators (AEDs) through a free mobile app AED-Quebec.  He started the Foundation in honor of his father who passed away ten years ago when he suffered a cardiac arrest in a rural area that was not equipped with a cardiac defibrillator.
The highlight of the day was when cardiac arrest survivor Katrysha Gellis visited the booth with her parents and practiced CPR alongside her mom, Ingrid. "Every day I think of how miraculous it was for me to survive this—to have every person, every minute, every choice connect and harmonize as it did to create a net that saved me. Everyone in that situation knew what to do in an emergency, and they did it without hesitation. They were knowledgeable and aware of CPR practices. It was first aid training that saved me," says Katrysha, who has made it her mission to pay it forward by teaching others about lifesaving measures through her organization, Living Proof CPR Training. 
————–
The McGill WRAH students would like to continue to grow this initiative to reach even more people in the coming years; they welcome support through the Seeds of Change crowdfunding campaign.  To get involved and learn more, follow the McGill WRAH Facebook page.
October 31 2019